The Kardashian/Jenner Clan's Best Furry Moments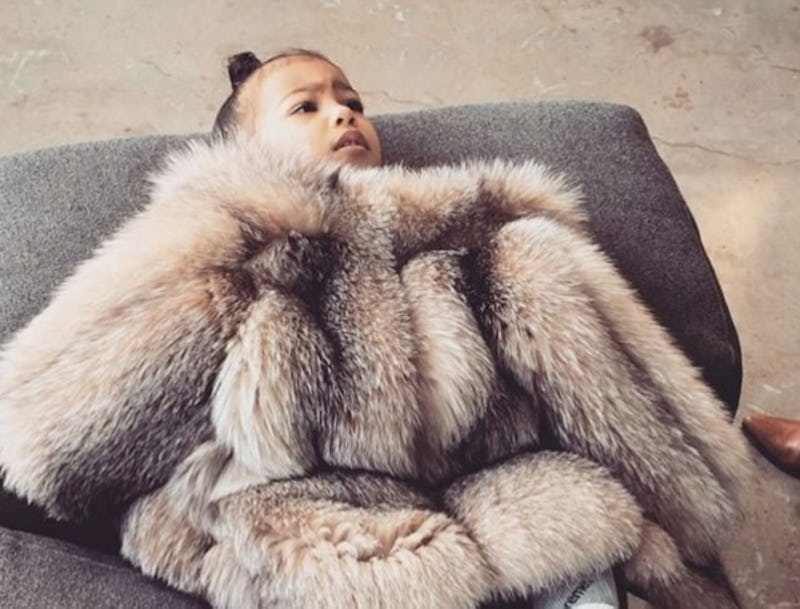 If there's one thing we can count on the Kardashians and Jenners for, it's their glamour A-game. Clad in designer names, faux eyelashes, and sigh-worthy heels, they're never at a loss for style. This is why the Kardashian and Jenner family's fur fashion moments this winter were nothing short of satisfactory. While I usually step outside in the dead of winter looking like a marshmallow wrapped in a duvet cover — sporting my thickest, most garbage bag-esque parka and tundra boots — the Kardashians/Jenners somehow made it from December to February looking über chic. Whether they were hanging out by the poolside, attending galas, or running errands, they seemingly had a faux fur (if not sometimes real fur) coat by their side for every occasion.
They don't just wear any old furry fashions, though. Personally, I am more than happy to assume they each have a closet full of the things. Oh, the variations! Kim K can rock a red Yeezy coat like it ain't no thing, Kylie Jenner sports fur accents on skin-tight dresses, and North West lays underneath a fur coat like it's a micro-plush. When you look through this family's sartorial repertoire, you'll encounter everything from striped, fluffy jackets to Cruella de Vil-inspired coats. Quite possibly, it'll make you want to step up your winter game immediately. Below are 11 of the Kardashian/Jenner clan's best fur moments.
1. Kylie Rocking The Accents
Kylie Jenner proved to us that you don't need a whole lot of fur to make a statement. A little here and there in strategic patches on a body-hugging dress will still provide a big wow factor.
2. Kourtney Keeping Things Monochrome
If your style lends itself towards monochromatic and neutral hues, that doesn't mean your outfits have to look uninspired. Kourtney's furry, striped jacket added a punch of texture to her outfit, taking the neutral ensemble to new heights.
3. Kylie Hanging Out Poolside
I personally never wear a Dalmatian-inspired fur coat while hanging out by the pool, but now I kind of want to. This might be something you can only pull off in Los Angeles, but I'm willing to try to see how it goes. Also, that hood. That glorious, glorious hood.
4. North Having Too Much Swag To Handle
I don't think I've ever looked this cool. Like, ever. Something about the combination of the fur coat plus the baseball hat plus the lollipop says OG.
5. Kim Channeling Her Inner Cruella
That Dalmatian coat is a whole other ballgame in terms of swag factor. Clearly, this is the only acceptable way to show up to a club: With your shades on and your de Vil channeled.
6. Kim Dabbling With Colors
I'm all for wearing colors during the wintertime, but can we talk about what a statement a colored fur coat makes? Love.
7. North Getting Cozy Underneath Her Winter Coat
Some of us use our winter coats to battle the tundra that is February. North uses hers as a mirco-plush mid tantrum. I can't blame her. That thing looks incredibly cozy.
8. Kim Swimming Underneath Fur
Instead of going for poof, Kim went for length, stepping outside in a classic, vintage-inspired fur coat that contrasted amazingly with her tight braids.
9. Fur Becoming A Family Affair
If mom gets to step outside in her polar bear coat, it's only fair that her kiddo should get to don a leopard print one.
10. Channeling Their Inner Gatsbys
If you're having a Gatsby-themed birthday party, what do you need to complete your outfit? Flapper headbands, dresses dripping in sequins, vampy lips, and a whole lot of white fur. You'll instantly get a sense of Old Money New York with those fur shawls and accents.
11. The Whole Family Wrapped In Fur
And last but not least, there was that moment when the whole family stepped out in fur to celebrate the Yeezy x Balmain collaboration. It's the best moment in which glamour met streetstyle, and summed up the family perfectly.
With everything from polar bear coats to statement pieces like red, floor-length jackets, the Kardashian/Jenner family really knows how to work some fur.
Want more Kardashian/Jenner inspo? Check out the video below, and be sure to subscribe to Bustle's YouTube page for more hacks and tricks!
Image: kimkardashian/Instagram