11 Lipsticks For Spring Besides Red & Peach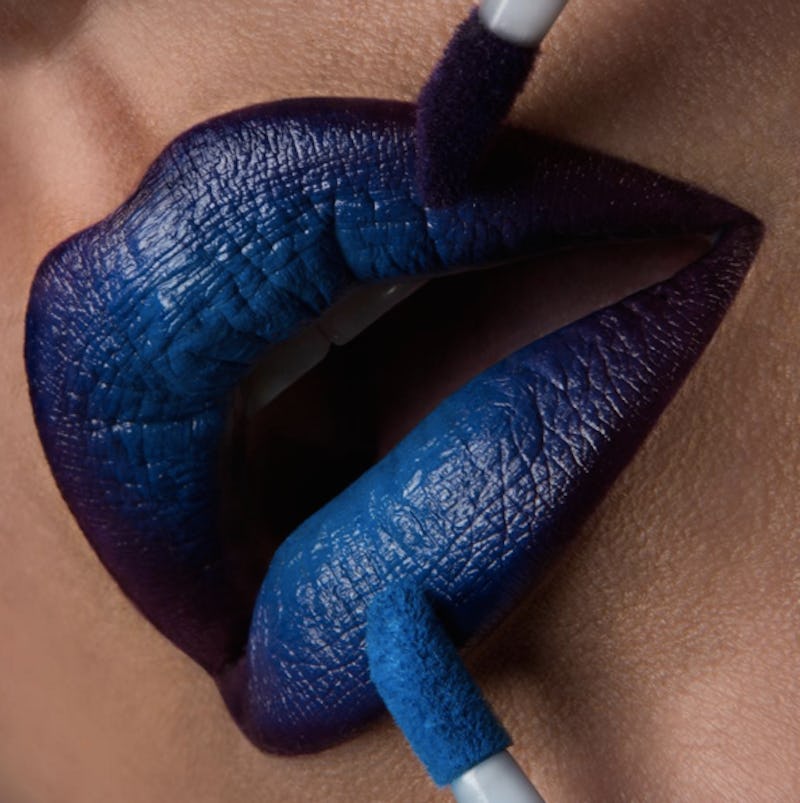 As winter begins to thaw out and more and more days demand only a light jacket, I'm ready to enthusiastically step into spring. This means dusting off my favorite skirt, whipping out my formerly weather-inappropriate clogs, and experimenting with fun lipsticks and spring beauty trends. In the land of lipstick, spring usually means subtle peaches and bold reds. And, if you're feeling bold, maybe an ombre lip.
Personally, the one thing I love more than experimenting with trends is going completely against the grain with my sartorial and makeup choices. Some trends, like gray lipstick and bold glitter brows, are right up my alley. But I feel way less inclined to hop aboard the red and peach lip train because, to me, those colors feel so boring. Both red and natural-looking lips are always in style, and have been for as long as I can remember. I'm definitely a fan of both shades, but as spring approaches, and I experience the rebirth of my sanity and life out of doors, I need a bold statement and a big change.
If you're having a hard time figuring out what your spring lip game should look like, try drawing inspiration from current trends, and give them an edgy twist. Are you in love with a classic red lip? Try sparkly red liquid lipstick. Love jewel tones? Find one with a pearlescent sheen. And if there are odd colors that you just happen to like but have never used in lipstick form, like powder blue or gold, go for it! Here are some unconventional ideas to get you started.
1. Orange Ombre
NYX Ombre Lip Duo in Peaches and Cream, $11.99, ulta.com
Give your mouth a bold twist with this bright orange ombre lip duo from NYX. This tool goes to show that you can stay on trend and keep things interesting by creating a bolder and more daring version of the peach and ombre lip trend.
2. Dazzling Red
Lip Tar/RTW in Black Metal Dahlia, $16, occmakeup.com
If you're feeling like rocking a red lip, add a little sparkle to keep it interesting. This liquid lipstick comes in blackened red with red metallic pearl, which means it's sure to deliver both an intense sparkle and a deep black-tinged hue to your pout.
3. Liquid Gold
Star Wars Limited Edition Colorlicious Lipstick in Gold, $6.99, covergirl.com
If you're like me, you probably died over The Force Awakens this winter and jumped at the chance to incorporate Cover Girl's Star Wars-inspired line into your look. The collection's gold lipstick, which is basically a sparkly orange, is the perfect spring color for both a sunny day out or a night at your favorite bar.
4. Pastel Rainbow
Sephora + Pantone Universe Modern Watercolors Lip Gloss Set, $28, sephora.com
These pastel colors are so fun to experiment with for the coming warm season, since spring is practically synonymous with pastel. With the set including all six colors, the mixing and matching possibilities are endless.
5. Bright Light
NYX Macaron Lippie in Citron, $5.99, ulta.com
Channel a little warm sunshine into your lip color with this bright pastel yellow hue. Even if spring isn't here for another six weeks, carrying the uplifting sunny color on your lips might feel like a good compromise.
6. Fun With Fuchsia
UD Gwen Stefani Lipstick in Firebird, $18, sephora.com
It seems like berry lips are always in. Try a more statement-making pink color, like this fuchsia, and channel all the bold Gwen Stefani vibes.
7. Blue Empress
Manic Panic After Midnight Lethal Lipstick, $13.95, houseofbeautyworld.com
Channel fashion icon Lupita Nyong'o's Star Wars red carpet beauty look with this dark and dazzling blue lippie.
8. Green With Envy
Kat Von D Studded Kiss Lipstick in Plan 9, $21, sephora.com
Try out my personal favorite color, and rock a green or an emerald lip.
9. Serenity Blue
Dolce & Gabbana Beauty Shine Lipstick, $34.50, shop.nordstrom.com
Channel one of Pantone's Colors Of The Year with this powdery blue shade. Pastel colors like this one usually come in a matte-ified formula, but D&G's product is sure to leave your lips on high shine.
10. Metallic Jewel
Perlees Matte Pearl Lipstick in Third Eye, $18, limecrime.com
Elevate your jewel-toned lippie game with Lime Crime's pearlescent borderline metallic colors.
11. Mocha Lips
Ultra Matte Lip in Kae, $6, colourpop.com
You don't have to buy Kylie Jenner's lip kit to achieve the same brown-tinged pout. Channel some of actor and model Karrueche Tran's cool girl vibes with her Colour Pop collaboration, which consists almost entirely of nudes and mochas.
Step out of your comfort zone this spring, and experiment with less predictable shades. Peach and red can get a little boring anyway.
Want more beauty tips? Check out the video below, and be sure to subscribe to Bustle's YouTube page for more hacks and tricks!
Images: occmakeup/Instagram; Courtesy Brands