'Bach' Star Lauren B. & Her Sister Are Total BFFs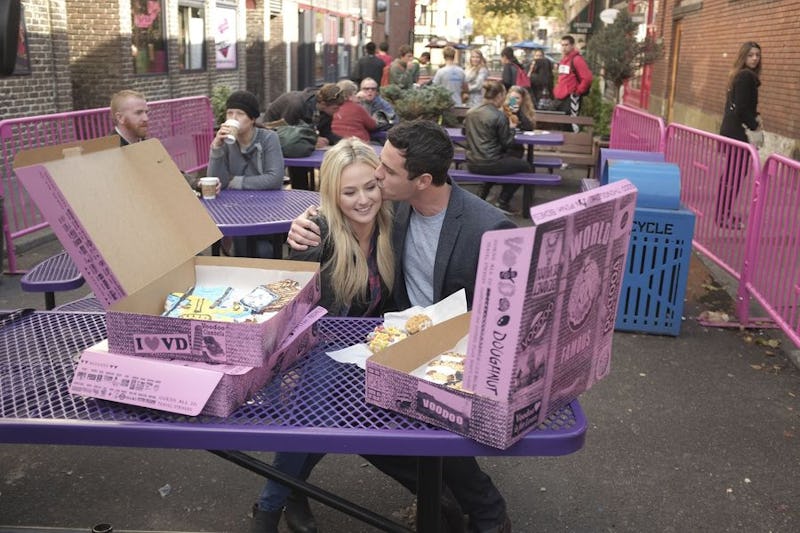 We are down to the final four on Ben Higgins' season of The Bachelor , which means hometown dates are here. Although she lives in Marina Del Rey, California, Lauren Bushnell is originally from Oregon and will take Ben around her hometown. There, Ben will have to face the toughest critic of them all, Lauren B.'s sister Mollie. The two sisters look relatively close in age and are pretty much best friends according to their social media accounts. They do everything together, which is why Ben is going to have to try hard if he wants Mollie's stamp of approval. I have a strong feeling that she will not have a hard time telling her sister exactly how she feels.
So, what does Lauren have planned for Ben in Oregon? According to photos ABC released, they will spend a day on the town exploring and eating food. They stop by a food truck called The Dump Truck, which serves some pretty awesome looking dumplings. I mean a bacon cheeseburger dumpling? Hello! Then they head to Voodoo Doughnuts, which offer some inventive choices for treats. "The Loop doughnut" is covered in fruit loops, while the "Captain my Captain doughnut" is topped with Captain Crunch cereal. These two places alone make me want to take a trip to Portland. Finally, they end up in a bar, making out on a couch. All in all, it looks like the date goes very well.
But, before we meet Mollie on Monday, let's meet her virtually.
She's Based In Los Angeles
Like Lauren B., Mollie lives in Los Angeles. According to her Instagram she spends a lot of time in Marina Del Rey with her sister and along the coast. Who could blame her though? So pretty!
She's Also A Flight Attendant
These two are two peas in a pod. Not only do they both live in California, they both work at Alaskan Airlines.
She Attends Stagecoach Annually
If you want to run into the Bushnell sisters, I recommend hitting up the Stagecoach music festival. According to Mollie's Instagram, she goes every year.
Their Family Is Super Close
The Bushnell family spends a lot of time together. They look like their constantly vacationing together and, I assume, flying is free considering multiple children work for the airlines. Living the life!
She Likes Audrey Hepburn
…and can pull off the look pretty flawlessly.
She Was A Delta Gamma In College
I'm not sure where she went to school, but she graduated having been a member of the Delta Gamma sorority.
She Would Be A Great Bachelor Contestant
All I'm saying is that she's cute, seems pretty cool, and the perfect candidate for the show. Also, it doesn't hurt when you've had a sibling on the show before. Just ask Carly Waddell.
Images: Levy Moroshan/ABC