9 Ways To Curl Your Hair With All The Tools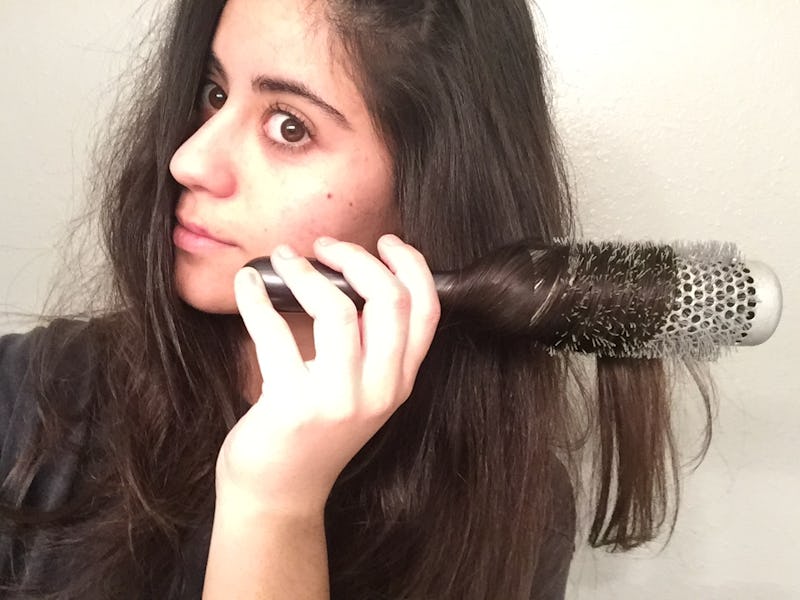 The days of pin-straight hair being the only look to aspire to are thankfully over. So whether you're coveting a curly mane or have a natural one and are looking for a more defined look, there are plenty of ways to curl your hair for chic, on-trend, ringlets. From working hot tools into your routine like you never have before to non-heat braids and pins, these approaches will hopefully guarantee the stunning curly mane you've always dreamed of.
As someone with naturally curly hair, I have learned to love all the quirks and idiosyncrasies of my strands. Even though I would never want to change my natural curls in a permanent way, I do sometimes like to experiment with other curling methods. After all, there are so many ways to rep curls, from the beach waves to the Shirley Temple-esque ringles to Julia Roberts' full, bouncy curls circa Pretty Woman. Why limit yourself to only one style?
Here are nine ways you can get your hair looking voluminous and gorgeously curled. I suggest working in some extra elbow grease and getting ready to experiment with your mane as you find the approach that works best for you. Get your selfie hand ready.
1. Wand With Clamp
One of the classic approaches to curling your hair has to be a wand with a clamp. Although there are some things to be aware of — like the risk of burning your skin on the hot wand and the need to get that clamp just right — the curling wand with a clamp can make your hair as curly as can be in a snap. As vlogger Teni Panosian proves, this is a foolproof method for classic curls.
2. Wand Without Clamp
A wand without a clamp is a newer approach to the world of heated curling tools. Instead of clamping your hair, you simply hold your locks very close to the wand — at the risk of burning yourself, of course. While I can't say I particularly enjoy that risk, I can say that my hair always looks super curly after using this kind of wand. The wand sans clamp is great at defining natural curls for a beachy, effortless vibe.
3. Hot Rollers
There's nothing like taking time out of your day to hot roll your hair. It's one of my favorite ways to treat myself, in fact. As you can probably guess, it's a long and sometimes tedious process. That being said, it results in some majorly curly hair. To achieve long-lasting, bouncy, '60s era ringlets, hot rollers are really the best way to go.
4. Blow Dryer
Being able to work a blow dryer is an art, but with enough practice, I believe everyone can make it happen for gorgeous blow-outs at home. With a big, wide brush, hold your dryer against the hair that's wrapped around it. Then, begin unraveling the curl while you work the blow dryer down the strands. The soft, angelic curls that will result are super pretty.
5. Headband
The headband approach is one of my favorites and requires no heat and hardly any time or effort. Wrap your hair around a headband, strand by strand, until all your hair is around it. Then, simply sleep on it. By the time you wake up, you'll hopefully take out the headband to reveal gorgeous curls.
6. Velcro Rollers
Velcro curlers create soft, voluminous curls and are one of my personal favorite methods. While their effect isn't always as long-lasting as an overnight or heated 'do, they're much safer on my hair than their heated counterparts.
7. Straightening Iron
When I first came across an article about curling your hair with a straightening iron, I wrote it off almost immediately. Then my friend showed me exactly how to go about it. Since then, I've been reaching for my straightener to get pretty and casual waves in little to no time.
In order to achieve the look, you might need some practice and research. By turning the straightener towards your head and slowly working your way down your strands, you should achieve cutesy curls. But for further tips, The Style Blog's video should hopefully help this method become an effortless go-to.
8. Bobby Pins
Following the AndreasChoice Bobby Pin Curls Hairstyle video, I attempted to recreate her tight, bouncy curls after a basic blow dry. I never would have expected that pinning my hair with bobby pins would result in gorgeous curls, but that's exactly what happened. Getting my whole head pinned was a little tedious, and AndreasChoice does recommend letting them set for a couple of hours. But the results are super delicate curls, and worth it if you have some extra time to get ready.
9. Braids
While braids don't typically lend themselves to big, bouncy curls, they're pretty good at creating casual curls. Plus, they're quite safe on your locks since they require no heat at all. Throw your hair in a couple of braids, or as many as you want, after washing and wait until it's all dry to reveal beach-ready ringlets.
There are plenty of ways to curl your hair, whether you prefer to avoid hot tools or are all about them. Rocking a curly mane has never been easier.
Want more fashion and beauty tips? Check out the playlist below, and be sure to subscribe to Bustle's YouTube page for more hacks and tricks!
Images: Melodi Erdogan