This Is What The Ideal Proposal Looks Like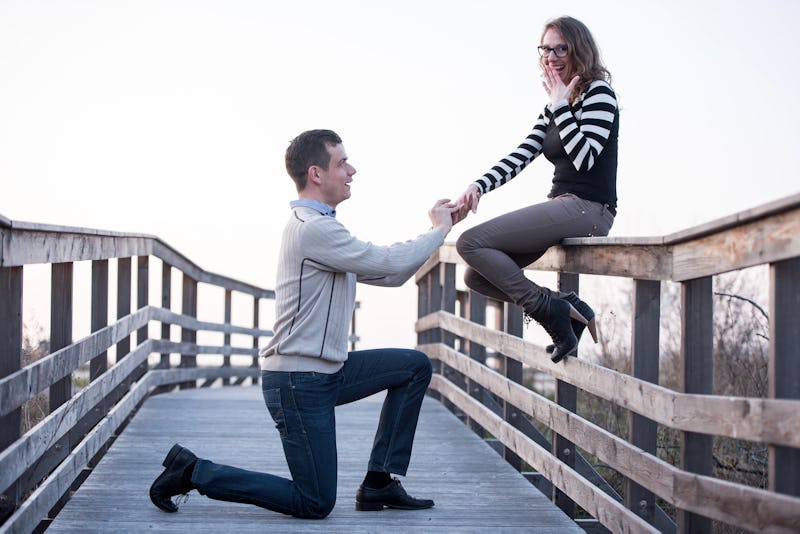 Not only is spring here, but March 20 is National Proposal Day! Does this mean that your partner will finally pick up on those not-so subtle hints that you want them to pop the question? Not necessarily. But the day was created by a man named John Michael O'Loughlin to help singles "overcome their hesitation and generate focused positive momentum in moving forward with their lives by indicating or declaring their desire for getting engaged and for marriage and their desire for consideration as a potential spouse to their true love." Basically, it might be easier to make the plunge, if you think everyone else is in the pool… or at least will be in there soon.
In honor of the big day, anonymous social app Whisper analyzed the data of their 20 million users to see what cities are the most proposal-happy, how people are proposing these days, what sort of ring people are hoping for (a diamond as big as the Ritz!), and most importantly, what people really want in an ideal proposal. It's a day that some people have been dreaming about their whole lives so when it happens, they want everything as perfect as possible.
So what are people hoping their proposal will be like? Here are seven things people really want.
1. A Private Proposal Is Preferred
If you're planning to propose to your partner or dropping hints that you want to be proposed to, you might want to skip the public proposal. According to Whisper's findings, more than half of those surveyed want a private proposal… which means "Will you marry me?" on the jumbo-tron at the next Knick's game is a bad idea. For 29 percent, their thoughts on a public proposal have yet to be decided.
2. Skip The Big, Over-The-Top Rings
While I do have friends who think the amount of carats in an engagement ring somehow correlates to how much someone loves them, for those polled by Whisper, that isn't always the case. In fact, more than half, at 55 percent, hope to get a "simple solitaire ring," as opposed to something that's going to make using your left hand an effort due to the weight.
3. People Really Want A Christmas Proposal
Despite March 20 being National Proposal Day, the majority of people are really hoping to find a ring from their S.O. amongst all the Christmas gifts. January, also, is a desirable a month for an ideal proposal, with June coming in third place. Surprising, February is in fourth place, despite it being the month of Valentine's Day.
4. Women Want That Question Popped Sooner Than Later
According to a 2013 study commissioned by Lambrini, 25 percent of women expect their partner to propose once the relationship reaches the 24-month mark. Even if their partner doesn't propose then, they better be at least thinking about it.
5. It Really Is All About Location
Another really important detail that people are looking for in the perfect proposal is location. I was proposed to in Chatel, France — which was pretty awesome, because my name was everywhere and I felt like a star. Although that was perfect for me, because I just might be an egomaniac (jury is still out), for those in the 2013 Lambrini study, a deserted beach is the prefect location for a proposal. Which is great, but who's going to take photos you can plaster all over Facebook?!
6. Over A Third Of Women Want To Be Surprised
While most women have no qualms about dropping hints or even straight-up asking when their partner is going to propose, they do want to be surprised when their partner pops the question. Of those surveyed, 32 percent want to be totally shocked in their ideal proposal situation. Like, mind blown kind of shocked.
7. Traditional Proposals Are Dying Out
Although 20 percent want their partner to drop to their knee when they propose and one in 10 women want their partner to ask their dad for permission, the reality is that those traditional proposal ideals are on their way out. Which is pretty refreshing, if you ask me.
Want more of Bustle's Sex and Relationships coverage? Check out our new podcast, I Want It That Way, which delves into the difficult and downright dirty parts of a relationship, and find more on our Soundcloud page.
Images: Fotolia; Whisper; Giphy(7)