Tom Hiddleston Deserves A Grammy For 'ISTL'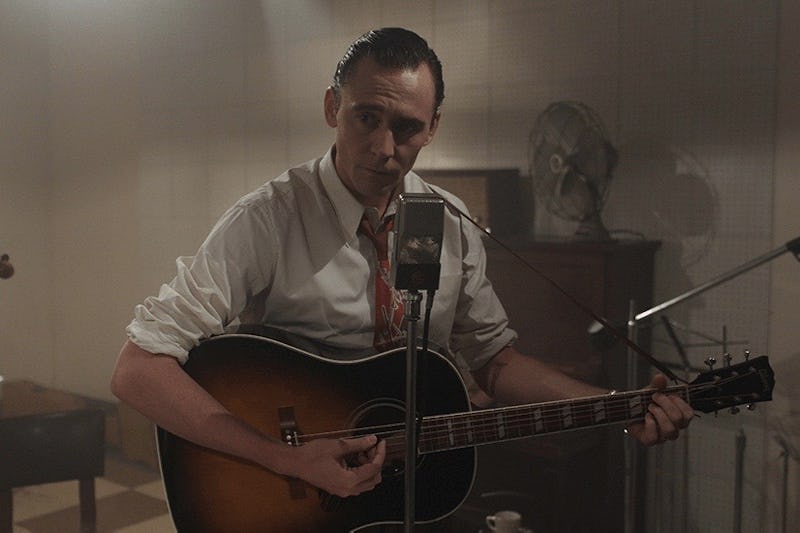 One of the greatest awards a performer can receive is the coveted EGOT. Scooping up an Emmy, Grammy, Oscar, and Tony isn't easy; only 12 people have done it to date. However, Tom Hiddleston could win a Grammy for I Saw The Light and be well on his way to an EGOT of his own. To be fair, he hasn't won any of those yet, but he has grand potential. Perhaps AMC's The Night Manager will score him an Emmy. And, it's really only a matter of time before he wins an Oscar. As for the Tony? Hiddleston started out his career on the stage, that'll be a breeze. (Seriously, watch Coriolanus and you'll never doubt his theatrical abilities again.) As for I Saw The Light , Tom Hiddleston's singing is easily the best part of the film.
Hiddleston caught a lot of flack for his casting as Hank Williams in the biopic. Hiddleston is neither American nor a professional singer. So, many people were upset he'd be playing the country music icon, including Williams' grandson who wanted Matthew McConaughey for the role. (Pretty sure he can't sing either, but whatever.) But, for anyone who was worried Hiddleston wouldn't do justice to Williams and his classic songs, don't worry. Hiddleston excelled in the role, making the musical bits the best part of the whole movie.
It's not unheard of for a movie like this to win a Grammy. Walk The Line garnered Joaquin Phoenix a Grammy in 2007 for Best Compilation Soundtrack Album for Motion Picture, Television or Other Visual Media. Although he shared it with the producer and the engineer/mixer, that still totally counts. So, if the Grammys bestow that category or a similar one upon I Saw The Light, Hiddleston could walk away one step closer to the coveted EGOT. And, he definitely deserves it.
Prior to this film, Hiddleston had sung a couple of times for a lark on talk shows and the like. And, while adorable, he wasn't necessarily great.
But, it's clear that he put the effort in to get it right for the movie, because I was seriously impressed with his vocal abilities. According to Vanity Fair, he worked with Nashville singing coach Rodney Crowell to perfect Williams' voice. The pair actually lived together for five weeks and worked on singing every day. "For him, it was about literally shaking me up so I was relaxed enough to sing the blues," Hiddleston told the magazine of his teacher's methods.
And, their work clearly paid off. Hiddleston sings on six of the 13 tracks and tackles Williams' classics like "Hey Good Lookin,'" "Move It On Over," and "Honky Tonkin'." This would be a challenge in and of itself, but Hiddleston had to also do a country accent while singing the tunes.
I'm not surprised Hiddleston was able to nail Williams' accent, the actor is a master of impressions. But, I think singing in another accent, and singing huge hit songs, and singing those huge hits songs while under pressure to play a legendary singer is seriously impressive. (Oh, and he really played the guitar, too, because Hiddleston is nothing if not dedicated.)
If ever the actor was poised to win a Grammy, it's now, and I can't wait to see how things shake out come the February awards ceremony.
Image: Sony Pictures Classics