The 'Batman V Superman' Soundtrack Is Beyond Epic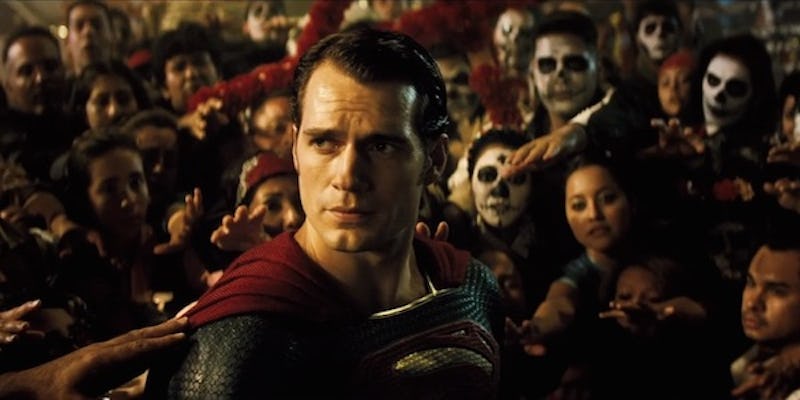 The summer blockbuster movie season has come early this year with the March release of Batman v Superman: Dawn of Justice , which looks to break box office records when it unleashes its spectacle onto audiences this weekend. A number of critics have already seen the film, and they haven't exactly been ecstatic about the it. But despite what critics may say, fans seems rather enthused and I haven't noticed many people complaining about the Batman v Superman soundtrack.
Regardless of how you feel about the movie itself, there's no denying that the score does an amazing job of setting the stage for the epic battle that takes place between Batman and Superman. That's because the film was composed by movie legend Hans Zimmer and the very hot right now Junkie XL (Tom Holkenborg). Zimmer created the memorable scores to films like The Lion King, The Dark Knight, Gladiator, and the Pirates of the Caribbean series. Junkie XL, meanwhile, has made a name for himself lately by scoring this year's hit Deadpool, as well as last year's Mad Max: Fury Road and 2014's Divergent. The two composers have also worked together once before, both contributing to the music of 2014's The Amazing Spider-Man 2 .
As for the Batman v Superman soundtrack, it's already available on places like Amazon in three formats: MP3, CD, and even vinyl. Not only that, but WaterTower Music has graciously put all 13 tracks, along with five bonus tracks, online for your streaming enjoyment. So check out the music of the epic Batman v Superman soundtrack below.
1. "Beautiful Lie"
2. "Their War Here"
3. "The Red Capes Are Coming (Lex Luthor Theme)"
4. "Day of the Dead"
5. "Must There Be a Superman?"
6. "New Rules"
7. "Do You Bleed"
8. "Problems Up Here"
9. "Black and Blue"
10. "Tuesday"
11. "Is She With You? (Wonder Woman Theme)"
12. "This Is My World"
13. "Men Are Still Good (The Batman Suite)"
14. "Blood of My Blood" (Bonus Track)
15. "Vigilante" (Bonus Track)
16. "May I Help You, Mr. Wayne?" (Bonus Track)
17. "They Were Hunters" (Bonus Track)
18. "Fight Night" (Bonus Track)
As you can tell, this soundtrack is perfect for watching superheroes fight, watching superheroes destroy buildings... really anything to do with superheroes being destructive, to be honest. So listen away and just try not to picture Batman and Superman exchanging blows.
Images: Warner Bros. Pictures; WaterTower Music