Looking Back At 'The Patty Duke Show' Intro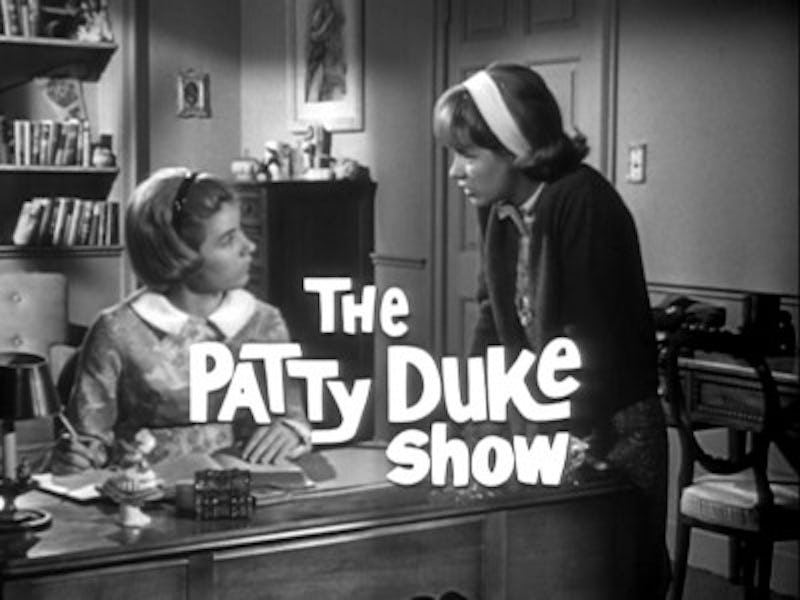 It's a sad day for fans of the Oscar-winning former child star Patty Duke. According to the Associate Press, Duke died on Tuesday at the age of 69. In a statement to The Huffington Post, Duke's manager confirmed, "Anna 'Patty Duke' Pearce passed away this morning March 29, 2016 at 1:20 am. Her cause of death was sepsis from a ruptured intestine. She was a wife, a mother, a grandmother, a friend, a mental health advocate, and a cultural icon. She will be greatly missed."
Duke was all of these things and more. She was a stage, film, and television actress who achieved success at a remarkably young age. After her award winning work as Helen Keller in The Miracle Worker, Duke was given her own show — aptly titled The Patty Duke Show — in 1963. She was only 16 years old at the time. The sitcom aired for three seasons, and captured what it was like to be a teenager in the '60s. Duke played "identical cousins" Patty and Cathy Lane, and while some viewers might remember the show for that somewhat surreal plot-line, no-one can forget the catchy theme song.
Like many television theme songs of the time (The Brady Bunch, Gilligan's Island), the intro to The Patty Duke Show explained the premise of the show, and succinctly noted the differences between its two characters. "Meet Cathy, who's lived most everywhere / From Zanzibar to Berk'ly Square / But Patty's only seen the sights / A girl can see from Brooklyn Heights / What a crazy pair!" Revisit the famously upbeat intro below and prepare yourself for a wave of nostalgia.
What a crazy pair indeed. An unforgettable, game-changing pair played by one unforgettable, game-changing actress.
Though it's hard to look back at The Patty Duke Show intro and not feel a rush of sadness for the loss of such a legend, it's even harder not to sing along and smile to the tune. Duke was a charming and talented actress whose light will live on through her work.
Images: ABC