The Mystery 'Bachelor' Moments We Never Got To See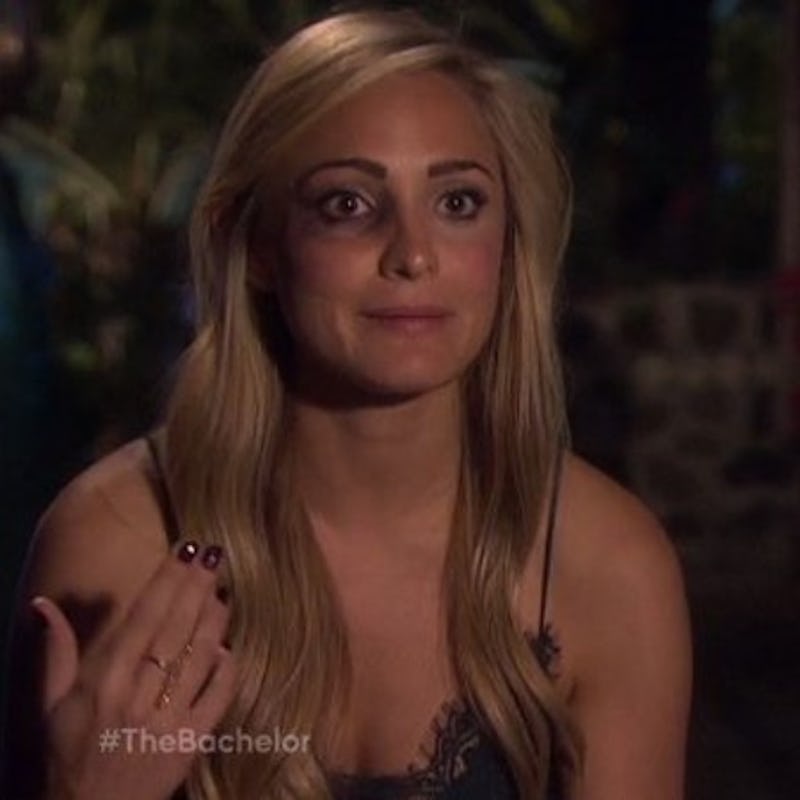 As much as I love The Bachelor and its various spinoffs, I have a major problem with the franchise, and it's not just that Chris Harrison isn't given enough screen time (although that bugs me, too). Nope, my main problem is that season after season, The Bachelor shows dramatic moments in the promos that never air on the show. Every season, after the premiere episode, ABC airs a super long promo that shows all the exciting, dramatic moments that are in store for us during the season ahead, and more often than not, there's a Bachelor moment or two that we never get to see — and that end up being totally unexplained, months and even years after the finale ends.
Unfortunately, there are all kinds of reasons that the producers would edit out these moments. After all, the show is only an hour long, so we can't see everything. But why they would show a scene in a promo for the season and then decide to cut it out later is beyond me... especially since so many of these moments that have ended up on the cutting room floor are full of drama and exactly the kind of thing that fans want to see when they watch this show. It makes no sense!
Here are some moments from The Bachelor just like this. Maybe we'll get answers someday?!
1. Leah Block's Black Eye
When Ben Higgins' season of The Bachelor began, we were promised that at some point, Leah Block would be suffering from a black eye. And after she lied to Ben about eventual winner Lauren Bushnell, I figured the time she got hit would be in direct response to that incident. But nope — that scene never aired, and Leah refuses to tell the story about what really happened.
2. Ashley Iaconetti's Pregnancy Scare
In the early Bachelor in Paradise Season 2 promos, the show made it look like not only was Ashley I. going to lose her virginity on the show, but she was also going to end up pregnant. Although that turn of events practically defied the laws of science, I still waited to find out what exactly was going on here... and in the end, no evidence of a true pregnancy scare aired.
3. The Pregnancy Test On The Bachelor
Chris Soules' Bachelor promos featured a blurry pregnancy test with absolutely no explanation. Whoever's it was never 'fessed up, so it's yet another mystery that remains unsolved, although later Chris said he was "not involved" in whatever was happening with that.
4. Ben Higgins Calling A Woman
At the beginning of Ben's season, ABC made it seem like Ben would be making a mysterious phone call to a woman — possibly his runner up to let her know he changed his mind. But when they clip actually aired, we found out he was calling Lauren's dad, asking his permission to marry his daughter. Yeah, way less dramatic than it seemed.
5. Clare Crawley's "Pregnancy"
When Clare showed up to meet Juan Pablo Galavis during limo arrivals, she greeted him wearing a giant baby bump. In previews, the show made it look like Clare was legit a pregnant contestant, but nope. Totally fake bump.
6. Tenley Molzahn Telling Jake Pavelka She's Pregnant
OK, why do so many of these never shown scenes have to do with pregnancy? In a promo clip, Tenley tells Bachelor Jake Pavelka she's pregnant... but that big reveal never aired. Later, ABC released the clip as a deleted scene, and we got to see the whole exchange for ourselves as proof that Tenley wasn't actually pregnant.
7. Desiree Hartsock's Ex-Boyfriend Threatening To Fight Sean Lowe
In the first extended promo of the season, it looked like one of Desiree Hartsock's exes would show up on The Bachelor trying to win her back... and it even looked like he and Sean would get in a fight. But when the clip actually aired, we found out it was just a prank she pulled on him during his hometown visit. At least we got some resolution on this one?
8. Ben Flajnik's Grandma Contestant
On his season of The Bachelor, it seemed like Ben Flajnik had a grandma vying for his heart when she showed up at limo arrivals and professed her love for him in a preview clip. But nope — she wasn't there to compete. She was just one of the contestants' grandmas, which was actually super adorable.
Now that The Bachelorette's premiere date is less than two months away, I have no doubt that more moments like this are on their way! Bring 'em on, ABC — we've all learned how to deal with unsolved mysteries after all of these.
Images: ABC (3)