This Is The Right Way To Combine Kylie Lip Items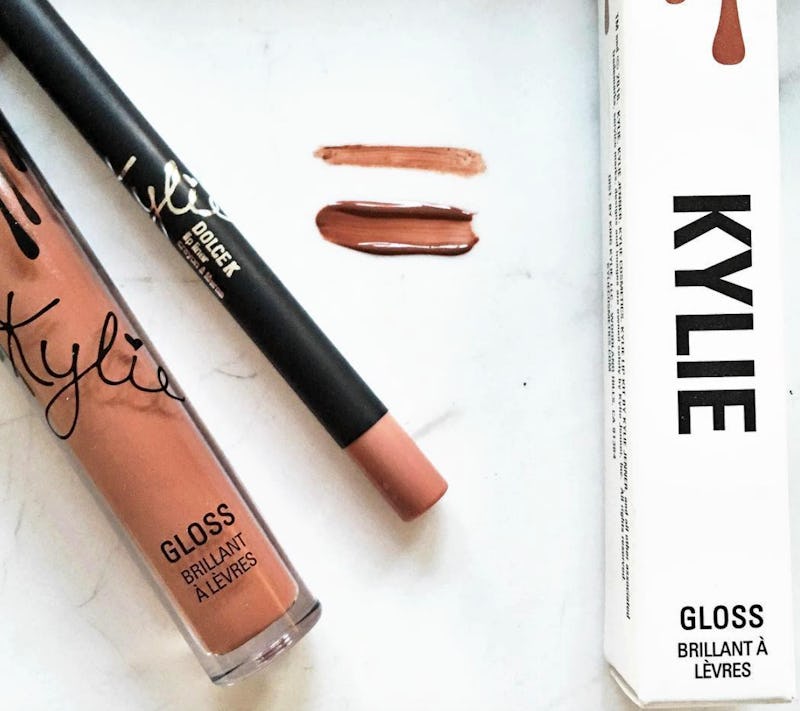 I look at the Kylie Lip Kits and Kylie Glosses like sisters. You know, like Kendall and Kylie Jenner themselves. Right? The mega matte Kylie Lip Kits and the maaaj shiny Kylie Glosses are insanely different and unique. They stand on their own... well the KLKs have a partner in the form of their accompanying lip liner, which is essential in creating that precise, defined lip silhouette. However, the KLKs and the KGs are also complimentary. They can be better together! Jenner and her team at the brand actually recommend pairing the Lip Kits and Kylie Glosses and you can do so in a variety of ways. If you get "bored" using the products on their own, you can totally combine them for a creative, custom lip look.
Yes, some Kylie Lip Kit fans have come up with alternate uses for the liquid lipstick, like this beauty who used True Brown K as a liquid liner. She created quite a beautiful wing. This makeup master combined the deep pink Posie K with the orange 22 and the result was her own delish shade.
But both products with different finishes work in tandem. It's as though they were designed to be a combo.
The Dolce K liner, which is a medium beige nude, pairs perfectly with Like, which is a warm brown x beige shade and is the darkest of the three neutrals glosses.
Jenner's BFF Jordyn Woods paired Like with the Candy K liner. Now, Candy K is a soft and warm nude, with a bit of a rosy tint to it... at least on my pinkly pigmented lips. The takeaway here is that the creamy KLK liners, which are easy to sharpen, can be teamed with different liner shades and the result can be DNA distinct, based on your natural lip color. Just make sure they are in the same shade family, of course. You shouldn't, you know, pair the red Mary Jo K liner with the pale pink So Cute gloss.
While you can totally rock the Kylie Glosses a la carte, using with liner is actually a great idea. On the Kylie Gloss product description page, the Kylie Cosmetics team writes, "Wear alone, with your favorite lip pencils or layer on top of lipsticks... Also pair with the Kylie Lip Kit for a bold, glossy look."
Go ahead and try it!
But here's another tip cribbed from Jenner's app. When she was describing how she got her red lip look when debuting the Mary Jo K Lip Kit, she suggested a trick that I find to work wonders. If you want your lipstick or lip gloss color to last longer, don't just line your lips with liner. Fill in the surface of the lips with the pencil, too. It gives lipstick or gloss something to adhere to and it's as though it's a barrier between the moisture of your lips and the product.
So that's how you do it! Don't be afraid to cross-pollinate the Lip Kit liners with Kylie Glosses or even to top Kylie Lip Kits with gloss. Yes, it will cancel out their matte-ness, but it will look gorge.
Happy makeupping!
Images: Kylie Cosmetics/Instagram (2); The Kylie Jenner (1)