Feminist Snapchat Accounts That Are Worth A Follow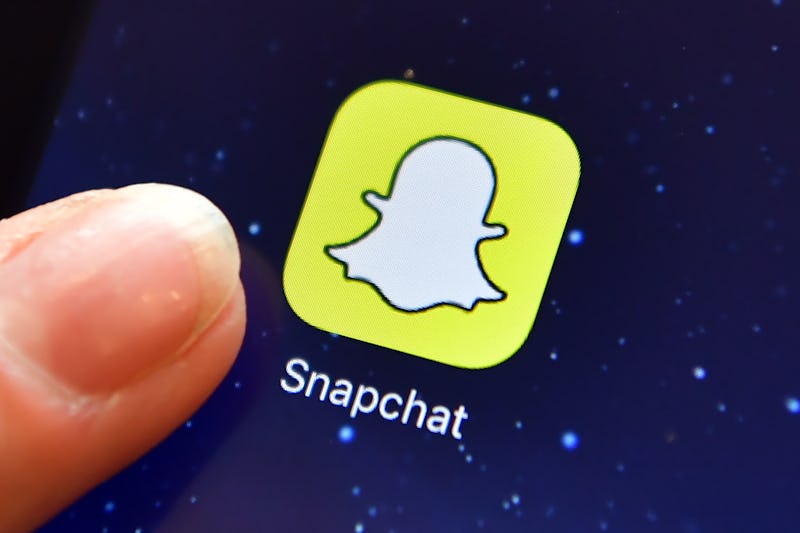 Carl Court/Getty Images News/Getty Images
When Snapchat first launched in 2011, few could have anticipated that it would turn out to be the Queen Bee of social media just four years later. These days, everyone and their mother (literally) is filtering, rainbow-puking, and video chatting up a storm. Unfortunately, Snapchat's setup can make it difficult to find new users to follow; if you're anything like me, your search for feminist Snapchat accounts quickly petered out once you realized you didn't know where to start. Although following your friends is ridiculously simple, following public figures on Snapchat is an exact science — first, you have to know who you want to follow, and then you have to find their exact username online before you can search for their account within the app.
It can be a pain, but that just makes victory sweeter when Demi Lovato's selfies or Diplo's elaborate mini-movies finally show up in your Story. (Seriously, follow Diplo. Your life will get 10,000 percent better immediately.) However, as fun as behind-the-scenes footage of your favorite TV shows and concerts can be, that's not all the app has to offer. If you're looking to add some gender equality to your Snapchat Story, take a look at the following six feminist Snapchats — most are celebrities and activists, but there are a few politicians whose presence might surprise you. Happy Snapping!
1. Leandra Medine, aka Man Repeller
Username: ManRepeller
If you haven't heard of Man Repeller, prepare to have your life changed irrevocably. Founded by Leandra Medine, the blog focuses on fashion while also giving a voice to women. It's basically the best thing ever — but Medine's Snapchat, which doubles as Man Repeller account, is a close second.
2. Laverne Cox
Username: lavernecox1
You already know why you should follow famed trans activist and actress Laverne Cox, but now you have her Snapchat name. You're welcome.
3. Hillary Clinton
Username: HillaryClinton
Yes, you read that correctly: Presidential candidate and longtime feminist Hillary Clinton acquired a Snapchat in the fall of 2015, and it was the cutest event to ever occur in politics. Well, until...
4. Bernie Sanders
Username: bernie.sanders
Not to be outdone, fellow longtime feminist and potential future POTUS Bernie Sanders also joined Snapchat late last year, and it was somehow even cuter than Clinton's. (Only in 2016 would multiple Presidential candidates be expected to have Snapchat accounts. Don't you love America?)
5. Lenny Letter
Username: lennyletter
You can love her or hate her, but you can't deny that Lena Dunham is one of the most most influential feminists out there. The Snapchat account of her feminist newsletter, Lenny Letter, doesn't update often, but it's still fun when it shows up in your Story.
6. Zendaya
Username: Zendaya_96
Zendaya is an actress and singer foremost, but she's also a badass feminist. Her Snapchat stories are also adorable, so it's a win-win.
Image: Getty Images (3) Laverne Cox, Zendaya/Instagram