8 Feminist Twitter Accounts You Should Follow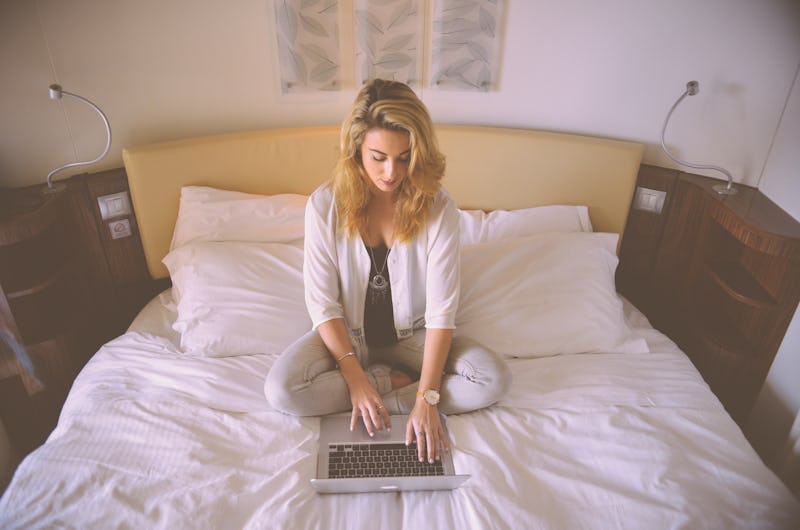 As someone who never quite manages to get the hang of social media platforms before everyone moves on to the next big thing, I was never a huge fan of Twitter — that is, until I discovered the plethora of feminist Twitter accounts out there on the World Wide Web. Although the Internet isn't exactly known for its welcoming attitude toward women, especially the "outspoken feminist" variety, no amount of trolling has stopped these accounts from spreading some much-needed love for gender equality, all while sticking to the 140-character limit for which Twitter is known. (For now, at least.)
We've already rounded up the most iconic feminist Instagrams to follow, but Twitter is an entirely different beast: Unlike other forms of social media, Twitter's character limit forces users to get to their point as succinctly as possible. This is great for things like musings on what it means to be a modern celebrity or parody accounts filled with one-liners (Emo Kylo Ren, anyone?), but when it comes to more complicated topics like feminism, it's rather more difficult to use Twitter effectively.
That's what makes the following accounts so special: Somehow, they manage to make the combination of feminism, brevity, and comedy look easy. Whether you're looking for political updates, jokes about tampons, or both, you're going to want to check out the following feminist Twitter accounts.
1. Dalia Malek
Dalia Malek's tweets are regularly featured in round-ups of the funniest feminist tweets, and for good reason: Her account is a veritable gold mine of musings on what it means to be a woman today.
2. Selena Coppock
As a comedian and writer, it's probably no surprise that Coppock's Twitter account is straight-up hilarious, but behind her jokes, there's often pointed feminist observations.
3. Aisha Saeed
Author of Written in the Stars and contributor to the anthology Faithfully Feminist, Saeed's Twitter is full of feminist jokes, tweets in support of other women, and commentary on the current political climate from her perspective as a mother, feminist, and Muslim author.
4. Jenny Slate
Although her tweets aren't as overtly focused on feminism as many of the others on this list, Slate has made no secret of her identification as a feminist. Besides, her Twitter is the kind of off-the-cuff hilarious that most of us only aspire to.
5. Ijeoma Oluo
Self-declared "Internet yeller" Oluo uses Twitter to do what she does best: yell about feminism on the Internet. It is glorious.
6. Jen Richards
In addition to being the creator of the web series Her Story , which follows the lives of trans and queer women, Richards is an actress, activist, and writer.
7. Hillary Clinton
Whether you're planning on voting for her in the upcoming election or not, Clinton is one of the most visible feminists out there, and her Twitter account reflects that — plus, it's surprisingly self-aware at times.
8. bell hooks
As if you're not already following one of the most influential feminists of our time. (Let's just assume you're following Gloria Steinem's Twitter as well.)
Images: Pexels