These Are Men's Favorite Positions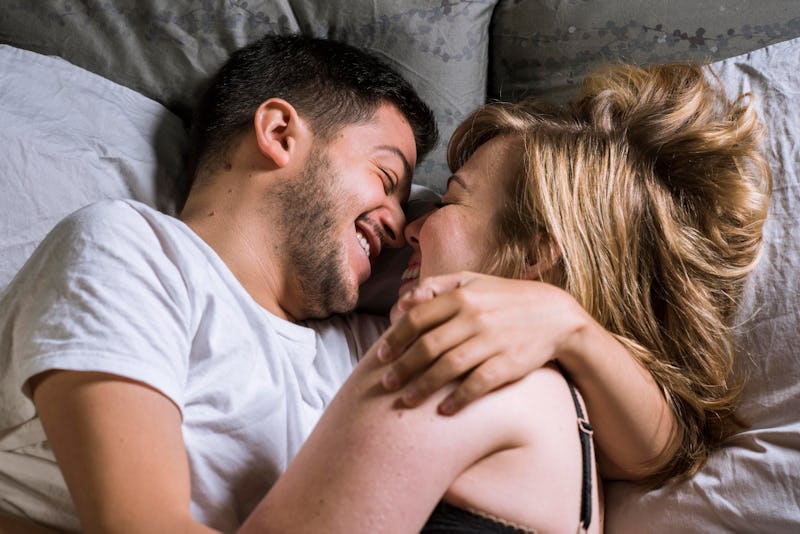 If you've ever wanted to know what goes on inside a man's brain when it comes to sex, then you don't have to wonder any longer. A new survey by the dating site QuickFlirt asked over 2,000 men about a range of subjects, from penis size to pubic hair grooming, and everything in between. One of those things is always important: What sex position do men like best?
According to the QuickFlirt survey, the most common penis size of the men on their site is six inches, with 48.33 percent claiming that length. (Although according to a 2015 study, the average length of an erect penis is 5.17 inches, but I digress.) Over half of men on the site (56.67 percent) take manscaping very seriously, either keeping their pubes trimmed or completely shaved. I don't know who these guys are, because I've never seen a completely shaven man — except in porn, of course. The survey also found that 38.33 percent of men use sex toys consistently or have at least tried a sex toy once.
But the most interesting part of the survey covered sex positions. Although 3.33 percent of men in the survey said they didn't have a favorite position, the others were a bit pickier. So what are men's most favored sex positions? Well, I can tell you that you won't be surprised by number one at all. But first, check out our video on optimal sex positions for small penises:
5. Standing Up
4.16 percent of the respondents rank standing up as their favorite sex position. Although it can be a little tricky if you don't have a wall or something else for support, it's definitely hot, especially if you're just trying to get a quickie in before heading out.
4. Missionary
Honestly, I was surprised to find missionary on this list at all. But for 6.67 percent of those surveyed, missionary is their most preferred position. I think it makes sense if you're in a committed relationship, because there's a lot of intimacy in looking your love in the eyes … and seeing their O face.
3. Reverse Cowgirl
Reverse cowgirl is great, especially for women. You get your G-spot stimulated, while you can manually stimulate your clitoris. However, for those 11.67 percent of men who love this one, it should be noted that this position, if not done with care, can lead to a broken penis. No, I'm not joking.
2. Cowgirl
This is also a favorite for women, because from here, your G-spot is stimulated, while the friction of your clit against your partner's pubic bone provides for clitoral stimulation, too. With 19.17 percent of men favoring this one, it's definitely a position you should have on your regular roster.
1. Doggy Style
And the position that the majority of guys love? Doggy style, of course. Are you even surprised? Not really. For 28.33 percent of men, this is the way to go. From this angle, they have all the control, a perfect view of your butt, and it's really primal, which I guess makes for a pretty perfect position.
Images: Caroline WurtzelBustle; QuickFlirt