Here, Have A Pic Of A Firefighter Rescuing Kittens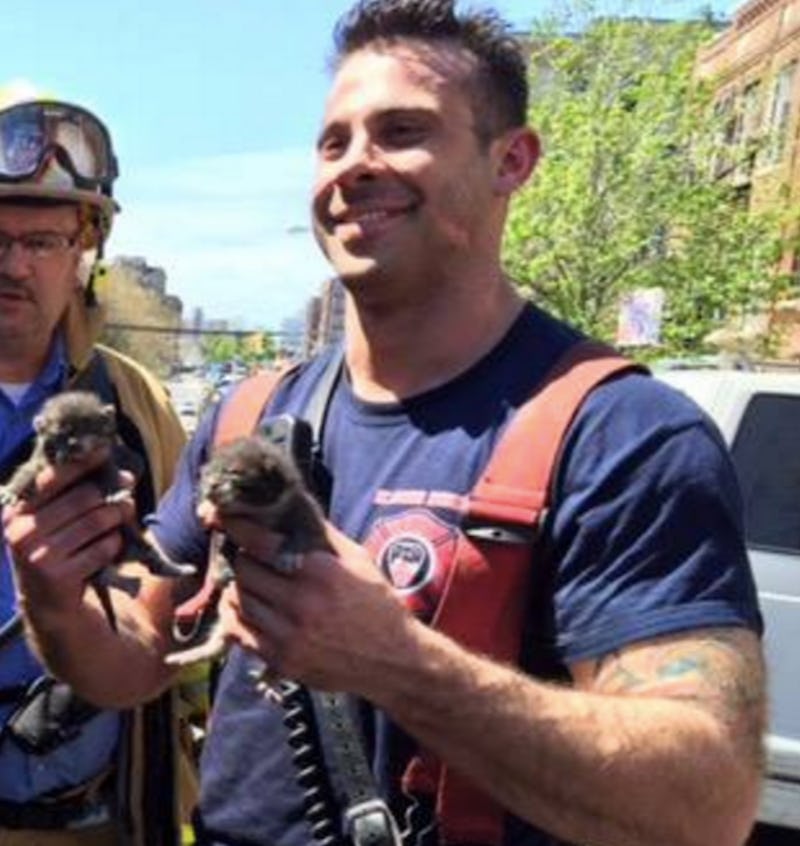 While we have all been #blessed with the likes of The Hot Doctor and The Hot Veterinarian, they truly don't know the meaning of hot like this firefighter who rescued four adorable kittens on Sunday. A picture of FDNY Firefighter Vincent Martinelli of Ladder 31 posing with the two kittens in question was posted to Facebook yesterday, and I feel like I have to warn anyone about to scroll down to it that your internal organs are about to combust. (But hey, maybe Martinelli will get the call?)
"It was smoky in the apartment, and I heard noise coming from the bay of the floorboards. It was the kittens, they were crying I found one, and then the others. They are so young. I'm glad we were able to get them out of there," said Martinelli, quoted in the Facebook post from the New York City Fire Department page. The kittens were located after a two alarm fire in the Bronx.
The kittens were not available for comment, but from the looks of things, they are doing purrrrrfectly. And I, for one, am heartily looking forward to the musical adaptation of this cuteness, coming soon to a Broadway theater near you.
Does anybody else sense the viral winds shifting in Martinelli's favor? Based on the rather, er, passionate comments that the picture has inspired, I'm guessing he's going to be the next random professional internet celebrity du jour. It's not very often that a picture inspires someone to write, "I'm positive that there is a fire at my house. Hurry."
In any case, this is decidedly a good time to say Vincent Martinelli, Imma let you finish, but this random GIF cat was the best firefighter of all time.
Well, er, at least he tried. So now that we've unofficially elected (I mean, it'll be official in a few hours, right, internet?) Vincent Martinelli as The Hot Fireman, let's take a trip down memory lane to the other Hot Heroes of the past year.
Dr. Mike, The Hot Doctor
Dr. Mike, also of New York, became a viral sensation last year for simultaneously being hot and a doctor. He's also hella into charity, gives stellar advice to people interested in the medical field, and has the cutest dog on the planet, which helps.
Dr. Evan, The Hot Veterinarian
When he isn't helping endangered and exotic species around the world, he is very busy winning accolades such as People Magazine's "Sexiest Beast Charmer" (and Leo had just recently starred in The Revenant, so you know his competition was Fierce AF).
Welcome to the ranks, Vincent, the Hot Firefighter! You're one of the greats meow.
Images: Courtesy of FDNY/Facebook