'Grace & Frankie' Fans Should Watch These Shows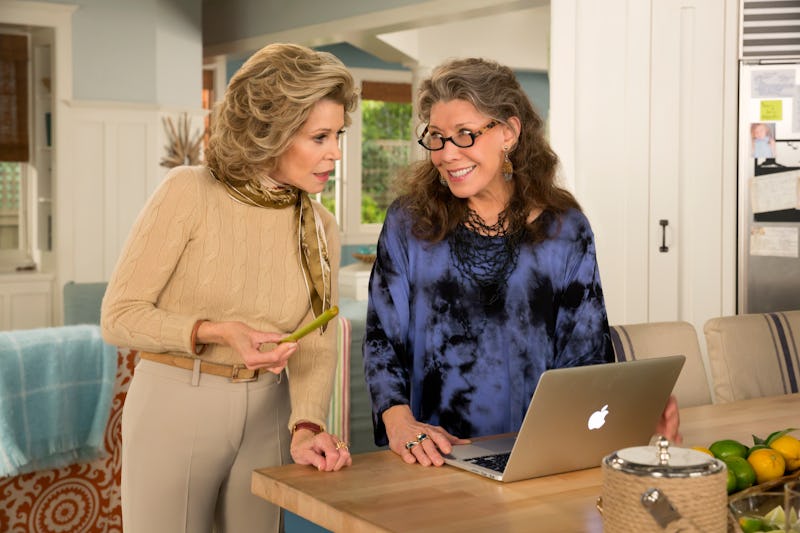 The number of original shows on Netflix keeps on increasing with each new series that premieres, but the streaming service also seems to be incredibly loyal to those that have already debuted. Take Grace and Frankie for instance, Netflix granted the show a second season shortly after its first season premiered, and a third season was given the go-ahead long before Season 2 had hit the streaming service! But, when is Grace and Frankie Season 3? UPDATE: At A Netflix event the Grace and Frankie Season 3 premiere date was announced to be March 24, 2017.
Earlier: Well, Netflix has yet to announce an official premiere date for Season 3, a look at the premiere dates of the previous seasons can help one make an educated guess. Season 1 hit the streaming service on May 8, 2015, while Season 2 will be available starting on May 6. So, if Netflix sticks to this pattern, I would guess Season 3 will probably debut on May 5, 2017. That is, unless Netflix decides to give us Grace and Frankie Season 3 even earlier — although that's just wishful thinking on my part. No matter what, though, you'll have plenty of time to kill before Season 3 arrives, so if you're already planning what to watch once you finish Season 2 of Grace and Frankie, I've got some recommendations! Check out these five shows while waiting for Grace and Frankie Season 3.
Unbreakable Kimmy Schmidt
A fellow Netflix original comedy, Unbreakable Kimmy Schmidt recently debuted its own second season, following the titular character as she attempts to navigate life in New York City after growing up in an underground bunker. If you're looking for another fun comedy after Grace and Frankie, check out Unbreakable Kimmy Schmidt on Netflix.
Friends
If you're looking for a longer show to keep you occupied between seasons of Grace and Frankie, you can't go wrong with the long-running and beloved sitcom Friends. Plus, if you want some more friend-focused comedy, it's a perfect show. All 10 seasons of Friends are on Netflix.
Gilmore Girls
The mother-daughter dramedy Gilmore Girls earned a dedicated following throughout its seven seasons — a following that is eagerly anticipating its return on Netflix! If you love Grace and Frankie, catch up on Gilmore Girls before the Netflix revival debuts; all seven seasons are on Netflix.
Master of None
One of Netflix's more recent shows is Aziz Ansari's Master of None, which follows a younger crowd than Grace and Frankie. However, if you enjoy real world comedy, Master of None is certainly worth a watch. The first season is available on Netflix.
Transparent
Another streaming service comedy to make waves in recent years is Amazon's Transparent, which has become critically acclaimed since it premiered. If you need another series to become hooked on after finishing up Grace and Frankie Season 2, check out the first two seasons of Transparent on Amazon.
So, it may be about a year between seasons of Grace and Frankie, but between Netflix and Amazon, there's plenty of television to keep you busy until Season 3.
Images: Melissa Moseley/Netflix; Giphy (5)