Marcel Could Become A Monster On 'The Originals'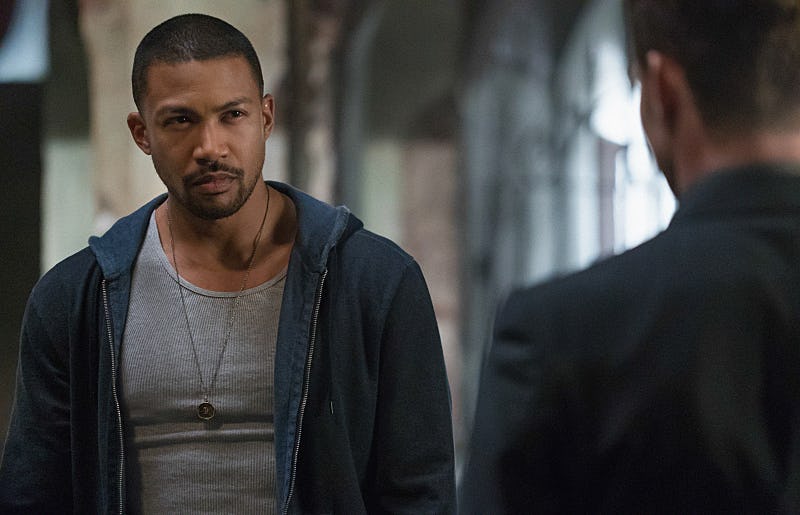 Well, peace among Vincent, Marcel and the Mikaelsons didn't last long on The Originals . Though the group of witches and vampires came together after Cami's death, it only took one more death to tear them apart in "Where Nothing Gets Buried." So, what happened to break up the happy family of supernatural creatures? Following last week's cliffhanger, which saw Kol drain Davina of blood because of a curse put on him by the Ancestors, Marcel, Vincent and Kol raced to try to save her from the wrath of the Ancestors on the other side and bring her back to life. But before they could bring her back, Freya sacrificed Davina, essentially letting her die, in order to defeat Lucien. Freya and Elijah's betrayal inspired Marcel and Vincent to form a new alliance on The Originals , and they're after Klaus.
Marcel and Vincent are done with the Mikaelsons, at least so they say. As much as they wanted to defeat Lucien, they wanted Davina to live more, and they can't forgive the Original family for what they did — especially after both Vincent and Marcel have compromised themselves again and again to please Klaus and his brother. And, to get back at them, Vincent has a plan: he wants to drive the Mikaelsons out of New Orleans.
When they defeated Aurora, Vincent took the vial of hybrid magic blood used to turn Lucien into a super hybrid beast, and now he wants Marcel to drink it. If Marcel becomes the thing Klaus and Elijah fear the most, then he can control them. At least, that seems to be the plan. If Marcel did drink the blood, then there's no doubt he would become the most powerful creature on earth, though it's unlikely simply the threat of his strength would be enough to force the Mikaelsons out of New Orleans. But, will he even do it?
Marcel is angry and disappointed, sure, but he's not suicidal. I'm not sure he'd risk being back on Klaus' hit list for a half-baked shot at revenge. Furthermore, the extent to witch Lucien's new powers affected him is unknown. The spell comes from the Ancestors themselves, so it's probable that they put a few safeguards on it. From where I'm sitting, the risks are just too high. But then again, I'm not a hundred-year-old vampire.
Images: Annette Brown/The CW; fuckyeahoriginals/tumblr