'TVD' Season 8 Spoilers Hint It's Getting Darker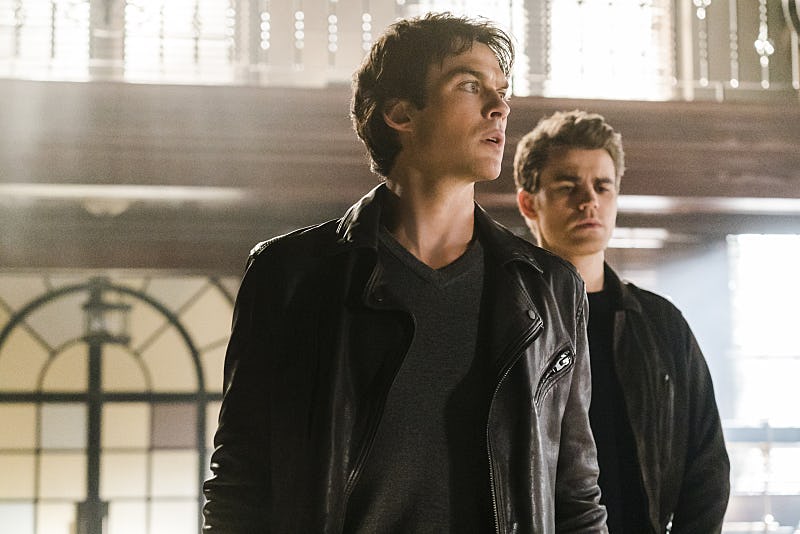 The Vampire Diaries Season 7 went out with one bloody final scene of ancient evil infected Damon and Enzo going all serial killer in an undisclosed warehouse. It was a dark and exciting end to the season that has no doubt left you craving answers. I am sorry to say The Vampire Diaries Season 8 is a long way off — The CW hasn't even announced the fall premiere date yet — which means you are being left to your own devices to speculate about what that thing from the armory was, how (or if) it is controlling Damon and Enzo, and if Bonnie Bennett will ever catch a break. Well, you are mostly on your own. Happily, executive producer Julie Plec has revealed a few The Vampire Diaries Season 8 spoilers to keep you guessing until the premiere.
There are hints about relationship drama, the future for Alaric, and precious little information about what was lurking in the armory. Sorry, guys, but that is one secret being kept wrapped tighter than a mummy. In the meantime, enjoy these morsels and keep your fingers crossed Damon and Enzo don't wander through your town this summer because those normally tantalizing guys have gone just a tiny — OK, a whole lot — evil for the moment.
Bonnie Is Going To Be In An Emotional Place
The two most important people in Bonnie's life are on a killing spree after they went into the armory to save her, and there's nothing Bonnie can do about it because her powers are gone. What is a witch to do? Plec told E! Online Bonnie won't be drowning in guilt, but she will be at a loss as to how she can help Damon and Enzo. "It's going to be tough for her to get thought the next chapter," Plec revealed to E!.
Alaric's Arcane Knowledge Will Be Put To Use
Alaric is in an amazing place right now. He made peace with his platonic relationship with Caroline, his kids helped saved the day, and he has completely turned his life around. Things will continue to look up for him in Season 8 as the gang starts investigating what is in the armory. Alaric has always been the resident obscure history nerd, and Plec told Access Hollywood that the show is delving deep into the "Indiana Jones, anthropology" world where Alaric is king.
3. Whatever Is In The Armory Has A Uniquely Poisonous Ability
Plec and the rest of the writers have a name for the evil lurking within the armory, but Plec told TV Line they are keeping that information to themselves for now. However, she did divulge this piece of information to the outlet: "It has the ability to get inside your heard and strip away everything good about you." Does that mean rather than being controlled by the armory's resident evil, Damon and Enzo have had their humanity stripped away by it? Curiouser and curiouser.
Caroline & Stefan Will Be Happy (For Now)
Caroline and Stefan fans, feel free to rejoice because not only are those two adorable vampires back together, they actually have a shot at being happy in Season 8. Everything around them is going to be absolutely crazy, but Plec told E! in the aforementioned article, "It's a nicer way to end the story. I'm looking forward to seeing them be able to have a relationship that makes them happy." They are going to be a bright spot in what is shaping up to be a pretty grim season.
You Only Got A Taste Of What The Armory Holds
In her Access Hollywood interview, Plec made it clear fans were only getting a small glimpse at what the evil in the armory can do. It can definitely get inside your head and make you hear what you want to hear, and it can drain away goodness, but this thing possesses even more skills sure to plague the gang on their quest to stop it.
Season 8 Will Be Bonnie's Swan Song
Kat Graham announced to Us Weekly that The Vampire Diaries Season 8 would be her final season back in April, and while it remains unclear whether or not the show itself will end as well, one thing is for certain: Season 8 will be huge for Bonnie. The finale set up a scenario where a powerless Bonnie will have to call on all of her inner strength to save Damon and Enzo. Since this is Bonnie's big farewell season, here's hoping she makes it out as heroic (and alive) as ever.
Elena Could Be Back... For The Finale
If Season 8 turns out to be the show's last, then you can expect to see Elena return for the finale. Plec confirmed to TV Line that Elena will be in the series finale — whenever that may be. Between the ancient evil, Bonnie's exit, and rumors that Ian Somerhalder is considering Season 8 to be his last, fans could be seeing Elena again sooner rather than later.
The one thing you can be sure about is Season 8 is going to be intense, addictive, and full of sexy, shirtless vampires, just the way you like it. Now, if only the Season 8 premiere date was tomorrow...
Images: Tina Rowden/The CW; Giphy (7)