'Neighbors' Is Getting Bigger & Better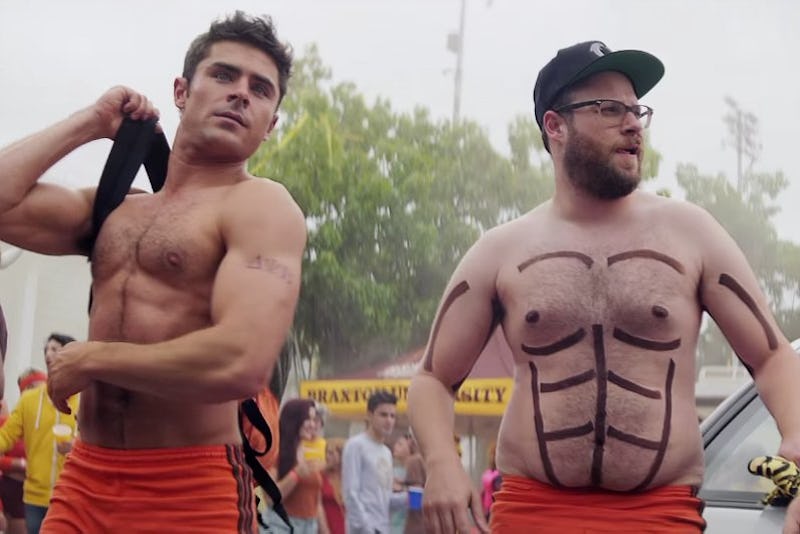 Hollywood is all about franchises right now. Old ones like Star Wars and Ghostbusters are being revived, new superhero movies like Deadpool and Ant-Man are spawning sequels, and even unexpected moderate hits like Now You See Me and Jack Reacher are getting the franchise treatment. The industry is so gaga to turn every movie into a series (or better yet, an "expanded universe") that even comedies are being turned into blockbuster series, including 2014's Neighbors, which sees its sequel, Neighbors 2, arrive in theaters on May 20. So at this rate, there will be a Neighbors 3 , too... right?
Maybe. No announcement has yet been made about turning the series into a trilogy, and it's unlikely that any will until the film has completed its box office run. Neighbors 2 didn't begin development until nearly a year after Neighbors was released, so any plans for Neighbors 3 probably won't be known for some time. In order to earn a third installment, Neighbors 2 will likely have to make around the same type of money that its predecessor did to justify making a third film. Neighbors hauled in $270 million, so Neighbors 2 will be looking to do the same — with the added pressure of carrying around twice the production budget as the first film. But can it match the other film's gross?
It won't be easy. The film is opening on a crowded weekend alongside two other wide-releases, The Angry Birds Movie and The Nice Guys. While the former film isn't after the same audience, the latter — an R-rated action comedy — definitely is, not to mention the residual competition from current box office champ Captain America: Civil War. But if Neighbors 2 can turn a decent profit, then it could join some other lucky comedies who've earned a threequel, like the films below.
The Hangover
Still the highest-grossing R-rated comedy of all time, 2009's The Hangover was a critical darling and a cultural phenomenon that inspired follow-ups in 2011 and 2013. Unlike the original, however, critical reviews for both sequels were aggressively unenthusiastic.
Beverly Hills Cop
Eddie Murphy was never better than when he was street smart Detroit cop Axel Foley, and the first film was number one at the box office for a ridiculous 14 straight weeks in 1984. Sequels followed in 1987 and 1994, and production on a troubled fourth film remains in limbo.
Meet The Parents
A smash hit that wormed its way into the zeitgeist in 2000, this Ben Stiller/Robert De Niro team-up saw its first sequel in 2004 with Meet the Fockers, which brought Dustin Hoffman and Barbara Streisand into the fold, and was then followed by 2010's Little Fockers.
Men In Black
One of the films that made Will Smith the world's biggest movie star in the '90s, this 1997 sci-fi comedy earned a sequel in 2002 and a third installment in 2012. Surprisingly, in what sounds like a joke, the next film in the series will be a crossover with the 21 Jump Street franchise called MIB 23 (yes, really).
Rush Hour
Odd couples are pretty common in comedy films (see: Men in Black, Meet the Parents, etc.), and the odd pairing of Jackie Chan and Chris Tucker worked well enough to spawn three installments in this buddy cop franchise in 1998, 2001, and 2007.
Harold & Kumar
While many comedy sequels suffer from a repetition of the same formula that worked in the original, this series is an exception. Just look at the titles of the franchise's three films to see what I mean: Harold & Kumar Go to White Castle (2004), Harold & Kumar Escape From Guantanamo Bay (2008), and A Very Harold & Kumar 3D Christmas (2011). No one is going to accuse this franchise of peddling the same movie three times.
The Naked Gun
If you like your comedy absurd, then this is the trilogy for you. Leslie Nielsen keeps the gags coming at a rapid clip in The Naked Gun (1988), The Naked Gun 2 1/2 (1991), and Naked Gun 33 1/3 (1994).
Austin Powers
Last but certainly not least is Mike Myers' James Bond spoof, which just may be the funniest comedy trilogy of all time. The three films, released in 1997, 1999, and 2002, remain a cultural touchstone for many, and like with Beverly Hills Cop, there are always rumors of a fourth film on the way.
Plenty of comedies have been turned into trilogies, so there's definitely a possibility that Neighbors will follow suit. But in order to make it happen, a lot of people will have to turn out to see Neighbors 2. So what are you waiting for?
Images: Universal Pictures