This Lane & Mrs. Kim Reunion Brings Serious Feels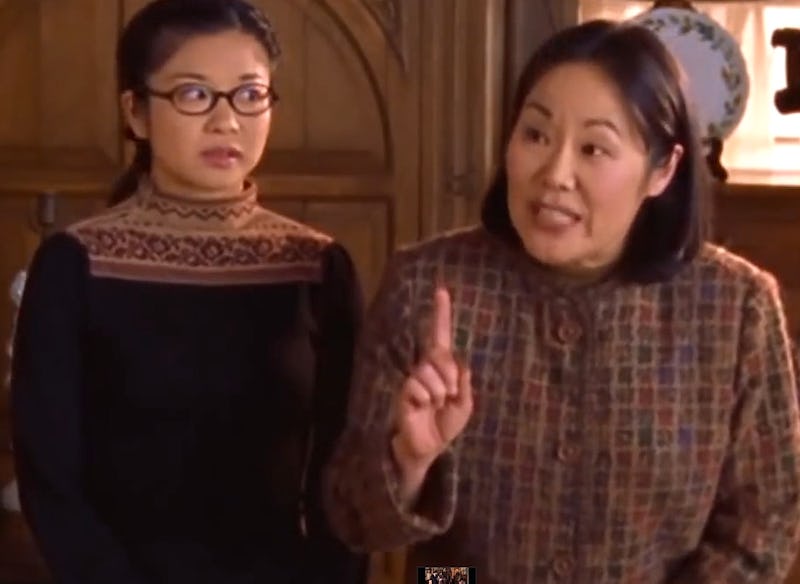 If you thought Lorelai and Emily Gilmore were the only characters in Stars Hollow with a complex mother-daughter relationship, then you may have forgotten about the wonderful Gilmore Girls relationship that was Lane and Mrs. Kim. From Mrs. Kim disagreeing with Lane's life choices to Lane always trying to not step on her mama's toes, there was just something to adore about their love/hate relationship. And with the show's upcoming Netflix revival, Gilmore Girls: A Year In The Life , there's sure to be more Lane and Mrs. Kim on the way. However, Sunday night fans got the Lane and Mrs. Kim reunion they wanted sooner than expected.
Keiko Agena (who plays Lane Kim) took to Instagram to not only share what her on-screen mom, Emily Kuroda (who plays Mrs. Kim), is up to in her acting career, but to also provide fans with one very nostalgia-filled photo of the two of them smiling together. Yes, Mrs. Kim does smile. In fact, the actress behind the very stubborn and culturally-bound character can not only smile, but she can also bring on the laughs.
Agena shared in her post that she was reuniting with the actress at the iO West Theater in Los Angeles to see her perform with The Golden Hour comedy sketch group. Yep, Mrs. Kim does improvisation too. Suddenly I feel like Lorelai would have actually been close with Mrs. Kim if the writers of the show ever decided to bring out Lane's mom's lighter side.... But, either way, this Lane and Mrs. Kim reunion post is everything.
While, no, their reunion did not take place on-set of the upcoming revival, it did prove that these two have reconnected. From the looks of the Gilmore Girls revival's IMDB page, they most likely reconnected on-set at least once leading up to this moment. Filming for the revival is near its end, and Mrs. Kim is credited to appear in at least one hour-and-a-half episode of the four parts of the revival that Lane is set to appear in. While the basis of their storyline together may still be unknown, it seems like all is well between Keiko Agena and Emily Kuroda in regards to their supportive and lovable friendship.
Now I just really hope that those two went out to get drinks together after the show. I mean, there is a sign that says "Full Bar" and "Craft Beer" on it in the background. Gilmore Girls: A Year In The Life revival isn't set to premiere on Netflix until the end of the year. But, as for now, I will just stare at this picture and daydream about the kind of night filled with laughter, throwback stories, and sporadic bursts into their Gilmore Girls characters, that these two must have had.
Images: Warner Bros. Television