Did Lauren Graham Reveal The 'GG' Release Date?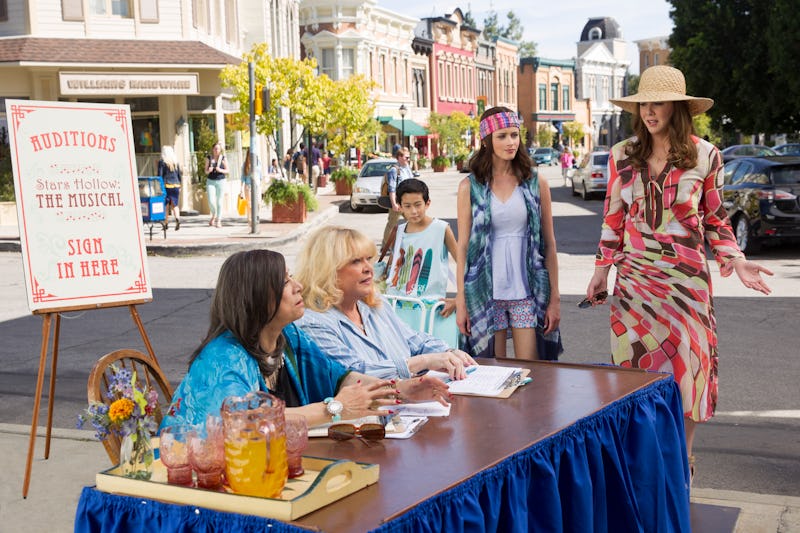 Oh, the holidays. There isn't much that can help you survive an entire season of living with and seeing your family again for the first time in almost a year. Not all of the apple pie in the world can make up for the number of times you'll have to explain why you're still single or why job is a real job, even though you work from home. But, if I had to pick, having all new episodes of the Gilmore Girls to help ease me through the most trying time of my calendar year would be the way I'd do it. Well, I'm in luck, because Lauren Graham may have just revealed the Gilmore Girls revival release date and it's perfectly timed to help you survive your own family drama this holiday season.
It happened on Monday when Lauren Graham made a surprise appearance on The Ellen Show to promote the new revival episodes and her book, Talking As Fast As I Can, a collection of essays that the Gilmore Girls star said would be coming out concurrently with the release of the revival episodes.
Concurrently. As in, at the same time. As in, simultaneously.
I don't know if Graham meant to be so cavalier with this information, but the release date for Talking As Fast As I Can, her new collection of essays about her time before, during, and after Gilmore Girls, has already been announced. Lauren Graham's book was initially announced to hit shelves on November 22, but Penguin Random House recently changed the information on the book's webpage. Now Penguin Random House reports that Graham's book will be released on November 29.
The change might have more to do with when the revival is being released, because November 29 is a Tuesday. And as any good Netflix officianado knows, Netflix usually does Friday release dates. So if I have my math and my English vocab correct, that means that the Gilmore Girls revival is likely going to be released the Friday after Thanksgiving, November 25. Because I'm sure they're going to want to release the new series before the tell-all book by Graham is released.
Honestly, I can't think of a better way to get me through November and December than with six hours of Gilmore Girls to watch on repeat. Not to mention the major marathon I plan on hosting of the original series in the weeks leading up to the revival's release.
Mix all of that content together and you have hundreds of hours of Gilmore family revelry to numb you out and keep you coasting on clever quips all holiday season long.
Image: Netflix