'The Leftovers' Is Losing A Major Cast Member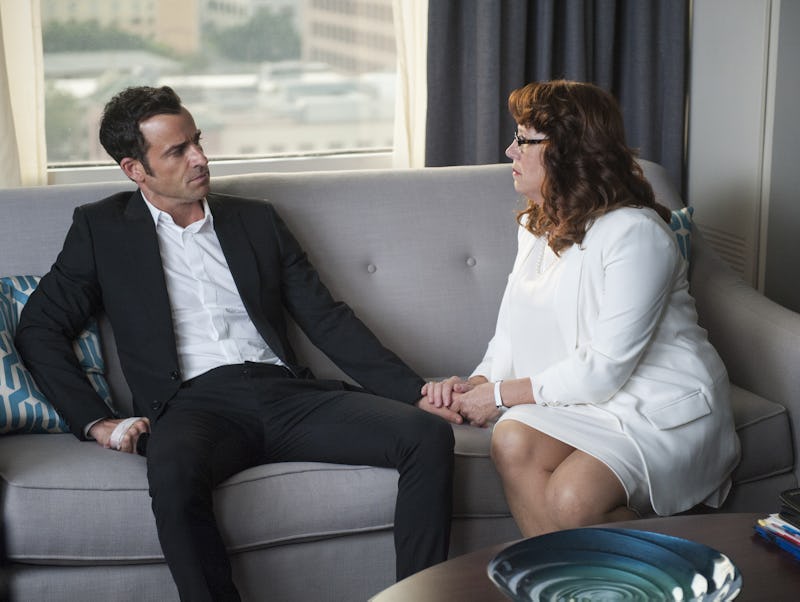 In its critically acclaimed sophomore season, HBO's "rapturous" drama The Leftovers made waves by packing up and moving to a brand new location, shedding much of its cast along the way and introducing a whole town's worth of unfamiliar faces. Among the many characters we lost in that transition were Mapleton mayor Lucy Warburton, dog-hunting drifter Dean, identical twins Adam and Scott, and sullen teen Aimee. So the question on most viewers' minds heading into The Leftovers ' third (and final) season is, will there be a another game-changing shake-up? If so, which cast members will we be losing?
Fortunately, it doesn't look like the bloodbath will be nearly as widespread this time around. Earlier this month, TVLine confirmed that almost the entire main cast would be back for Season 3 — including all the Garveys, the Murphys, and the Jamisons — with one huge exception: Patti Levin, the former Guilty Remnant leader who had remained a major presence on the show despite having been killed off at the end of Season 1. Last year, Kevin Garvey seemed to exorcise the ghost of Patti for good after traveling to the afterlife in the mind-bending Season 2 episode "International Assassin." But considering Patti surprised us all by coming back once already, the question remains: have we really seen the last of her, or will Patti be back for The Leftovers Season 3?
On the red carpet at last Saturday's Peabody Awards — where The Leftovers was being honored alongside the likes of Jessica Jones, Mr. Robot, and UnREAL — Bustle posed this very question to actress Ann Dowd. "The last time somebody asked me that, I looked to [co-creator] Damon [Lindelof] and I said, 'What do I say?'" she recounts. "And he said, 'You say if you answer the question, he will kill me.'" Fair enough. But "I always hope," Dowd says, before going on to refer to her final Season 2 episode as "complex and powerful and unnerving and beautiful."
At the show's Vulture Fest panel last Sunday, Lindelof himself spoke out about the loss of the Critics Choice Award-nominated actress — and the possibility of seeing Patti again before the show wraps for good. "What we're willing to say is, we would never want to devalue the work that happened in 'International Assassin' in the well," he told the audience. "The idea of saying, 'Well, that wasn't really the end, that was only a partial end…' would in some way in hindsight say, 'Oh, well that feels cheap,' or 'That feels like a rip-off.'"
So it's safe to say that the show won't be bringing Patti back from the dead again. But the former Lost showrunner did offer at least a tiny glimmer of hope for fans of the character: "At the same time, it would be cruel to ask Ann to appear here today and then be like, 'You're never in the show again.' So I can't confirm that you've seen the last of Ann, but I can confirm that there is a finality to what you've already seen," he said cryptically.
There is, of course, one obvious way viewers could see Patti again without undermining her character's satisfying conclusion: in flashbacks. The Leftovers has already been known to skip backwards through time — most memorably in the penultimate Season 1 episode, which showed us a glimpse of life in Mapleton prior to the Sudden Departure, including Patti's past as Laurie Garvey's troubled patient.
If Patti really is gone, save for perhaps a surprise flashback cameo, will the show be bringing in even more new characters to fill her absence, the way the Murphys were introduced in Season 2? "Not really. I think that, particularly because we're coming in for the landing now, we really want to service the characters we've already got," Lindelof answered at Vulture Fest. "The idea of adding even more characters into the mix, especially when the show is ending, I feel would happen to the deficit of the characters we're already invested in."
While not technically a "new" character, there is at least one person audiences can expect to become more important than ever in the final season: Kevin Garvey, Sr. (Scott Glenn) who, according to TVLine's report, has been promoted to a series regular for Season 3 after being a recurring guest star in the show's first two seasons. And what will Kevin Sr. — last glimpsed through sitting in a cave in Australia communing with his son in purgatory through a television screen — think about his son's resurrection(s)? Considering those news reports overheard in Season 2 about a man in Australia who came back from the dead, he probably won't be quite as surprised as we all were…
HBO has yet to set a premiere date for The Leftovers Season 3, but Season 2 premiered in October of last year, so hopefully we won't have to wait much longer than another five months to find out what Lindelof has planned for what's sure to be an epic and mind-blowing final season.
Images: Van Redin/HBO (2)