This Photo Of Sookie St. James Reveals A Lot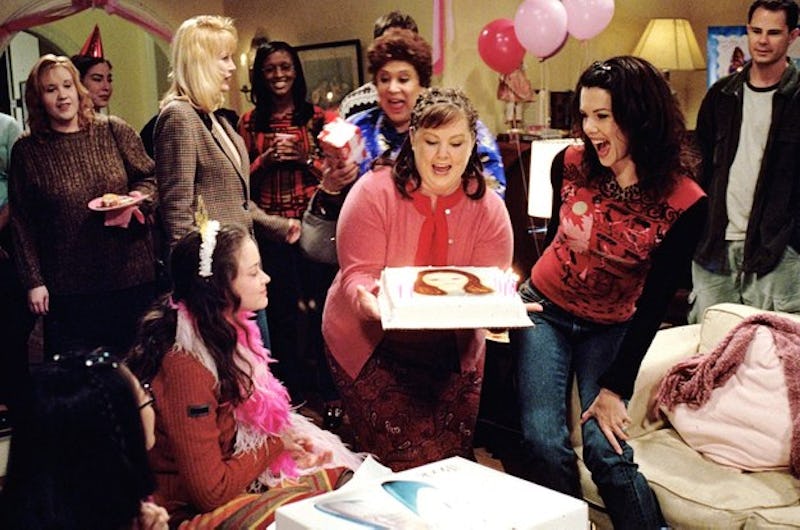 Hang on to your chef hats, everyone, because the first picture of Melissa McCarthy on the Gilmore Girls revival set is here, and it is majorly revealing. Apologies ahead of time to any spoiler sensitive readers out there, because this picture reveals a ton about what Sookie St. James is up to these days. Remember: The last time we heard from Sookie, she was chef-ing happily over at The Dragonfly Inn, the inn that she co-owned and operated with Lorelai Gilmore. But a lot of time has passed since the last we saw Sookie St. James. Nine years, in fact.
When the news initially came out that Melissa McCarthy wouldn't be in the Gilmore Girls revival, theories about why Sookie wouldn't be in Stars Hollow started circulating in a major way. Theories like she and Jackson divorcing and her scoring some major chef job somewhere else all seemed like plausible ways for Amy Sherman-Palladino writing Sookie's absence into the revival. But when, at the 11th hour, Melissa McCarthy announced that she would be starring in the revival, the theories turned to some serious doubts: How in the world could Sherman-Palladino fit such a major character into a four-part revival that was almost done filming?
Let us not forget that Sherman-Palladino is a goddess in her own right, because somehow she did it. But how she would do it has kept everyone wondering over the last few weeks. But with this behind-the-scene pictures of Melissa McCarthy on the Gilmore Girls revival set, it's way more clear exactly what Sookie St. James will be doing in the revival.
And the answer is: Cooking. That is, if her costume has anything to do with it. Because this blurry shot of Melissa McCarthy in the Gilmore Girls revival costume shop shows the actress in a chef jacket, one that was very typical to Sookie St. James when she was working as the head chef at the Dragonfly Inn. So we know one thing for sure: Sookie is still cooking these days.
But just where she is cooking is still up for debate. She could have just come in for the rumored wedding that will be happening in the revival, or she could be working somewhere else entirely as a chef. But, given the similarities between her revival costume and her past Gilmore Girls costumes, I have high hopes that, in the Gilmore Girls revival, we'll find Sookie St. James right where we left her: In The Dragonfly Inn kitchen, whipping up any number of feasts on the daily.
Image: Warner Bros. Pictures (2)