Twitter Is Freaking Out Over Kylie's Black Lip Kit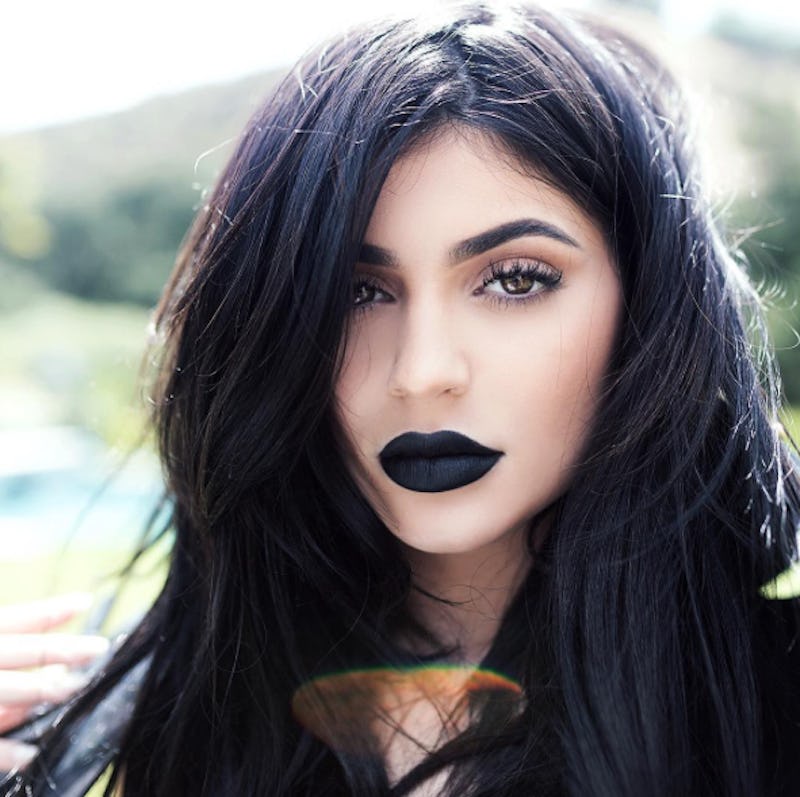 Finally, we've been graced with some edgy Kylie Cosmetic colors that remind us of the young, angsty teen Kylie Jenner once was and the pout that became famous around the world. Twitter reacted to Kylie's black lip kit, Dead Of Knight, going on sale on Friday afternoon, and it was all applauses all around.
Jenner released the Dead of Knight Lip Kit, a matte black liquid lipstick and pencil lip liner, on Friday and it was everything everyone has dreamed of. Dead of Knight retails for $29, and is a great price when you consider it doubles as a long-wearing liquid eyeliner and kohl pencil. Score.
Jenner released Dead of Knight as a tribute to her younger self, and how far her dreams and business has come in such a short amount of time. On her personal Instagram, she captioned a throwback photo of her black lips and blue hair days with the reason behind this shade.
"I did it for her 😏 back when I only dreamed of having my own lip line. 16 yr old me would be so proud 😢@kyliecosmetics this new kit is so important to me #deadofknight," she said.
Longtime Jenner fans ate it up, and since Dead of Knight was well stocked, plenty of happy shoppers were able to get a kit.
While Dead of Knight was available for a whole 30 minutes (a lifetime when it comes to Kylie Cosmetics), not everyone was able to get one, and as usual processing was a pain point among shoppers.
Better luck next time, folks! The good news is that this was the longest, fully stocked session in Kylie Cosmetics history, so hopefully the best is yet to come.
Image: Kylie Jenner/Instagram