7 Kylie Cosmetics Skylie Dupes For Your Holiday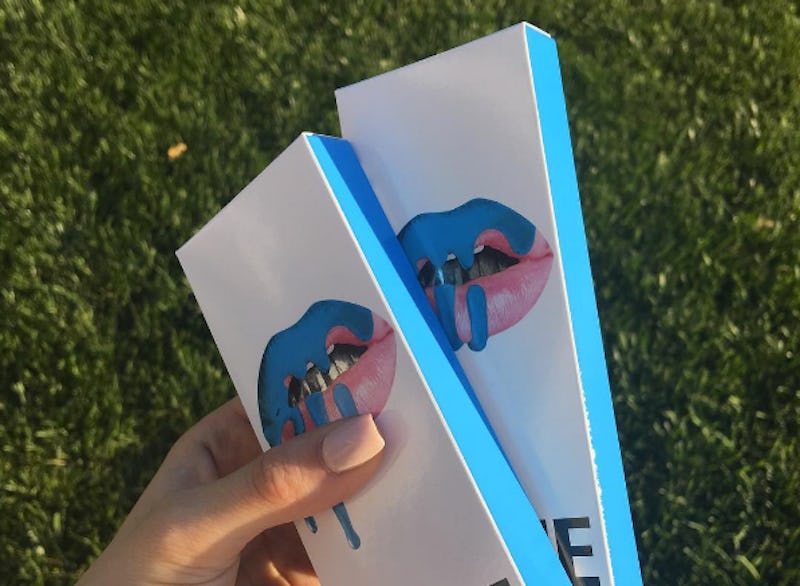 Last Friday, Kylie Jenner took to her social media to make the announcement about Skylie and Freedom, her new blue Lip Kits. However, there has been no launch date announced yet, so these seven Kylie Cosmetics Skylie alternatives are perfect if you can't wait to rock Jenner's new neon shade for July 4.
The Skylie Lip Kit is, without a doubt, Jenner's most daring shade yet. While deeper hues like Dead of Knight and KyMajesty may be gothic and dramatic, the neon blue of Skylie is unlike anything fans have seen from the youngest Jenner. The only shade that comes close to Skylie's vibrancy is Jenner's pink Lip Kit, Posie K.
Perhaps it's the Skylie Lip Kit's originality and brilliant color that has made it one of the most talked about kits that Jenner has launched. Twitter blew up after Jenner's announcement of the two new shades last Friday. On her Snapchat, she could even be seen rocking both colors, but Skylie, it was without a doubt the most dramatic.
Sure, her second shade Freedom, is an equally gorgeous blue, but Skylie's neon stole the show — at least for me. While you might think finding alternatives for Kylie Cosmetics Skylie is hard, there are surprisingly some great options if you've just got to get your hands on that gorgeous neon blue.
1. Jeffree Star
Jeffree Star Velour Liquid Lipstick in Jawbreaker, $18, Jeffree Star
Yes, please, I'll take two.
2. NYX Cosmetics Liquid
NYX Liquid Suede Cream Lipstick in Little Denim Dress, $7, NYX
Affordable and a great alternative.
3. Obsessive Compulsive Cosmetics
Obsessive Compulsive Cosmetics Lip Tar in Pool Boy, $16, OCC
It'll stay put, and it's the perfect shade.
4. MAC
MAC Cosmetics Lipstick in Dreampot, $17, MAC
It may be a different form, but the color is just as perfect.
5. NYX Cosmetics Lipstick
NYX Cosmetics Macaron Lippie in Blue Velvet, $6, NYX
A fun name, a fun shade.
6. OFRA
OFRA Cosmetics Long Lasting Liquid Lipstick in Bondi Beach, $19.90, OFRA
It may be a bit darker, but it's just as gorgeous.
7. ColourPop
ColourPop Ultra Matte Lip in Jellies, $6, ColourPop
While this shade may not be exactly Skylie, you'll still snag that gorgeous blue for the holiday.
Images: Kylie Jenner/Snapchat; Courtesy of brands