Here's How To DIY A Pair Of Fourth Of July Shorts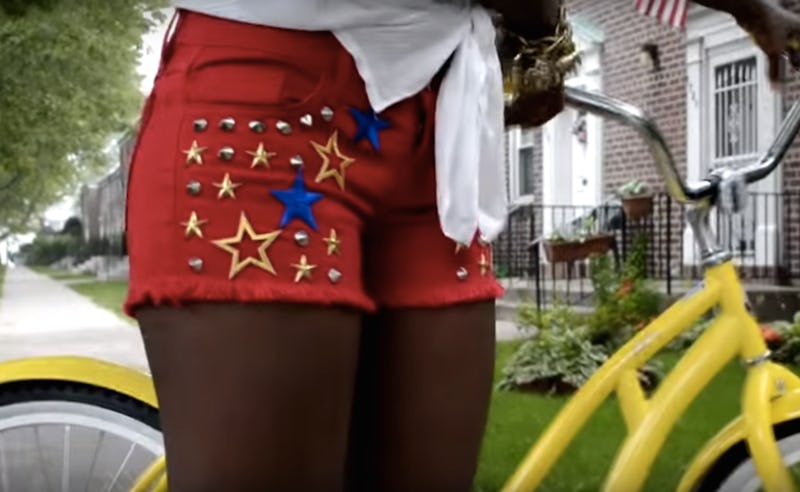 Although it may still seem far away, the Fourth of July is coming, people, so you'll want to nail down an awesome outfit that looks great and keeps you cool during the celebrations. If you enjoy getting your craft on, why not make Fourth of July shorts that'll keep you from getting flustered amid all the excitement?
Crafting your own clothes or making do and mending old threads will help you save money, which is great because Fourth of July weekend can be a pretty expensive affair. You might be planning to wine and dine with visitors, host your own Fourth of July party, or create a rad firework display — all of which likely won't come cheap. So with a few tweaks here and there, you can transform some pants or a pair of capris into your very own holiday-themed shorts.
If money's not an issue, but style is of the utmost importance to you, ponder this: If you DIY your own shorts, you'll likely stand out among the revelers. In a pair of Fourth of July-inspired shorts of your own creation, at least you'll look unique in the sea of red, white, and blue that usually dominates the holiday. So here are a bunch of different ways you can DIY your own Fourth of July-themed shorts.
1. The Classic Flag Shorts
Follow this tutorial to achieve a pair of classic, distressed flag shorts that show your patriotic pride.
2. The Contemporary Flag Shorts
Put a modern spin on the classic flag design with thin stripes and studs.
3. The Thrifty Pair
If money's super tight, follow this vlogger's instructions on how to get ombré shorts with cool star rivets that cost you under $10.
4. The Star-Spangled Shorts
Artsy folks can use this DIY as an excuse to really get their craft on. This pair of shorts is decorated by hand-painting stars and adding star-shaped studs to finish off the look.
5. The Patriotic Pockets
Decorate your pockets with flag-themed designs for a subtler aesthetic.
6. The Flag Patterned Pair
If you're hoping to go all-out, however, you might want to replicate this pair of multi-flag patterned shorts instead.
7. The High-Waisted Shorts
This tutorial shows us how to turn a pair of plain pants into some rocking shorts to flaunt this holiday.
8. The Half-And-Half Style
Use bleach and studs to create a really quirky, fun pair of shorts.
9. The Minimal Pair
Keep it simple with minimal stripes and a handful of large star studs to create a bold, edgy look.
10. The Easy Tie-Dye Shorts
Create tie-dye shorts for a chilled vibe this Fourth of July with this super easy tutorial.
11. The Scarlet Shorts
A pair of star-embellished, red shorts will really help you make a statement on Independence Day weekend. Don't worry: If you're not amazingly skilled at crafts, you can use iron-on patches like this clever vlogger did to achieve a super fancy pair of shorts.
So there you have it: A whole host of different ways to transform your pants or capris into an amazing pair of Fourth of July shorts. Happy crafting.
Image: Daniela Tabois/YouTube