4 Party Ideas For The Best 4th Of July Yet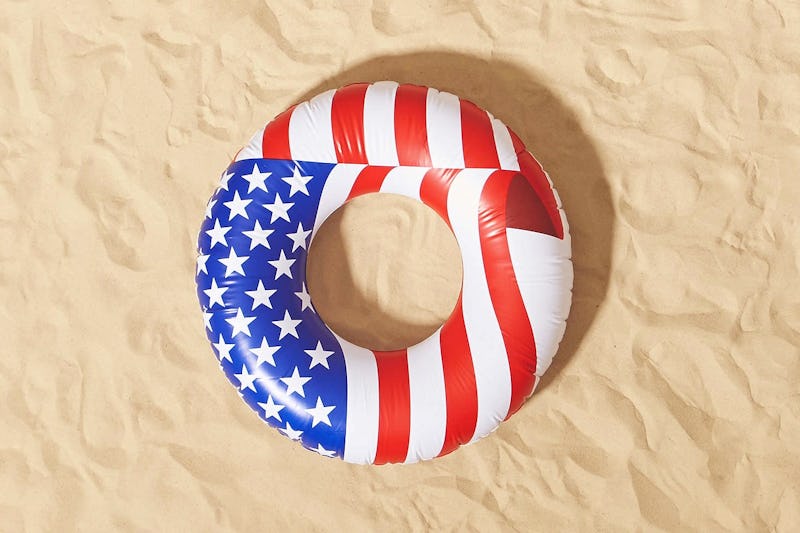 There's no one right way to throw a party for America's birthday. Each year we gather to celebrate with family and friends at various locales while partaking in various activities, mostly to soak up the summer sun, chow down on hearty American fare, and watch fireworks light up the night sky. There are many ways to ring in another year of independence, but here are four Fourth of July party themes that are sure to be a success, along with everything you need to host them.
Venue is key to setting the theme, so pick your Fourth of July location and get to planning. Whether you opt for something with a classic American heartland feel or want to really take things back with something more colonial, you can set yourself up for success by nailing down a few details. For starters, decorations and a dress code are a must at any theme party, and on Independence Day, what better way to show your patriotism? There are many ways to play to the red, white, and blue, so get creative with how you set the scene. No gathering is complete without a filling lineup of food, so serve up a tasty menu that plays to the theme with savory and sweet options while also satiating guests for a day full of fun. Queue up the perfect patriotic soundtrack and keep the party going with all-American activities that are sure to get everyone involved. Now get to party-planning and happy Fourth of July!
1. Classic American Backyard Barbecue
It doesn't get more American that grilling up some burgers and dogs intended to be washed down with a cooler full of ice cold American beer. Hence, the backyard barbecue is the most classic way to spend the holiday, gathering your friends and family around husks of corn on the cob and potato salad and really letting that shorts-tan base tan set in for the start of summer. Backyard barbecues are fun for everyone, with kiddos entertaining themselves with yard games, adults cooling off with cold ones, and plenty of mingling.
How To Decorate
Some good old patriotic bunting, red, white, and blue banners, and American flags should do the trick to transform your backyard into a Fourth of July paradise. Etsy has an endless number of party-ready options, like the polka dot print flags adorned with burlap star appliqués seen here.
What To Wear
A true summer barbecue is all about casual cool. While there's no determined dress-code, self-respecting BBQ party-goers should don their best red, white, and blue before heading over to your backyard. You can help guests out by handing out a few patriotic wearables, like silly Independence Day paraphernalia, red, white, and blue handkerchiefs, and fun Fourth of July accessories.
What To Serve
Stock up on the best burger toppings and get your grill ready for classic American burgers and hot dogs. Make sure you have enough inventory for whoever's playing grill master, and make everything else at the barbecue potluck style, asking guests to bring crowd-pleasing sides like macaroni salad, watermelon, veggie dishes, and desserts. As host, keep track of what everyone's bringing so there's enough variety and no overlaps.
What To Play
Make sure you play some good old American classics like heartland rock tracks from Tom Petty, John Mellencamp, and of course, The Boss, Bruce Springsteen. There's nothing quite like a synchronized backyard fist-pumping sesh to "Born In The U.S.A." after a few brews.
What To Do
Take advantage of the location and ready some yard games for kids and adults alike. Have a football and frisbee on hand ready to toss, or a couple mitts and a baseball. If you have enough interest and the space allows, organize a makeshift game of tag football, or have cornhole boards set up for endless entertainment.
2. America's Birthday Beach Bash
Another great way to soak up the sun over the long weekend is by heading out to one of America's great beaches and throwing a birthday beach bash. Lather on your sunscreen and put on your best patriotic swimwear, then get ready to celebrate your independence with your toes in the sand.
How To Decorate
Since you're at the beach, decorations for your beach bash can be minimal. If you can get your hands on a few American flag towels and blankets to spread out on the sand that's ideal, and any other additional beach-appropriate accessories that incorporate stars and stripes. These patriotic disposable plastic cups from Oriental Trading Co. are perfect to keep booze beach-friendly.
What To Wear
Any way you can sport stars and stripes with your swimming attire or coverup gets you an A+ at the beach. Or try out one of these Fourth of July swimsuits that aren't your typical red, white, and blue.
What To Serve
Pack a patriotic picnic filled with delicious dishes that won't spoil out in the hot sun.
What To Play
Curate a playlist of tracks from favorite American bands and singers that have to do with the beach, like selections from Elvis' "Blue Hawaii" or the Beach Boys's "Surfin' U.S.A." (or anything else by them for that matter).
What To Do
On the beach you won't be at a loss for things to do. In addition to enjoying the long stretches of sand and cool water, pack some patriotic floaties like this number from Urban Outfitters or fun accessories for water sports.
3. Hipster Rooftop Roundup
Head to the rooftop, text your invites, cue your best vinyl records, and get ready to snap some Polaroids of the coolest Fourth of July bash around.
How To Decorate
Follow these simple steps to turning your rooftop into the summer oasis of your dreams, then round up some America-themed decorations that have a bit of an edge, like this black and white rendition of the stars and stripes from Urban Outfitters.
What To Wear
You already know the drill. Suit up in your hipster best (flannel, ironic t-shirts, and non-prescription glasses are an excellent start) and if they can incorporate "America" in any way, even better.
What To Serve
Serve up some selections from The American Craft Beer Cookbook, available at Urban Outfitters and on Google Play to ready some recipes from the best brewpubs you haven't heard about yet.
What To Play
Turn up a non-traditional playlist complete with indie singles sort of relating to the holiday, like tracks from Lana Del Rey, Frank Ocean, and Beat Connection.
What To Do
While being bored is an activity in itself, provide guests with a few more options to passing the time. One possibility that will get your hipster heart aflutter is hosting a bike decorating contest, in which guests bring their rides and deck them out in patriotic streamers, flags, and spoke beads.
4. Party Like It's 1776
Last but not least, what better way to celebrate America's birthday than by heading back to the beginning? On the heels of Hamilton's success, celebrate Fourth of July like our founding fathers — by dressing the part and letting the libations flow.
How To Decorate
Get extra old school (and by old school I mean Colonial Era) when it comes to your decorations. You can stumble across some sweet finds on Etsy, like this hand-painted Betsy Ross flag.
What To Wear
Take a cue from the cast of Hamilton and do your best to don period-appropriate wear. The most fun will be in how you use everyday things to get en vogue à la 1776.
What To Serve
Put together a deliciously date-appropriate menu showcasing the cuisine of the Thirteen Colonies around 1776 when they could no longer depend on British imports. Some options are salt-cured meat, fish, corn dishes, baked beans, and the quintessentially American apple pie, all to be washed down with hard apple cider.
What To Play
In addition to the obvious choice, by which I mean the Hamilton soundtrack, you can queue up some more authentic tunes from the era like "Yankee Doodle," "Chester," "Stony Point," or "The Liberty Song."
What To Do
An obvious choice for this theme party is a costume contest. Amuse yourselves with 18th century pastimes, like tops and chuck-farthing. Turn them into drinking games if you're so inclined (and wish to follow in the footsteps of the Founding Fathers).
Images: Urban Outfitters (3), Unsplash (6), Etsy (2), Jelly Toast, Paramount, Dot & Bo, Dacy Knight, Lana Del Rey/Youtube, Atlantic