11 Cute & Original Hairstyles For Long Hair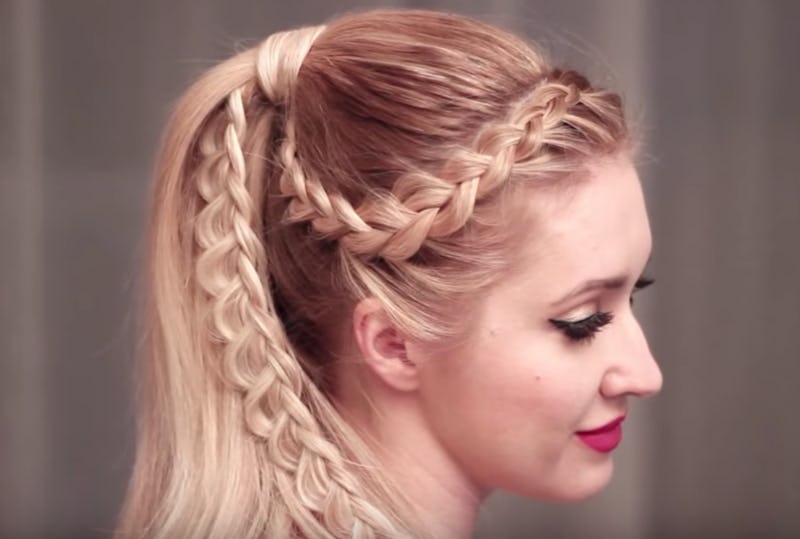 When it comes to long hair, the styling possibilities are endless. But as anyone with a long mane knows, that can also mean overwhelming. If this sounds familiar, look no further for cute, original hairstyle ideas for long hair. Feeling bored and tired of your Rapunzel-esque tresses? These easy, unique ideas are sure to give you long hair inspiration that'll make you glad you skipped that salon appointment meant to cut it all off.
Growing up, I always rocked short locks. My dad would take me to the salon (aka the barber shop) to get a Number 5: Long in the front and buzzed in the back. As I grew older, however, I rebelled and let my mane grow long. And I mean long.
I love my long hair, but I've learned that styling it can be surprisingly tough. Sure, I can figure my way around a bun and a sleek ponytail. But even just thinking about wrapping each and every strand into a tailored up-do or a heat-styled, half-up-half-down, look can leave me dumbfounded.
Thankfully, the talented vloggers of YouTube know plenty of easy, chic ways to get long hair styled into gorgeous aesthetics. From up-dos, to spins on classics, to intricate braids, these inspiring tutorials should renew your appreciation for your long hair.
1. Braided Details
Braids are a chic and foolproof way to style up long hair. Vlogger EmilyEBeauty offers step-by-step instructions on how to create some trendy and gorgeous styles, including double braids and braided bangs. Plus, since all her styles are meant to keep your hair out of your face, they're also perfect for summer.
Try: Oscar Blandi Volumizing Spray, $18, Amazon
2. Less Than Three Minutes
According to vlogger Tess Christine, all it takes to create a gorgeous hairstyle is a couple of basic tools, day two strands, and a few minutes. Sounds pretty easy, right? That's because it is, especially with Christine's tutorial for eight cute hairstyles that can be worn for special events or even for the everyday.
3. No Heat Up-Dos
Let's be real: Ain't nobody got time for hot tools, especially in the summer. So be prepared to fall in love with these styles by Jackie Wyers; not only because they require no heat whatsoever, but because they're beyond stunning. Just look at those exquisite milkmaid braids and tell me you wouldn't wear your hair like that all season long. That's what I thought.
4. Braided Beauty
Roxxsaurus' take on long braids is stunning. Her braided pony and bun looks remind me of styles celebrities might rock on the red carpet. The best part? They're super easy to create in just a few steps. So whether you're attending the red carpet or just grabbing coffee, these should be foolproof and gorgeous.
Try: Soft N Style air pins, $8, Amazon
5. Straight Natural Hair
In her tutorial, vlogger Alyssa Forever admits that she doesn't straighten her locks often and prefers her naturally curly hair. By the looks of it, however, she certainly knows how to get creative anyway. These are perfect for when you're willing to experiment with straightened strands.
Try: John Frieda Straight Styling Spray, $8, Amazon
6. Special Occasion
If you're a fan of embellishing your hair with brooches and pins for special occasions, then SuperPrincessJo has just the tutorial for you. Her four special occasion looks involve intricate twists, special braids, and gorgeous embellishments.
7. Summer Styles
Between the wind, the rain, and the unbearable humidity, summer isn't always the best time for complicated, detailed hairstyles. Of course, YouTuber MakeupWearables Hairstyles knows this. The 10 "lazy girl" hairstyles feature hacks that'll help you create comfortable yet elegant styles for the season and beyond. I have a feeling that the gorgeous low bun will become a classic.
8. Buns
BeautyByAsha takes buns to the next level with chic details that make them cuter than ever. Instead of a full-on bun, why not try a half-up, half-down style? Or why not take her tips for the perfect messy bun? When your hair is so long that it's past your waist, like hers, let these be your pretty, go-to hairstyles.
Try: Tigi Catwalk Styles Salt Spray, $11, Amazon
9. Natural Waves
When it comes to styling long, natural hair, TeAmoAaron knows that it's a process that requires tender loving care. This tutorial for seven simple yet gorgeous styles shows viewers each and every step they need to take in order to create the same looks at home. Be prepared to take notes, because her tips are one-of-a-kind.
10. '90s Inspired
Fashion and makeup aren't the only arenas that are growing fond of the '90s, as Evelina Forsell proved with her "Grunge & Cute" hairstyles. Channel your favorite hair looks of the '90s with Forsell's takes on mini buns and high ponytails. And yes, these 'dos will look especially good when paired with tattoo chokers and silk nightgown dresses.
Try: Bedhead Chrome Crimper, $60, Amazon
11. Ponytail
If you often find yourself putting your long strands in a ponytail, these hairstyles by Lilith Moon should be for you. She shows viewers how to dress up your average pony with a braided crown, a braided pony, and even a braided goddess look that's very Khaleesi-esque.
So the next time you're stumped on how to style your long hair, just refer to this here list and take the advice of some talented vloggers. Sure, long strands can sometimes be overwhelming. But they also allow for a lot of freedom. Don't be afraid to experiment and get creative.
Image: Lilith Moon/YouTube (1)
Happy shopping! FYI, Bustle may receive a portion of sales from products purchased from this article, which were added independently from Bustle's sales and editorial departments after publication.