Jamie's 'Outlander' Fate Is Worrisome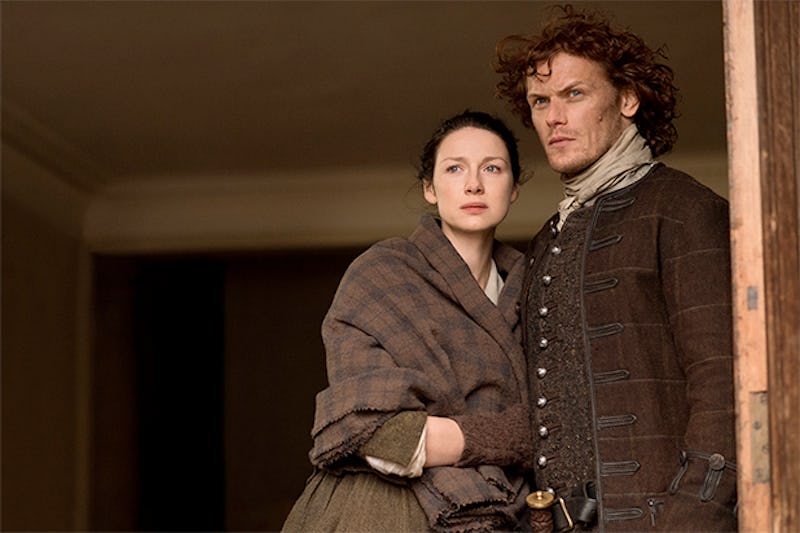 It isn't uncommon for any given episode of Outlander to be stressful, but now that we're gearing up for an extended finale of Outlander Season 2, something tells me this is going to pack more of an emotional punch than usual. This is mostly due to the ongoing question that's been plaguing us pretty much all season long: who will survive the Battle of Culloden? Claire and Jamie have been doing everything they can to prevent this historically bloody event from happening, but now that it's unavoidable could the outcome be any different, and if that's the case, is that necessarily a good thing? I say this because despite how much Claire knows about the future, she doesn't know whether or not Jamie was destined to die at the Battle of Culloden and if he wasn't, then if their tampering with history will bring that horrible outcome to pass.
Now, of course, those who have read the books already know a great deal about how this whole thing plays out. However, if you strictly only watch the series and don't want to be spoiled in any way, then turn back now, lads and lassies. Spoilers abound these Highlands! According to a Diana Gabaldon and Barbara Schnell Outlander timeline chart, Jamie will make it out of the battle alive, though, he will be badly wounded and perhaps worst of all — be separated from Claire.
As we know from the Season 2 premiere, Claire ends up getting sent back through the stones on Craigh na Dun right before the battle commences, which is why she had no idea of the outcome. This is done to make sure she and her unborn child (yup, she's pregnant again) don't come to any harm if the battle doesn't go in The Jacobites' favor. But despite all of her research in Lallybroch after her return, she was unable to figure out what happened to Jamie. Fortunately, the same doesn't have to be said for us.
But even though Jamie will still be in the land of the living, that doesn't mean this story has a happy ending to it. Seven years after the battle, Jamie will live hidden in a cave on his own land and won't set eyes on Claire for many, many years to come. I'm not going to go into too much detail about it all because what fun would that be, but this means there's a good chance that Season 3 will mostly involve Claire and Jamie being without each other for quite some time. It's entirely possible the show could decide to skip a vast majority of that part ( Voyager is supposed to stray from the books more than any other season), but just prepare yourselves if that is, in fact, not the case.
In the end, though, I suppose an alive and separated Jamie is certainly better than no Jamie at all. So as the battle rages on during Saturday night's big finale, take comfort in knowing that our favorite Scot will make it out of all that bloodshed. Not that we should be all that surprised. After all, what would Outlander be without its James Alexander Malcolm MacKenzie Fraser?
Images: Starz; Giphy (2)