Proof Alden Will Be A Great Han Solo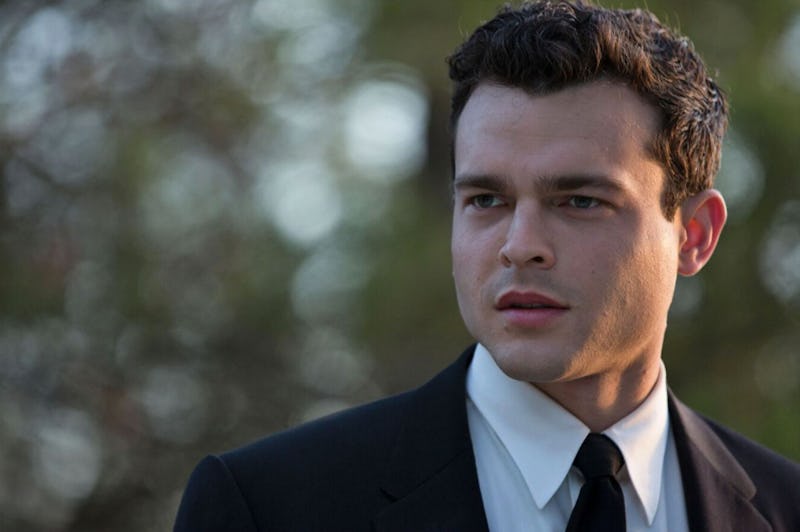 Now that Alden Ehrenreich has the force on his side, his career's about to take off. In May, it was announced that 26-year-old actor won the coveted role of a young Han Solo in his own Star Wars spin-off. The movie's not set for release until 2018, but there have been rumors Ehrenreich might appear in Rogue One: A Star Wars Story this winter, so it goes without saying Ehrenreich will be a household name soon. With the release of the first trailer for Rules Don't Apply — Warren Beatty's Howard Hughes biopic starring Ehrenreich, Lily Collins, and Beatty himself — it's clear to see why. Ehrenreich has the same ineffable gravitas that made Harrison Ford's Han Solo so iconic. He's got some big shoes to fill, but he's absolutely perfect for the role.
The film — written, directed by, and starring 79-year-old Beatty — takes place during Howard Hughes' time as a Hollywood producer. But, that's not the basis of the plot. Rules Don't Apply tells the story of an aspiring Baptist actress (Collins) and her married, devout Methodist driver (future Han Solo Ehrenreich), who meet while working for Hughes. Only problem is, the eccentric mogul forbids his employees to have any type of relationship — romantic or otherwise — with those whom they work with.
Over the past few years, Ehrenreich was cast for small parts in high profile films like Blue Jasmine, Stoker, and most recently the Coen brothers' Hail, Caesar!, but never a role as large as this one. That means that this will be his first foray into leading man territory (aka all eyes will be on him, scrupulously waiting to confirm whether or not he'll make a decent Han). Thankfully, a quick look at Ehrenreich's broody and masculine charm in the Rules Don't Apply trailer will assuage even the harshest skeptic.
If you're still not convinced, below, more reasons why Ehrenreich will make an excellent Han Solo, as evidenced by the Rules Don't Apply trailer.
He's Nailed The Jaded But Sensitive Vibe
A man who has seen too much, but is a real softie at heart — aka the flawed character that you fall for anyway. That's the quintessential Han Solo vibe, and Ehrenreich already has it down pat.
He's Able To Show Emotion
Han is definitely a tough character to play, but Ford's portrayal of him was emotive (one of the many reasons he was so likable). From the looks of this trailer, it appears that Ehrenreich isn't afraid to let his emotions be seen either.
He Knows How To Deliver Dry Humor
Just from this one shot in the trailer, you can tell that Ehrenreich will perfectly pull off the famous Han Solo dry wit.
He Looks Like He's Up To No Good
See that scowl followed by a brief little smile? That's definitely a Han move.
He Just Has "It"
No explanation necessary. There's just something about Ehrenreich.
Though it'll be a challenge for any actor to play Han Solo — as Ford's portrayal seems so linked with the character — if anyone can make it happen, it's Ehrenreich. Of course, if you want to make sure, check out Rules Don't Apply when it gets released this November and see for yourself.
Images: 20th Century Fox; 20th Century Fox/YouTube (5)