13 Expert Tips For Dealing With Summer Hair Issues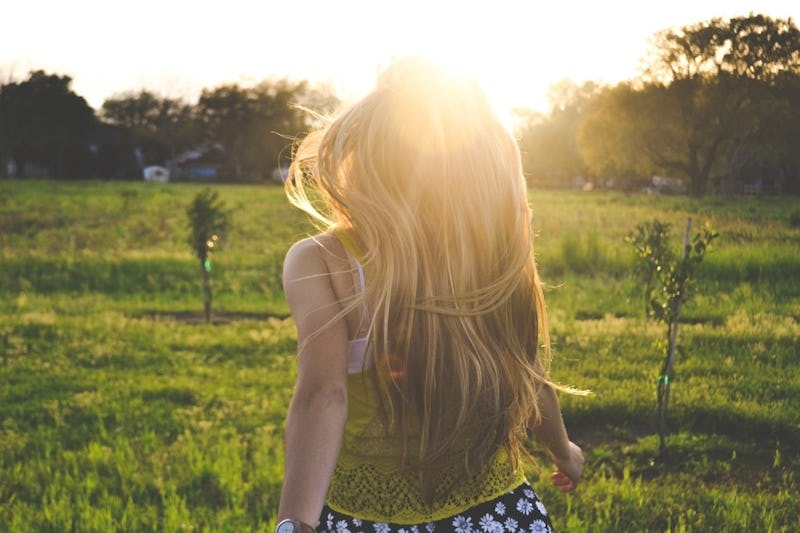 I don't know about you, but I often stop trying to keep my hair looking good in the summer. There are just too many things to contend with — humidity, pool chlorine, harsh summer rays. It all leaves my hair frizzy and dry, greasy and limp, or (weirdly) all of the above. So instead of struggling with it 24/7, I end up resigning myself to a perpetual ponytail.
And I know I'm not alone. "Women often find themselves struggling with hair color fading, dryness, and of course the combination of heat and humidity, which for a lot of women leads to frizziness," says Ilias Zarbalis, Master Stylist and Owner of Ilias Zarbalis New York City Salon, in an email to Bustle. "UV rays, chlorine, and sea salt all ... can cause serious dehydration and dullness, and in other words, a very bad hair day."
Sound familiar? Then I bet you've tried everything under the sun (no pun intended) to undo the hair havoc. I'm talking about hair serums, which work for some ladies, but just add to the grease for others. Or maybe sea salt sprays, which definitely help mask the frizz, but sometimes are a bit too "beach-y." If you've tried them all, and are about to go the way of the ponytail, then you might be interested in some of these less traditional summer hair tricks. They may be just what you need to reign in the frizz, cover up the grease, and finally have pretty summer hair.
1. Wear Sunscreen In Your Hair
First things first, you have to protect your hair (and hair color) from the sun. Sure, you can wear a hat, or only go out at night. But the easiest way to do this is with a UV shield. "Whether you are going to the beach or just running errands outside, I always suggest using a UV protector before being exposed to the sun," says Zarbalis. It will help protect your color and keep your strands hydrated.
2. Up Your Conditioner Game
After spending a day at the beach, your hair will undoubtedly be all sorts of dried out and damaged. That's why you should wash your hair as soon as you get home, and apply a deep conditioning treatment. "This will help nourish and replenish any depleted moisture from sun-parched hair," Zarbalis says.
3. Overdo It With The Shampoo
If your hair is as sweaty and oily as can be, don't be afraid to shampoo the heck out of it. "Frequent shampooing (once or twice daily) is the most effective technique for removing buildup," said Wendy Korn on Prevention. Obviously you should skip this step if your hair is super dry or damaged. But if not, have at it.
4. Wear A Swim Cap
Swim caps are where it's at if you want to go for a dip in the pool, while also protecting your hair from the drying effects of chlorine, according to Zarbalis. Simply snap one on, and swim to your heart's content.
5. Wet Your Hair Before Swimming
If you don't have a swim cap handy, the next best thing you can do is dampen hair before jumping in the pool. "It adds an extra layer of coating, so when you go swimming, your hair isn't as likely to absorb 100 percent of the chlorinated water," said Angela Haupt on HuffingtonPost.com. This is an especially good tip for women with bleached hair, as it will help prevent that chlorine green look. (Not cute.)
6. Apply Some Baking Soda
OK, so despite your best efforts, you've still ended up with a slight chlorine-y tinge to your hair. What's your next step? Baking soda. "Just mix a tablespoon of baking soda in with your shampoo and lather away," said Faith Xue on Byrdie.com. That should do the trick.
7. Alternate Your Updos
If you love a ponytail (and don't just resort to them like I do), then you've got it easy when it comes to styling summer hair. Just be sure you aren't pulling your hair back into the same tight top bun day after day, as this can cause breakage. Instead, switch things up with a low ponytail one day, a high bun the next, and maybe a side braid the day after that. "That way, you're not always stressing the same strands," Haupt said.
8. Let Your Hair Air Dry
If your life is all about fighting off frizz, then this tip is probably sending nervous shivers down your spine. But there is some science behind letting your hair air dry, even on the most humid of days. "Moisture is your friend [when it comes to achieving wavy hair], so leaving your locks to air-dry may take longer but allows for them to consume the extra water, which ultimately adds more volume," said Meghan Meyer on HuffingtonPost.com. You'll be left with thick waves and hopefully less frizz.
9. Embrace The Frizz
As they say, "If you can't beat 'em, join 'em." So if you have curly hair and can't fight off the frizz, then you might want to try embracing your curly look, according to Lexi Novak on Allure. Simply let your frizzier bits mix in with your curls and flatter pieces, and rock the uneven texture. It may take some getting used to, but the natural, summer-y vibe may start to grow on you.
10. Give Baby Powder A Try
Glossy locks are healthy looking, for sure. But nothing screams "summer" quite like hair that has crossed over into "greasy" territory. If the shiny look isn't working for you, or if it comes off as too wet-looking, try soaking things up with baby powder. "Apply a small amount to the roots, leave it in for one minute, then comb through or shake hair gently to remove any excess," said Megan O'Connell on Real Simple. You'll dry things up in no time.
11. Get A Preemptive Haircut
It makes sense to trim your hair at the end of summer, to get rid of all the damage. But what about trimming your hair beforehand? "It's always best to get a trim before summer," said Haupt. "The sun will do extra damage to hair that's already dry, so if you remove those dead ends, you'll be in better shape." Your future limp, frizzy hair will thank you.
And there you have it — some tips for dealing with the worst that summer hair has to offer. Give them a try, and go off into that hot, humid world looking and feeling your best.
Images: Pexels (12)