TrendMooD x Ciate Are Crowdsourcing A Palette!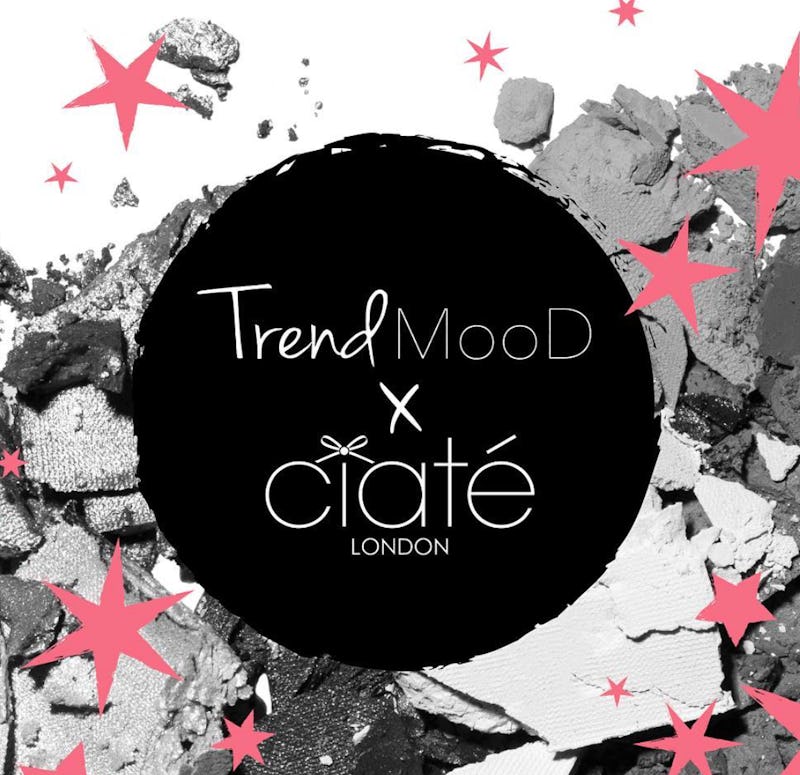 I was almost starting to think that vlogger x brand collabos were hitting their apex. While I love what I have seen with Jaclyn Hill x BECCA, ColourPop x Kathleen Lights, and Too Faced x Nikkie Tutorials, I wondered to myself if the summit of creativity has been reached. Then I heard about the TrendMooD x Ciaté London collabo, which is totally rewriting the rules. Just when I feared that the vlogger x brand category had hit a saturation point and was becoming a little "Been there, seen that," Ciaté x TrendMooD, which always has its finger on the pulse, its ear to the ground, and its wrist full of swatches regarding the latest makeup launches, happened. TrendMooD and Ciate confirmed that the partnership would be interactive and crowdsourced. So what is it, exactly?
It's a palette.
But since palettes can take over a year to research, develop, and produce, TrendMooD and Ciaté are doing something way, way different. This palette will be created and curated by committee and include input from fans and beauty junkies via social media. That is amazing, isn't it?
But even better, the palette will consist of shades that were already created by Ciaté, yet never released commercially. That's the ultimate in "recycled" beauty! Below is the post confirming that TrendMooD x Ciaté London is indeed a palette.
But is it a face palette? An eyeshadow palette? A mix of both? Let's learn more about this collab between two beauty behemoths! The first product to be crowdsourced is eyeshadows. So it seems this will be a multi-feature palette. You need to follow Trendmood on Snapchat and Insta in order to be able to participate and offer your opinion on what you want to see in the palette.
In the first caption upon revealing the palette, Trendmood wrote, "And this one is about to be extra special! Why?! Cause we are all going to be a part of it and create something AMAZING together!!!! If you want to be part of the process please follow us," before listing its social handles. So, makeupistas tell 'em what they want and then it sounds like they will dip into the archives to see if they have it. The shades are technically new, since they were never available before.
Ciaté also posted, "For all our beauty lovers who have ever wanted to create their own makeup collection... Did you hear the rumour? Did you guess? We are so excited to finally be able to announce our collab with @trendmood1. This is a collab with the whole beauty community and you need to stay tuned to find out just how you can get involve in creating your very own and have your say!"
This truly is a new way for a digital influencer to collaborate with a beauty brand. I love that they are taking info and inspo from fans, too. This is gonna be good. At first, I thought, "Wait, they are using shades that were created, but never released?" Why revisit and empty the vault of shades rather than creating new ones?
Then, I realized this fresh perspective. Maybe the brand was on the fence about some of the shades it created for nails, lippies, highlighters, shadows, whatever. What if they ditched a shade but didn't realize they actually had a hit on their hands? If a color ends up being chosen as part of the crowdsourced palette, it proves that fan input is the most valuable resource a brand can have! Plus, an exiled shade will get its day in the sun and on your face. It's like discovering a long-lost gem.