'Bach's Alex & Chad's Feud Will Never End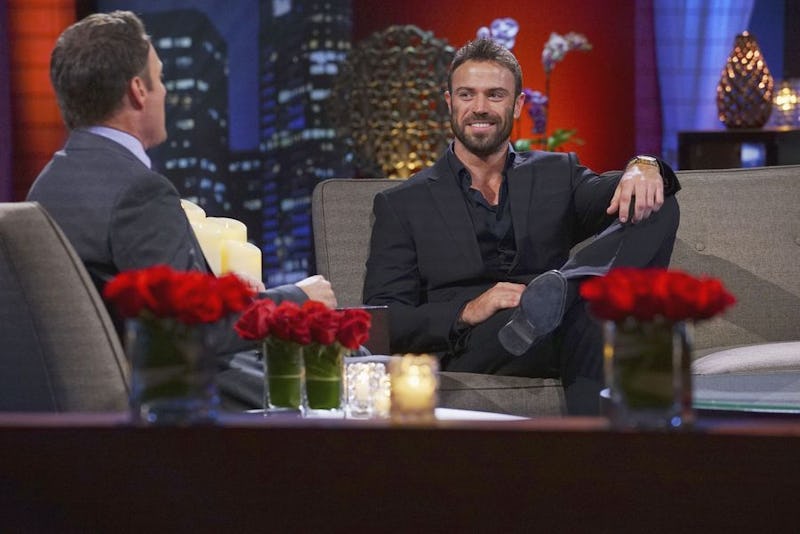 It's no secret that Chad cemented himself as the villain of JoJo's season of The Bachelorette pretty early on. Between his snarky comments to both his fellow contestants and JoJo herself and his beef with the other men in the house, it wasn't a question of whether Chad was the villain but how far he'd take his villain status. Now, many of the contestants are set to make their return to TV in The Bachelorette's Men Tell All episode and one question I need answered is: Are Alex and Chad still fighting?
This particular feud between Chad and Alex kicked off early on in Season 12, when Alex called Chad out for his bad behavior and Chad retaliated by mocking Alex's height — it all went downhill from there. The two bickered on multiple occasions and Chad's escalating threats of violence caused many men in the house to feel unsafe, prompting a few to bring it to JoJo's attention. But, the incident that truly pushed Alex and Chad's on-camera feud into a full-on non-violent fight was the guys' two-on-one date where JoJo decided to send Chad home after Alex revealed he had threatened Jordan earlier that day. Although, not before Chad and Alex had by far the strangest interaction I've ever seen about milk and farm animals.
But, the feud between Chad and Alex didn't end once Chad left The Bachelorette house — after he went back for one more visit in order to get the last word in. No, these Bachelorette suitors continued their fight on social media while the show was airing, especially one tweet exchange started by Alex in which he posted a video of himself pouring milk down his sink. Chad pulled a typical Chad-move and dissed Alex's appearance — particularly his army uniform — and the two continued to bicker online. Plus, Alex has subtweeted Chad on multiple occasions, proving that neither contestant is coming out of this feud looking mature or sympathetic.
Since the milk video, it seems Chad and Alex have stayed away from each others' Twitter mentions — to the relief of everyone who is officially tired of their childish bickering. But, the Men Tell All promises to reunite these former castmates for the entertainment of Bachelor Nation. While that means the two men will have the chance to bury the hatchet, something tells me it will be a cold day in hell when this feud comes to any kind of positive resolution.
Still, it does seem that the feud between Alex and Chad has cooled off somewhat away from cameras, though I suspect that's simply because they may have realized the fight wasn't making either of them look good. That said, the promo for the Men Tell All seems to hint that we'll see Alex and Chad fighting again on national television. So, get excited for Alex vs. Chad Part 5, I guess.
Images: Byron Cohen/ABC; Giphy