See Swatches Of Nikkie Tutorials' Too Faced Collab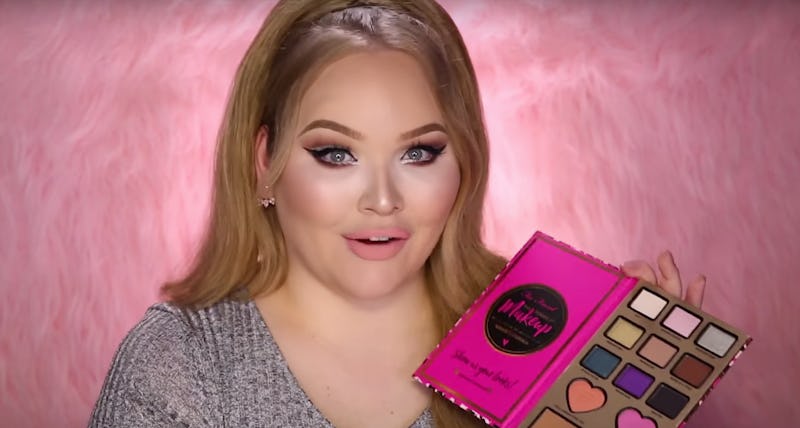 YouTubers have been killing it with the collaborations lately, and this one is no different. Even before swatches of the Nikkie Tutorials x Too Faced collab were out, people were already raving over the makeup dream come true. Now that the products are here IRL, it's clear once and for all that her fans were right to be excited. One look at the gorgeous shades and you'll realize exactly why you need these products in your life.
Although the products details and launch date have been out for a while now, Nikkie took to YouTube to give people what they really wanted — the swatches. She took her fans through every single one of the five products to show them exactly what they were getting.
I have to admit that I was blown away by this product selection. Not only do you get nine gorgeous eyeshadows and two of Nikkie's favorite Too Faced blushes, you also get a highlight and a bronzer. All of which swatch like a complete dream. That's not all though. There's also a black liner, eye shadow primer, loose pigment and purple mascara as well. So basically this is the only palette you'll need to get a full face of fabulous.
Now for the good part. Here are swatches of every single Nikkie Tutorials x Too Faced product in the collab. Some of them were designed specifically by the YouTuber while other are just Too Faced classics. This is seriously a match make in makeup heaven.
1. Eyeshadows
Look at these! You have everything you need for an everyday, night, or completely bold look. There's even a dark black for you to get really smokey.
2. Blushes
Nikkie said in her video that these were her two favorite Too Faced blushes. It clear to see from the swatches why that would be.
3. Highlight & Bronzer
The bronzer shade is the classic Chocolate Soleil Bronzer. The second is actually one of Nikkies favorite eyeshadows that she loves to use as a highlight.
4. Purple Mascara
When she said that she created a purple mascara, she meant it. This is the same Better Than Sex formula with a brand new color.
5. Glitter Pigment
It wouldn't be a NIkkie collab without a little shine. This loose pigment would look absolutely gorgeous over any of the shadows.
6. Sketch Eyeliner In Black
Because everyone needs a great black eyeliner in their life.
7. Eye Primer
There wasn't a swatch of this one, but it's the classic eye primer you already know and love from the brand.
Here's the full video of her sharing the collection with her fans, just in case you want to grab all the details.
This collection looks pretty darn great, if you ask me!
Images: NikkieTutorials/Youtube (12)