Are Nicole & Corey A Real 'Big Brother' Showmance?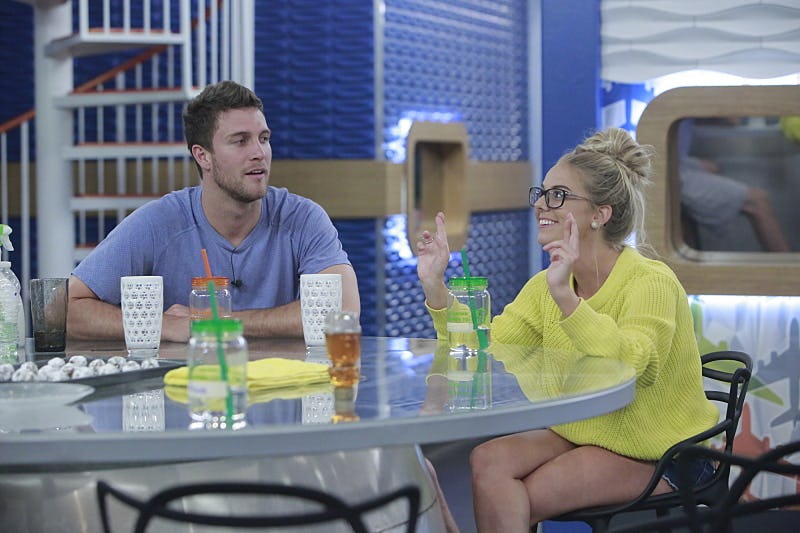 It's the question that comes up during every season of Big Brother: Will the showmances that are hot and heavy in the house last outside of those sacred walls? For a show that is so much about the connections you make with the people in the house, sometimes showmances are just for strategy — so trying to figure out who's in it for the right reasons (love) can be a hell of a task. Take a couple like Nicole and Corey. During Season 18, they've been seen flirting all over the Big Brother house, but with no declarations of what their relationship status is, will Nicole and Corey last outside of the Big Brother house?
It sounds like this love connection might be more intense than any of us realize. Even though they've been caught canoodling all over the house by the Big Brother cameras, these two have been keeping their cool when it comes to playing the game. In a number of conversations within the house, Nicole has said to other houseguests that, if it came down to it, she wouldn't hesitate to put Corey on the block.
But was that just talk to make it seem like she wasn't as loyal to Corey as she actually is? Or was that a sign that these two are not going to last for long once this game is over?
Leave it to the other houseguests to weigh in on this. During her exit interview, Tiffany Rousso told Bustle exclusively that knowing whether or not Nicole and Corey are a couple is "hard to say." Still, she admitted that "they do like each other," but that Nicole might not "want to like him as much as she does." Tiffany blamed Nicole's reluctance on strategy, saying that Nicole "wants to be an individual playing the game." Then, she added that she could "definitely see potential [for Nicole and Corey's showmance] after the show."
It sounds to me like Nicole is trying hard to learn from her actions last time she was in the Big Brother house (she hooked up with Hayden and kept their relationship alive after Season 16 ended), but that the chemistry between these two are undeniable.
So will Nicole and Corey be together after Season 18 ends? Only time will tell. But if other people's observations are correct, the potential for there to be more to this showmance than what meets the eye is definitely there.
Image: CBS (2)