You Need To See This Celeb-Filled HRC "Fight Song"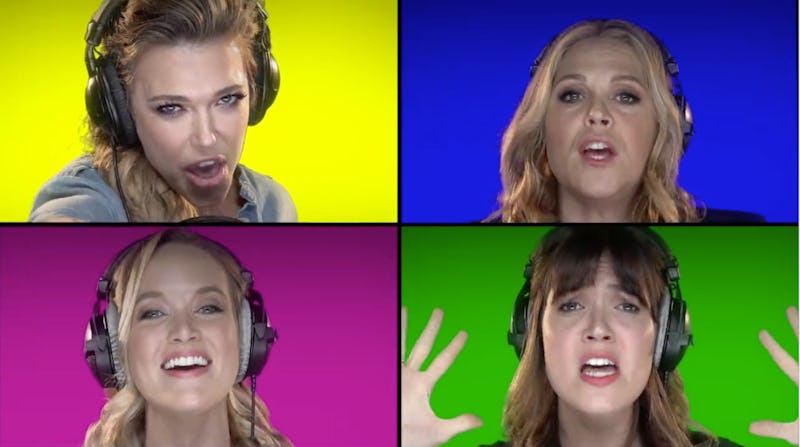 History was made on Tuesday, July 26 — or should I say herstory? Hillary Clinton officially became the Democratic nominee for president, making her the first woman to ever represent a major American political party in this way. Even just typing that sentence feels like a milestone. To commemorate the occasion, Elizabeth Banks rounded up celebs to sing "Fight Song" in a video that's both a tribute to HRC and a nod to Pitch Perfect. Considering Banks starred in that movie and directed its sequel, that's not a huge surprise, but it is a smart move. It's a perfect way both to catch people's attention and to rally behind the candidate. Banks captioned the powerful video:
I got together with some friends for the Democratic National Convention. We believe in Hillary Clinton. We love the sound of the first woman president!
As the video notes in the beginning, "All sounds made by our voices." Making the video a cappella is fitting, considering the Pitch Perfect cast cameos throughout, such as Banks' fellow judge John Michael Higgins and several of the Barden Bellas. Beyond that, America Ferrera bops her head, Mandy Moore belts out the tune, and Rachel Platten herself (whose original song it is) joins in. Broadway legends Kristin Chenoweth and Idina Menzel also lend their voices. Although there's a lot of lady power, Modern Family's Jesse Tyler Ferguson and Rob Reiner are among the numerous men who participated. There's a wide range of celebs sending the message that #ImWithHer.
More than just a catchy song, this video represents an important moment in our country's history. When thinking about that while listening, it's hard not to get a bit emotional. I definitely got chills after hitting the play button. Even if you're not Clinton's number-one fan, it's hard to deny how beautiful the song sounds. The voices really do come together to send a strong message.
Plus, it's a great who's who in terms of finding out which celebs are endorsing HRC. You probably have to watch multiple times just to catch all the cameos. Since there's a lot going on with the 2016 election, it's moving to see so many famous people step up and spread a message of solidarity.
Now if you'll excuse me, I need to hit replay five more times. Because yes, it's that good.
Image: Elizabeth Banks/Facebook