Canadian Daniel Is Back For 'Bachelor In Paradise'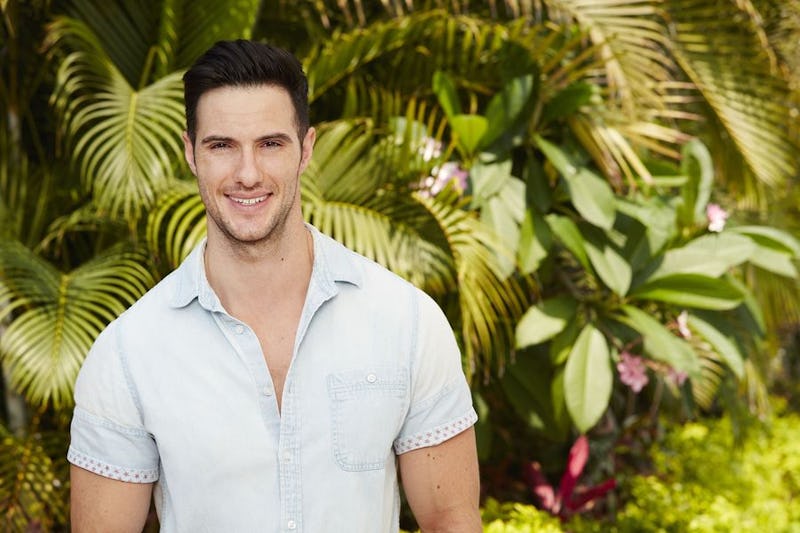 Has anyone ever been more perfect for Bachelor in Paradise than Daniel from JoJo's season of The Bachelorette ? OK, maybe Chad is the person who was born to be on BiP, but Daniel is still prime for Bachelor Nation's hookup show. In many ways, the ripped Canadian was the unsung hero (villain?) of JoJo's season of The Bachelorette since I legitimately had no idea why JoJo kept Daniel — except if the producers insisted upon it — after he got extremely drunk during the first episode. However, his comment about Chad needing to try to be less like Adolf Hitler and more like Benito Mussolini made him a star in my mind and I cannot wait for more of his ridiculous antics when Bachelor in Paradise Season 3 premieres on Aug. 2.
Daniel didn't receive a rose from JoJo right after his buddy Chad was sent home. That was during episode five in Pennsylvania, so what has Daniel been doing since his Bachelorette days? He gave a memorable farewell speech about his terrible personality, his great body, and the chances of being struck by lightning while shaving his face for one last good laugh during his final moments on The Bachelorette. But besides saying mind-boggling commentary and being Canadian, here's what else Daniel has been up to since he left The Bachelorette, according to his social media.
Filming Bachelor In Paradise
If you missed Daniel's bizarre brain and fit body, then Bachelor in Paradise is here for your Daniel fix.
Staying In His Homeland
Considering that Daniel's profession was "Canadian" when the first Bachelorette episode premiered, he has been staying true to his home country by spending time in Vancouver.
Working On His Fitness
Daniel compared his body to a lambo for his Bachelorette profile, so of course, Chad's workout buddy exercises hard and highlights that on Instagram.
Posting Pics Of His Past Travels
If you just glanced at the photos on Daniel's Instagram, you'd think he was traveling all over the place since The Bachelorette, but the captions are key here since most of his travel photos were posted for Throwback Thursdays or Flashback Fridays.
Sharing Information About His Family
As goofy as Daniel can be, this photo of him with his father gives insight into how Daniel has chosen to live life fearlessly after his father was in a mountain bike accident that left him disabled. That's pretty admirable.
Hanging With His Fellow Canadian
Canadian Bachelorette contestants gotta stick together and Daniel and Jonathan appear to hang out a lot nowadays, at least according to Daniel's Instagram. All I want to know is where's Kaitlyn Bristowe for this Canadian party?
Reuniting With His Paradise Bros
Daniel's time in Paradise has wrapped up, but just like he hangs out with Jonathan from The Bachelorette, he went out with Jared, Nick, Grant, and Vinny from Bachelor in Paradise.
Playing With Kids ... And Not Liking It
Is it wrong of me to think it's kind of refreshing to see a guy be annoyed by a child rather than pretend that he enjoys playing with kids?
Joining Forces With Another Bach Alum
While the Lace and Chad pairing shown in the Bachelor in Paradise preview makes total sense since Lace was one of the first villains of Ben's season of The Bachelor , something about Daniel and Lace hanging out is just so perfect that I'm disappointed that I didn't see this coming.
Creating A Twitter Account
Daniel didn't have a Twitter account during his time on The Bachelorette, but as of the eve of the premiere of Bachelor in Paradise, he started his own Twitter account. Of course, his Twitter is to help promote BiP, but that doesn't make it any less amusing.
If you've been missing Daniel since JoJo said goodbye to him, then check him out on Bachelor in Paradise come Aug. 2 — and as he has made it clear on The Bachelorette, you don't have to tune in for his personality.
Images: Craig Sjodin, Rick Rowell/ABC