Cheryl Texiera Talks Shawn & Katy's 'GMW' Wedding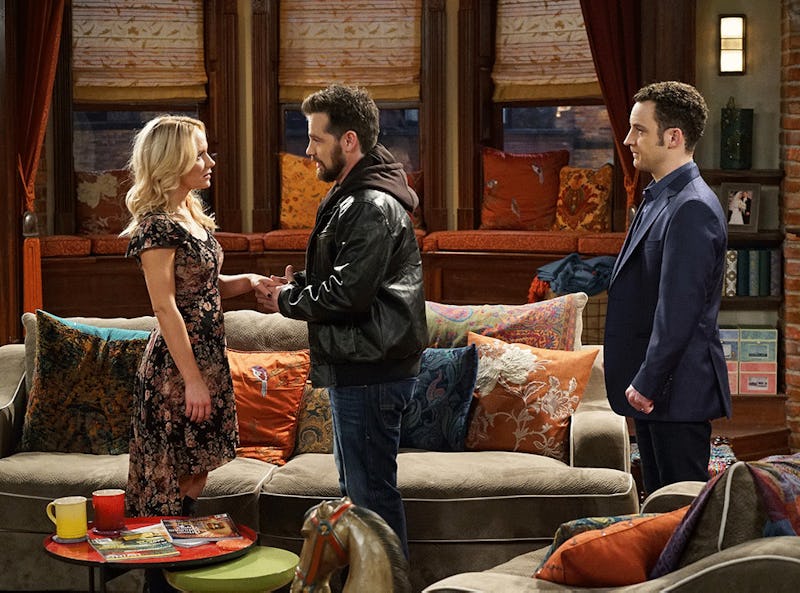 Like most '90s kids, I grew up very invested in the lives of the characters on Boy Meets World — specifically, that of Shawn Hunter. Deep down, I think I knew that Cory and Topanga would eventually get married and live in domestic bliss for the rest of their days — yes, even in the middle of that ski bunny drama, which Girl Meets World cleverly referenced in a Season 3 episode — but Shawn was always a question mark. Though Shawn didn't marry Angela, his high school-turned-college girlfriend, his happy ending might be even happier than fans could expect: A Season 3 episode of Girl Meets World showed Shawn popping the question to Maya's mom Katy, and it's everything that fans could hope for. The actress who got to wed Shawn onscreen in "Girl Meets I Do," Cheryl Texiera, spoke to Bustle about all things "Shaty," and it's safe to say that fans should be happy for the new Hunter clan.
If you thought that the romance between Katy and Shawn moved at lightning speed, you're not alone — Texiera herself was surprised when the script called for her character to say "yes" to a proposal so soon! Of course, that doesn't mean the relationship is moving too fast — it might be what the audience didn't see that makes the relationship work:
"I wasn't expecting it to come as quickly as it did," says Texiera of Shawn's proposal. "But then I thought that, because it's an adult relationship and so much stuff is going on behind the scenes when they're building a relationship, I feel like it made sense."
Many fans (including this one) are thrilled at the development, and Texiera has been touched by their support. "The fans have been really wonderful, especially by reaching out and showing their excitement for the wedding episode coming up," says Texiera. Of course, the fans that overlap their love of both shows — and were convinced Shawn and Angela were endgame — might not be quite as thrilled. Fortunately, Texiera says that it's been all love — that she can see, anyway.
"I don't really know how Angela and Shawn shippers have been reacting to the wedding, just because fans have been really, really kind to leave me out of their [social media] posts. I know that if I really wanted to I could find those reactions, but I prefer to live in my bubble. I prefer to hear what the Shaty shippers are saying!"
Though Shawn and Katy's wedding was the focus of the newest episode, Girl Meets World has also tackled some pretty heavy material, from cultural appropriation to autism. Texiera was particularly impressed by the autism storyline, which involved Farkle, Boy Meets World character Minkus' son and resident school genius, being tested for the condition:
"Honestly, there are so many [storylines] as I think the show has really stretched themselves to tackle the issues that teens are facing today. One story I loved was from the episode 'Girl Meets Farkle,' because to even mention how autism can affect a person and friendships," says Texiera. "It's really common in our society today, a lot of people have a family member or are personally on the spectrum, so I like how they approached it, and I feel like they approached it in a very beautiful way."
Can kids handle adult material on a Disney Channel show? According to Texiera, yes. "I definitely think the kids can handle [more adult storylines] on Girl Meets World," she says. "All of [the fans] have grown with the show so much, that I'm sure in their own life they are dealing with more adult situations and topics. If Disney Channel was open to it, I think that [the fans and cast] would really embrace that."
Though Katy is quickly establishing herself as one of the show's major players — especially given her relationship to Girl Meets World star Maya and her upcoming marriage to Boy Meets World star Shawn — Texiera says that she still looks up to one of the show's starring characters.
"I love, love loved Season 1 Topanga, because she was so quirky and cool and sure of herself," the actress says. "I love the developed character today, as she's such a strong independent woman who has made a great career for herself, along with a relationship with Cory."
Though Girl Meets World has yet to be renewed by Disney Channel for a Season 4, here's hoping that we're able to see Texiera's character Katy ushering in Shawn's new life as a husband and a dad, long after their wedding episode.
Images: Disney Channel (3)