What We Learned From The New 'Luke Cage' Trailer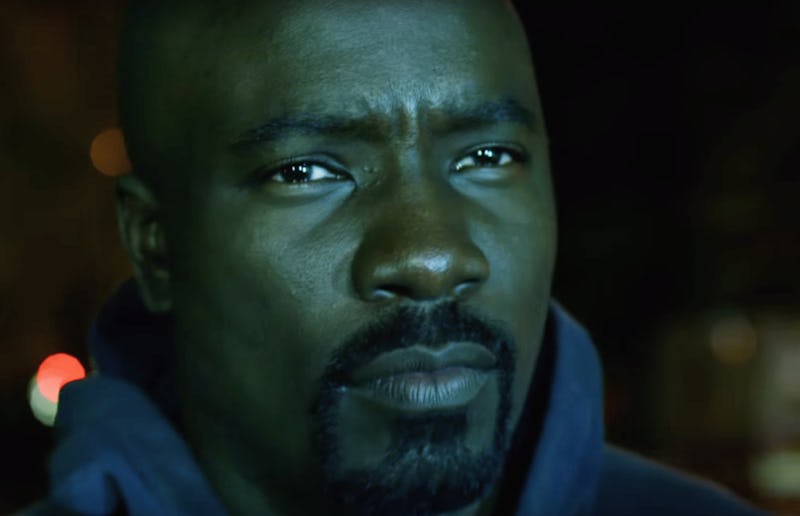 Audiences have already learned to love Matt Murdock of Daredevil Seasons 1 and 2 and Jessica Jones of, well, Jessica Jones. But now, the briefly introduced bulletproof hero, Luke Cage, is ready to head up his own superhero spin-off series. Thanks to the release of the full-length trailer for Luke Cage , fans are getting a more personal look at Mike Colter's hero — who will soon become our hero as well. Luke Cage is set to reveal everything from how he got his superpowers to where he comes from to what he's been up to since getting involved with Jessica Jones. From the trailer alone, it's already clear that there's so much to learn about him.
The new trailer not only brings fans to Harlem, but it also introduces a slew of new characters (both good and bad alike) and the impetus for Luke Cage to embrace his newly found gift. Set to a catchy soundtrack, it builds on what fans already learned in the show's previously released teaser trailer. However, it's also clear that we're just getting started. If Luke Cage is anything like Netflix's fellow Marvel shows, twists and turns are going to occur at every corner. And this trailer gives me some serious hope.
Here are some of the key things we learned from the new trailer.
1. He Didn't Ask To Be A Hero
Like most superheroes, Luke Cage was pretty bitter about his superhuman abilities upon first receiving them. He angrily expresses this in the trailer, "You think I asked for any of this?" Sometimes having superpowers can feel more like a burden than a gift. And, in Luke's case, he just wants "to be left the hell alone."
2. Science Is (Once Again) To Blame
This isn't the first time you've heard that a science experiment is responsible for someone's supernatural abilities. While we still have a lot more to learn, Cage reveals in the trailer that he was, "Put in some tank like an exotic fish. Came out with abilities." But who did this to him? And why?
3. He Has A Mentor
Just as Daredevil seeks guidance from Father Lantom, Luke Cage has a mentor pushing him to be his very best as well. "You should be out there helping people," says Pop (played by Frankie Faison) in the trailer, convincing Luke that not using his powers for good would ultimately "be a waste." Even superheroes need a push every now and then.
4. He's Gotten Close With Claire Temple
It seems like Luke Cage and Claire Temple (played by Rosario Dawson) have been getting pretty close. I'm very much here for it.
5. The War He's Fighting Is Personal
Luke Cage isn't just defending his city. The proud bar owner is fighting for small business owners just like him. When the Barber Shop appears to be a victim of the crimes, there's no stopping Luke from getting justice.
6. We Finally Know Who We're Dealing With
The trailer also introduces us to the series' biggest villain: Cornell "Cottonmouth" Stokes (played by Mahershala Ali). Stokes is out to take down businesses and get the money for himself. In his mind: "Everybody wants to be the King." I can already tell this is going to be good.
7. Luke Cage Can't Rely On Being Bulletproof Alone
"You might be bulletproof, but Harlem ain't," Misty Knight (played by Simone Missick) warns Luke. It's clear superpowers alone won't keep him out of harm's way.
8. He's Just As Passionate About His City As Daredevil Is
Is that Luke Cage speaking or Daredevil? Luke says in the trailer, "This city is supposed to represent our hopes and dreams. You have to fight for what's right every single day." He's even briefly seen spending some time in his church. I wonder if they'll finally come face-to-face with one another?
9. Does Luke Cage Have A New Love Interest?
Things fell apart between him and Jessica Jones when he was introduced to audiences. But I can't help but wonder if he's already ready to move on? He's seen kissing Claire on the forehead and going on what appears to be a date, so I'm thinking he's not completely loveless this season.
10. He Doesn't Have A Secret Identity
Toward the end of the trailer, it seems as if Luke Cage's abilities aren't going unnoticed by the public. Unlike Daredevil, Cage doesn't have a suit he puts on when going to fight his battles. Will he release his name? Will that put him in even more danger?
11. He's Got A Heart Of Gold And A Sense Of Humor
Despite the rather dark trailer, Luke Cage also isn't afraid to crack jokes. If you didn't already fall in love with him in Jessica Jones, get ready to meet one of Marvel's most complex and relatable heroes and fall in love with him in his own series.
Luke Cage premieres on Netflix on September 30.
Images: Netflix US & Canada/YouTube (12)