A New Clue Could Mean Khal Drogo Is Coming Back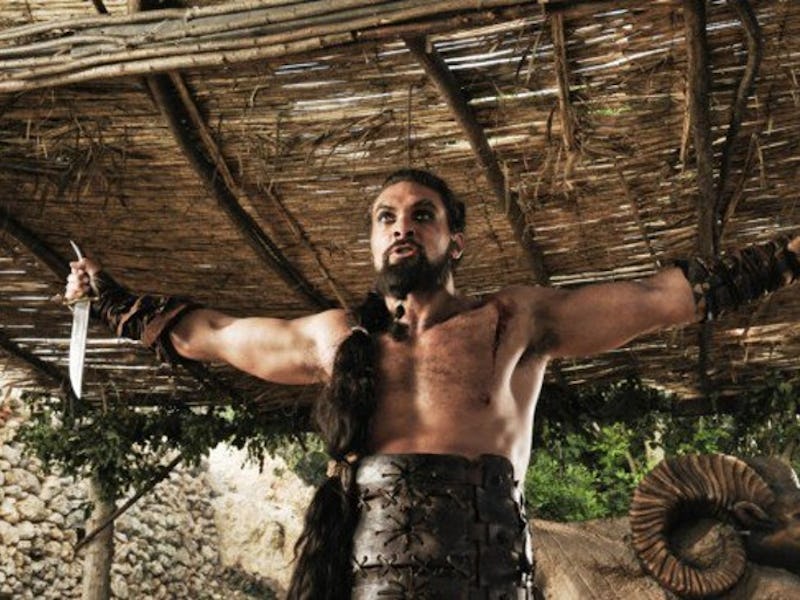 There are many questions I regularly contemplate. "What is the meaning of life?" "Is there life on distant planets?" But lately, the one I find myself pondering most frequently is: "So is Khal Drogo coming back to Game of Thrones, or nah?" Oh, you can laugh, dear reader, but Jason Momoa has been steadily teasing fans with mysterious Instagram posts, and the body of evidence just grew larger. Momoa's return to Game of Thrones would have a big impact on the show, especially (crucially, vitally, etc.) where Daenerys is concerned. Over the last few months, the actor has been posting photos of himself drinking with former cast mates and voicing support for his fictional wifey, and now he is in Northern Ireland whooping it up with the Game of Thrones showrunners.
What are Momoa's Instagrams teasing, exactly? Is Khal Drogo actually coming back, or is Momoa simply catching up with old friends? Let's unpack this. The latest evidence that something big is brewing comes courtesy of — once again — Momoa's Instagram. Sure, this photo appears to show nothing but a good-natured reunion between the Game of Thrones showrunners and the former Dothraki horselord. But do you really expect me to believe that this is just a coincidence? Think again, guys. This seemingly innocent photo carries some major implications.
First clue: This reunion is taking place in Northern Ireland. Northern Ireland also happens to be one of the major filming locations for Game of Thrones. Momoa is currently in between major projects right now. Filming for Justice League started in April, and was split between England and Iceland, but the actor appears to have stopped filming. As such, he has no concrete reason to be in Northern Ireland. Unless, of course, you're having a Game of Thrones Season 7 pre-production conversation with your former bosses because you're about to return to the show.
Second clue: Momoa has been using the hashtag #ALOHADROGO very frequently in the last few months whenever he has posted a Game of Thrones -related photo. As we all know, "Aloha" can mean both "hello" and "goodbye," but why would he be so jovial about saying goodbye? Even more interesting in the photo-related department, it seems that Momoa has deleted previous evidence of his Game of Thrones involvement/reunion, as showcased by a previous article written by Bustle's Jordana Lipsitz, in which some Game of Thrones -related photos are no longer available.
Just to refresh your memory: Those photos were taken when Momoa was watching Season 6 of Game of Thrones, cheering on his TV wife when she stood up to the Dothraki creeps in the season premiere. Was he trying to keep his involvement low-key, or did he just want to delete the photos?
Where the actual show is concerned, I'd argue that many of us were content with the idea that Daenerys would just reign like Queen Elizabeth I, ruling by herself and taking zero guff from her male counterparts. She seems resigned to putting romance aside in favor of finding a husband solely to make a power alliance. Drogo was her one true love, and getting over him put her through the ringer. Daenerys' Season 7 arc will presumably revolve around taking the Iron Throne for herself. This means romance would likely be off the table. So could Drogo really come back into the Game of Thrones story, and could it be a believable return?
If Jon Snow can come back from the dead, then I say Drogo can, too. Resurrection from death is now an established possibility in this world, thus it could happen to any now-dead character. We ponder the possibilities of a Stoneheart appearing, so why not Drogo too? Not only would his resurrection change Daenerys's plan for domination (for the better, as they were a very solid unit when he was alive), but he could also be the key to the Azor Ahai prophecy. This prophecy is, again, directly linked back to Daenerys.
There's nothing wrong with connecting with old friends over a pint and catching up, as Momoa appears to be doing while he's in Northern Ireland. That said, I am firmly convinced that he could be coming back in some major way (and not in a pithy flashback) to Game of Thrones. The timing, the hashtags, and the people involved all align with this idea. As the iconic fantasy show draws to a close, the opportunities to truly surprise audiences are few and far between. Why not shake things up with a major revival? #ALOHADROGO, indeed.
Image: Courtesy of HBO; Giphy