This 'Friends' Spinoff Idea Is So Good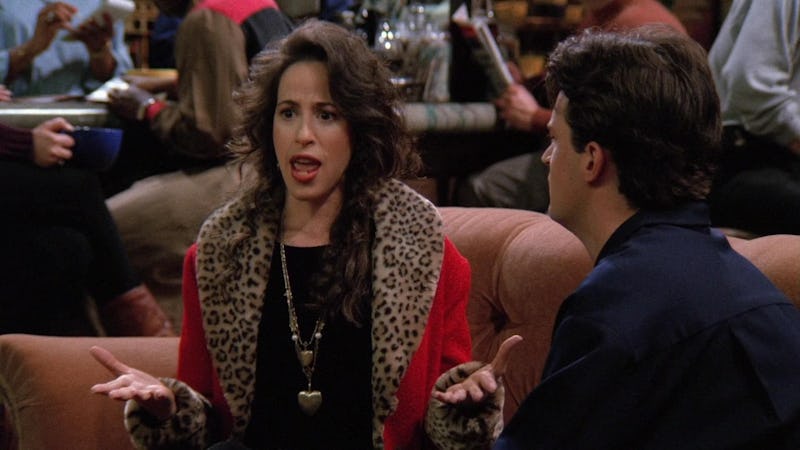 It did not go so well when NBC tried to keep the Friends love going with a Joey spinoff, but just because Joey's Hollywood adventures did not capture the original's magic does not mean the network should have given up. Prepare to say "Oh My God" because Maggie Wheeler — Chandler's on again, off again love interest with a memorable catchphrase, Janice — was totally game for a spinoff, and still is to this day. In a recent interview with Digital Spy, Wheeler revealed a British writer approached her with a Janice spinoff idea she would have loved to have seen come to fruition. After you here what it was, you will be right there with Wheeler because seriously, NBC, this would have been so good.
Instead of pitching Wheeler a story about Janice being an annoying next door neighbor or chronicling her complicated relationship with the Mattress King, the unnamed writer had an idea for a comedy reality show featuring Janice as a therapist. Despite her constant OMG-ing, Janice was always a giver of sage advice. Remember when she let Joey know she knew she didn't like him, and then gently told him they should try to get along for Chandler? She even won Ross over with her ability to listen to his problems. Janice as a therapist would be a joy to watch.
The best part is Wheeler still loves Janice as much now as she did when she originated the role. "If the right circumstance were offered and the people behind Janice asked me to do something, I'm sure I would be there in a heartbeat. It's not too late for a spinoff!" Wheeler told Digital Spy, and I totally agree. All of the best '90s show are getting revivals, why not show Friends a little love with a Janice show? The world deserves to know what 2016 Janice is doing with her life.
It is clear Janice will always be a big part of Wheeler's life. Even though the actress has gone on to guest star on Maron, Archer, Californication, and several of your other favorite shows, she is still committed to Janice. Not only was Wheeler happy to attend the second annual FriendsFest in the UK, she also admitted in her Digital Spy interview that she still busts out Janice's classic catchphrase when fans ask.
Even cooler? Wheeler has her own ideas about Janice's future which include her hosting her own QVC show — yet another perfect Janice job. Netflix, are you hearing this? A Janice spinoff basically writes itself.
Images: Warner Bros. TV; Giphy