The Most Popular NSFW 2016 Olympics Search Was...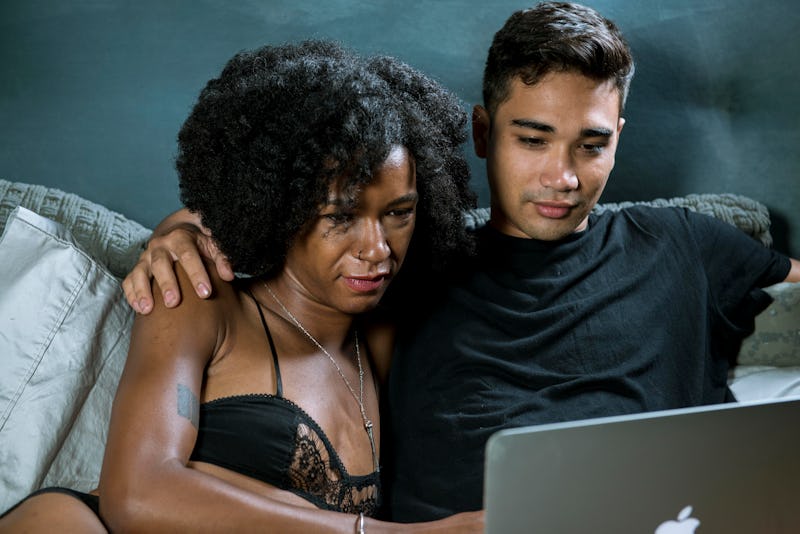 When it comes to compiling porn searches, Pornhub never fails to show us the interesting side of sexuality. So in keeping with the trend of being on top of their game in this area, Pornhub has released the Rio 2016 Olympic Game Porn Searches. And, yes, it's exactly what you think it is: A very intriguing collection of data regarding what types of porn was searched both during the Olympics and the days leading up to it. Of course, just as we saw with the Easter porn search terms like "anal Easter bunny," the porn searches that came with the Rio 2016 games did not disappoint.
Sex was on the minds of the Olympic athletes, as well as the hundreds of thousands of people who went to Rio to watch the games. With so many people making their way down to Rio, Pornhub saw a 15 percent jump in traffic in the Brazilian city on August 6 (the day after the opening ceremony), proving that with all that sex on the brain, it was probably a good thing that Brazil's government handed out nine million free condoms.
But back to the Olympic-themed porn searches. Can you even, in your wildest imagination, conceive of the searches that were plugged into Pornhub during the two weeks of the Olympics? Maybe. Here's what Pornhub found — and it's awesome, as always.
1. Globally, There Was A Big Interest In Rio
Even for those who weren't at the Olympics, porn searches for "Rio" started to climb around August 5. By the time August 7 rolled around, the search for "Rio" peaked at 519 percent above the average search for the term "Rio."
2. "Olympics" Saw Some Major Action
Well, since it was the Olympics you have to figure that that word would definitely get some traffic. Both "Olympic" and "Olympian" started to see an increase in searches on August 5 by 2729 percent. It then reached its peak on the August 7, at 3916 percent.
Not only were the terms "Olympic" and "Olympian" a big hit on Pornhub, but the most popular searches that included these words were "nude Olympics," coming in at number one, and "sex Olympics," coming in at number three on the top searches. The second most popular search term was simply "Olympics."
3. "Athletes" Saw Quite A Jump In Searches
Although August 7 seemed to be a big day for peaks in "Olympics" and "Rio," it wasn't until August 16, that search terms including the word "athlete" skyrocketed, reaching 618 percent above average. The most popular was simply "athlete," followed by "athlete Olympic," then "female athlete."
4. Volleyball Was A Big Favorite When It Came To Sports
As Pornhub pointed out, sports-related searches are an all-year-long thing on Pornhub, but during the two weeks of the Olympics, focus shifted a bit — shifted right onto volleyball. The search term "volleyball" was the most popular during the Rio games, seeing a 431 percent increase, peaking at 576 percent on August 8. When it came down to specifics, in regards to the sport, "beach volleyball" came in second in searches, and "volleyball ass" came in third.
5. The Top Five Sports Searches Weren't Entirely Surprising
Rounding out the top five sports that porn viewers wanted to see the most, after volleyball, was football/soccer, swimming, gymnastics, and wrestling, respectively. See? I told you it wasn't very surprising.
6. Swimming Is The Most Popular Sport Search All Year
Although "swimming" is third on the top five list, it should be noted that its increase in being searched was only by 31 percent, then peaked at 51 percent on August 8. The reason for this is that people are searching "swimming" and "swimmer" pretty much all year. But the top three swimming related searches were "swimmer," "swimming pool," and "swimming naked."
7. There Were High Hopes For "Naked Gymnastics"
Coming in at the fourth spot in top five most searched porn terms were "gymnasts" and "gymnastics," with a 245 percent increase, before it officially peaked at 382 percent on August 10. Of those gymnastics related searches, "naked gymnastics" was the most popular (of course), followed by "gymnastics" and "gymnist" — which is actually spelled wrong.
8. The Search For Judo Related Porn Got Interesting
Although the search for judo didn't even make it into the top 10 porn searches during the Olympics (it came in at #11), the searches related to the sport were, to say the least, fascinating. First of all, searches for judo were 76 percent above their usual average, jumping to 141 percent above average on August 8. As for the most popular judo-related searches? "Judo" first, naturally, followed by "nude judo" and, my personal favorite, "judo footjob."
9. "Marathon" Saw Quite A Bit Of Attention Too
While the Olympics isn't quite a marathon, during the games, the term "marathon" saw a huge jump in searches, with a whopping 689 percent above average on August 6. But the type of marathons that were being searched didn't involve any running. In first place, came the search for "sex marathon," followed by "marathon," then "masturbation marathon" rounded out the top three.
Images: Andrew Zaeh for Bustle; Giphy (9)