Watch These Spooky Shows On Netflix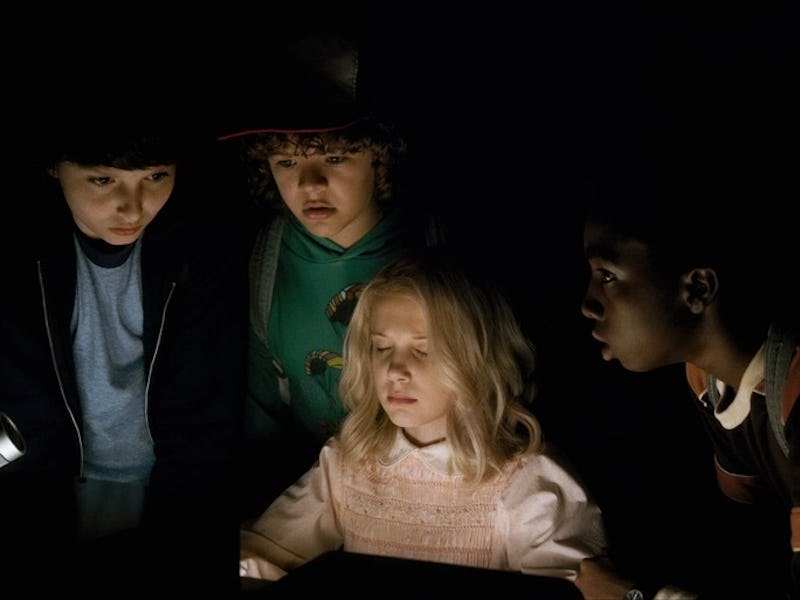 It's almost autumn, guys, and you know what that means: It's nearly time to get your spooky on. I'm talking pumpkins carved with weird faces, witches flying around in the full moon, ghost-hunting with your friends and, best of all, streaming all of the creepiest shows Netflix can offer. What's better than mainlining some of the creepiest, scariest, spookiest and most nerve-wracking television available with shows like American Horror Story and Stranger Things? Nothing, I tell you. Absolutely nothing is better than that. We all love a good binge sesh, so amping it up a notch or two by adding a heavy dollop of creepiness into the mix makes everything a little better. Am I right or am I right?
With that in mind, I have taken the liberty of preparing for you the ultimate list of the best and creepiest shows on Netflix right now. There's no shortage of monsters, mayhem, gore, ghouls and fright in this list. Better still, these shows are a gateway to some seriously good horror films on Netflix—check them out ASAP. So, buckle up, folks. I'm about to give you the deets on the creepiest shows available right now on Netflix. You do not want to skip over these shows and you'll thank me later when you have some well-deserved goosebumps.
1. Scream
MTV is hitting our nostalgia nerves hard with this reboot of the classic 1996 film. There's still a masked killer, terrorized teens and plenty of thrills and chills to keep you on the edge of your seat. Lucky for us, it's all tied up with the darkly comic moments, all in the vein of the original we know and love.
2. Penny Dreadful
Fancy your shows classically creepy? Then saddle up to the TV and turn on Penny Dreadful . Weaving together new takes on Frankenstein, Dorian Gray, werewolves, vampires and other creatures of creepy repute, Penny Dreadful will leave you supremely icked out—but in a really good way.
3. The Returned
The Returned is a creepy little number straight from France and well worth binging. Set in a remote mountain town, characters who have long been dead suddenly return to their homes, not only shocking their loved ones but also facing a deep existential crisis. Are they still dead? Are they zombies? Can they resume their lives as they were before they died?
4. Bates Motel
Acting as a prequel to the infamous horror film Psycho, Bates Motel is a can't-miss for those who love a low-key creepiness to their television. Viewers are drawn into the weird world of teenage Norman Bates and his mother, Norma. The two are *ahem* very close and the fact that Norman is a rather strange boy only complicates matters. Rihanna will be joining the upcoming season (why would you miss that?), so now is the perfect time to start catching up.
5. American Horror Story
The newest season of American Horror Story is fast approaching, but that doesn't mean you shouldn't catch up on previous seasons. The show acts as an anthology, so you can choose which season you like an end up watching a self-contained story. There's no shortage of thrills, chills and gross-out moments in American Horror Story that will leave your skin crawling. I suggest starting with American Horror Story: Coven because who doesn't love a story about a squad of New Orleans witches wreaking havoc?
6. Hemlock Grove
If you like shows that show you the creatures that go bump in the night, you should tune into Hemlock Grove. The Netflix Original series is currently three seasons long, making it a perfect creepy binge fest. There's werewolves, murderers, psychic mediums and more. Interested? Then what are you waiting for? Go stream it now.
7. Black Mirror
Black Mirror is comprised of seven hour-ish long episodes, each a self-contained story. Very much styled in the creepy-but-realistic vein of The Twilight Zone, the show examines the effects of technology (all the good and all the bad) in different versions of our world in the near future. It's dark, twisted, cerebral and perfect in every way.
8. Dead Set
This spooky show is straight from the UK but don't worry: A boring costume drama this is not. Mixing Big Brother with Dawn of the Dead, Dead Set explores what would happen if a zombie virus struck the UK while a reality show very similar to Big Brother is being taped. The show's contestants have no idea of the horror going on outside the studio until it the terror strikes. Don't miss this one.
9. Stranger Things
If you haven't had a chance to hop on the Stranger Things bandwagon, now is the time to do it. A second season will drop in 2017, which means you have plenty of time to find out why the rest of us are going gaga for this nostalgia-laden show. There's sci-fi, horror and comedic touches galore, making it worth the eight hours it will take to binge it.
10. The X-Files
A classic creep-fest by all accounts, The X-Files is the one show you can dive deep into now that you can stream it on Netflix. There's monsters, aliens and mysteries galore. Better still, when you're done all nine seasons, you can tackle the feature-length films and keep the spooky times going.
11. Salem
Need to get your witchy fix now that autumn fast approaching? Then press "Play" on Salem. Set in Salem, Massachusetts during the Salem Witch Trials, the show follows Mary, a young witch caught up in the drama of the events leading up to and during the infamous trials. It's a definitely eerie and fictional take on a dark part of American history and It's. So. Good.
Images: Netflix; Giphy (11)