This Unicorn Cafe Will Give You Magical FOMO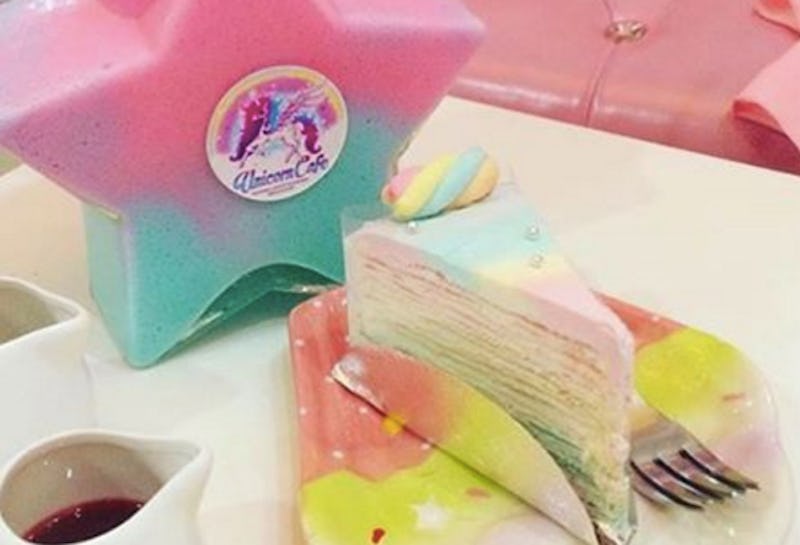 Everyone deserves to feel a little bit of magic in their daily lives. That's why Disneyland is so successful — it makes you forget about your worries for a little bit and lets you feel happiness. So if you find yourself traveling the world in the near future, go and check out the unicorn cafe in Bangkok for a chance to experience some ~magic~ for yourselves. Just try and feel sad while surrounded by rainbows and clouds.
This themed restaurant looks like something straight out of a Katy Perry music video. Not only is it decorated to look like a unicorn's natural habitat, the food covers every color on the color spectrum. So cute you almost feel guilty wanting to take a bite. Almost. For those of us looking for something a little more out of our comfort zone, this unicorn cafe is a perfect fit. Who wouldn't want to dine inside of this upbeat rainbow palace?
The best part of this restaurant would obviously have to be the food and drink options. Since most of us eat with our eyes first, seeing the menu selection is truly otherworldly. The unicorn cafe has rainbow-colored drinks and even rainbow colored pasta —no, not the regular green, yellow, or orange pasta you can buy in the store, I'm talking about purple/pink strings of delicious carbs that will fill you up and make you wish that this place was open in the United States.
I don't know what's cuter, the drink or the My Little Pony action figures that are standing next to it. If you are looking for an entree, here is an example of one of their popular dishes.
Shrimp and noodles are basically my diet at this point in time, so this dish hits a home run in my eyes. Try and not cry tears of joy when you look at their burgers. Why? Well, they are made to look like tiny unicorn heads — complete with horns.
It's easy to see why this place is growing a customer base and causing a stir online. Creative food restaurant concepts are really hot. Here are some other ones around the world that are worth your visit ...
1. Cat Cafe
There is a cat cafe in NYC that people are lining up to check out. Not only will you get to eat delicious food, but you will be surrounded by adorable furry animals that you can interact with.
2. Cafe Jack
If you loved watching Rose and Leo in Titanic, then you might enjoy dining in this Los Angeles eatery. This place will make you feel like you're the king of the world ... Just don't expect the ending of the film to change.
3. Chill Out Lounge
Ever felt like eating inside of an igloo? Well, you can make it happen — you'll just have to go to Dubai.
Looks like we're all going to have to keep an eye on cheap flight deals and make a getaway when you can! Your stomach deserves all the themed cafes it can get.
Images: Giphy (3); Unicorn Cafe Instagram