Let's Analyze These Vague 'Bachelor' Spoilers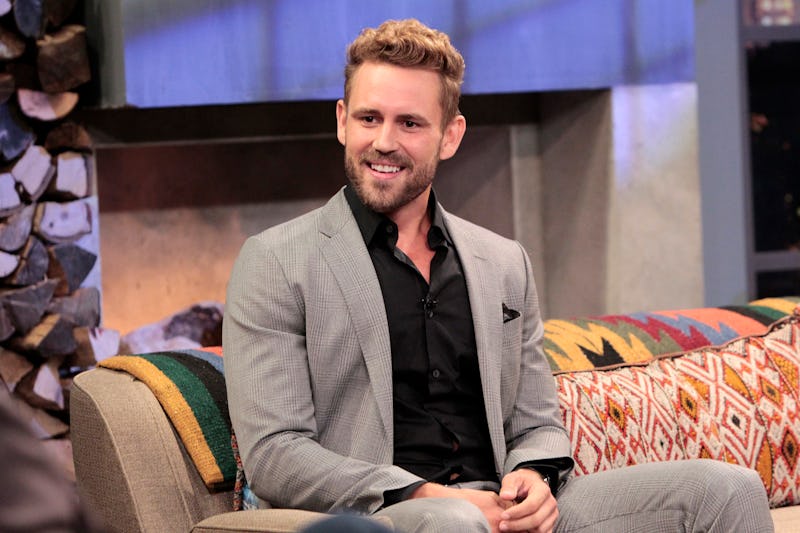 We're about three months away from the premiere of Nick Viall's season of The Bachelor and I, for one, am so excited that I want to start talking about everything we know so far. Thanks to Mike Fleiss, there have been some spoilers for the season, but some of them have been pretty vague and unclear. It's time to do some analyzing. Viall began filming his Bachelor season on Sept. 24, and we're well into a few dates at this point. In fact, according to Fleiss, there have already been two rose ceremonies, and they're flming Episode 2.
Back in August, the franchise announced that Viall was to become the next Bachelor . After the news broke, former contestant Luke Pell revealed that he had his bags packed for the gig and found out last minute that they were going with Nick instead. In case you've never seen the show before, Nick was originally the runner-up on Andi Dorfman's season and then became runner-up again on Kaitlyn Bristowe's season. He was labeled the "villain" for those two seasons, but quickly became a fan favorite while on Bachelor in Paradise over the summer. Finally, it's time for his journey to begin, and here's what spoilers we have so far.
1. The Random Bride
Mike Fleiss posted this photo two days into filming the new season. Obviously, it has nothing to do with a real wedding, but, if I had to guess, it looks like this lucky gal won a group date. Or they're simply on a group date, and she's taking him aside for some one-on-one time. It doesn't look fancy enough to be a real one-on-one date.
2. This Mystery Blonde
Did Fleiss specifically post a photo of this beauty because she's a favorite? Maybe he just happened to be in the room while she was walking up from the limo, but it could be hinting that she gets the first impression rose. As long as we've been with Viall, though, he's been going after the brunettes, not the blondes. But maybe he's changing his tune?
3. The First Night
It's not really a secret that Viall loves his brunettes as we've seen over the last three seasons of The Bachelorette and Bachelor in Paradise. If this photo is any indicator of the type of women we're about to meet, they're probably all dark-haired for the most part.
4. Boat Date
In this photo posted by Mike Fleiss, a helicopter is following behind a boat. It's not too much of of a spoiler, considering every season of The Bachelor includes some type of date on a yacht. It seems like this season is no different. I assume there will be swimming in the ocean and lots of wine between Viall and one lucky lady.
5. This Weird Pic
It almost seems like Viall is watching a woman do one of the confessional videos in this behind-the-scenes photo Fleiss posted on Sept. 28. It looks like it might be too far away from him to hear, but if I was that girl talking to camera, I would feel super awkward having him watch.
6. A Football Date
No one mentions "Varsity Blues" if they're not talking about football, which means there's a group date that involves some football. It's not too surprising considering most seasons includes a sporting date, but it would be a surprise if they brought along some Packers players. Viall is a die-hard Packers fan, so it would be pretty awesome if a few players came on the show. On the other hand, the LA Rams are right there, so they could bring in some of them.
7. Neil Lane Appearance
Do you think Neil Lane dropped by to pick up the last ring he gave to Viall before he and Jen broke up? Lane being there might mean he's getting ring sizes ready for some of the ladies. Or he's just that good of friends with our new Bachelor at this point that he got invited to have front row seats during his season.
8. The Mansion Photo
This photo is easy. Viall is off on a one-on-one date while his other ladies hang by the pool. No unclear spoiler here; this is what happens when there's no Bachelor around.
Of course, until his season premieres, all we have is longing and speculation. But I'm still beyond excited, you guys. It's going to be great.
Images: ABC/Rick Rowell