'The Bachelor' Is Becoming More Sex-Positive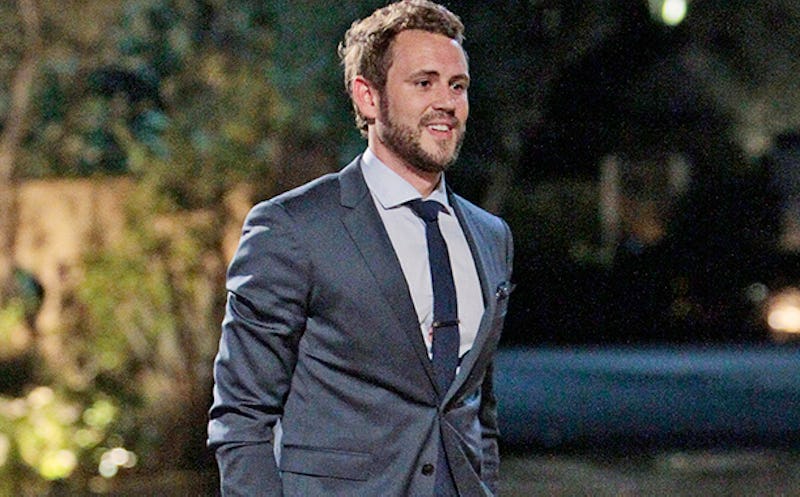 When I heard the exciting news about the casting of our next Bachelor, the first thing my brain jumped to was the fact that Nick Viall could bring the Bachelor franchise into more sex positive territory. Whether you support him as this year's pick or not, it's worth noting that Nick's casting could lead the show itself to skew away from some past patterns, and producers may have to start treating contestants who are open about sex a bit more fairly. After all, Nick has appeared on multiple shows within The Bachelor franchise, and from the beginning, he's been very upfront about what goes on behind the show's closed doors — if, at times, a little too upfront.
When fans first met Nick, his attitude towards sex seemed a bit problematic, at least in how he publicly discussed the subject. He was introduced on Andi Dorfman's season of The Bachelorette , where he came in second to Josh Murray, but he was more memorable as the guy who took Andi to task during After The Final Rose. There, he asked her why, if she wasn't in love with him, why she made love to him in the Fantasy Suites. Even though sex is something that viewers all tacitly understand can happen in the Fantasy Suites, Nick is one of the only people to ever speak openly about it, and you can see all over Andi's face how shocked she was that the subject was brought up. It seemed like Andi had wanted that moment of their relationship to be private, just between the two of them, so even though I don't believe Nick was trying to shame her for having sex, it came off that way to many viewers and, seemingly, to Andi herself.
At the time, my reaction was similar to Andi's, in that I thought Nick was just trying to brag about a sexual conquest, and embarrass Andi on television after she did the same to him. With some hindsight, though, I wonder if Nick actually didn't think there was anything to be ashamed of at all about the sex he and Andi had, and was hoping for a frank, open conversation about what sex meant for them both. After all, they were two consenting adults on a show explicitly designed to help people fall in love and begin relationships, so sex is likely going to be a part of the equation.
But this is only a conclusion I came to after watching Nick again on Kaitlyn Bristowe's season of The Bachelorette, where he was again the runner-up and again had sex with the Bachelorette. But this time, it happened before the Fantasy Suites, after an all-day date in Dublin with full, detailed audio that played on our television screens, and both Nick and Kaitlyn, later, spoke openly about it, with Nick even going so far as to defend Kaitlyn on Twitter after she started taking some undeserved heat.
With Nick as the Bachelor, the entire way the producers treat Fantasy Suites could be changed. Imagine if instead of saying, "I'm excited to spend this time together," or, "I don't know if we're ready for that next step," the conversations between contestants could be more like, "We have great chemistry, and I'm excited to see if that translates to sex," or, "I don't feel like we should sleep together until I'm sure." These couples actually talking about what sex means to them and whether it's a good idea is exactly the kind of transparency that contestants need to take the whole experience to a more honest level, and I can't wait to see if they take full advantage of the opportunity of to have a sex-positive narrative with a Bachelor like Nick in the hot seat. This is a direction I've long wanted Bachelor Nation to go in, and it feels like Nick is just the person to take us there.
Image: ABC