The 'PLL' Cast Will Miss The Show As Much As You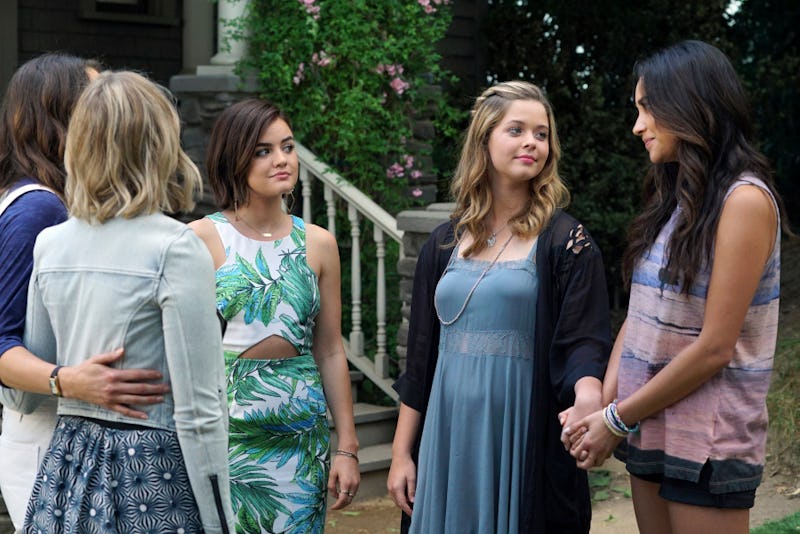 It's hard to believe that Pretty Little Liars first hit our screens over six years ago, in June 2010. Since then, fans of the show have followed the characters on a roller coaster of emotions, and through a plethora of elaborate plot twists. It's likely that the final ten episodes of Pretty Little Liars Season 7, which are due to air in Spring 2017, will shock us all, especially as we get ever nearer to finding out who A.D. is. We still have a few months to wait until the series returns, but recently social media has been flooded with photos and tributes to the cast as they filmed the finale episode. Pretty Little Liars cast photos prove that the show has wrapped filming and the cast will miss it as much as we do.
In a completely heartbreaking move, actresses Shay Mitchell, Ashley Benson, Lucy Hale, Troian Bellisario, and Sasha Pieterse took to social media over the past few days to share photos from the Pretty Little Liars set and table read, proving just how devastated everyone is that the show is finally coming to end. I have no idea what I'm going to do once Season 7 is over, and it's clear that the cast isn't ready for the show to end either. Here are some of the best Pretty Little Liars photos, tweets and tributes that will have you sobbing uncontrollably.
1. There Was A Lot Of Crying
Luckily everyone had tissues handy.
2. Seriously, A Lot Of Crying
I literally cannot cope.
3. It's The End Of An Era
With a cute throwback photo, Troian Bellisario called it the end of an era.
4. Ezra & Aria's Book Cover Was Revealed
Featuring a huge photo of Ezra's ex Nicole, and the tagline "a testament to the power of true love," it's pretty clear that Aria and her future husband will face some trials when the series returns.
5. The Pre-Table Read Photo Was On Fleek
Bellisario shared a photo of the gang, with the caption, "Before. Because afterwards we were all hysterically crying and red." Same.
6. The Comparison Shots Are A Tearjerker
The cast have changed so much since the show started.
7. Love Is Love
Show runner I. Marlene King's defense of character Emily Fields's sexuality is super cool, and shows how important the show is to so many people.
8. There Was More Crying
King didn't even try to hold back the tears.
9. Lucy Hale Remembered The Fans
Hale's summation of the final table read of Pretty Little Liars seems right — "magical and special and sad."
10. Ashley Benson Called Her Cast Mates "Sisters"
Stop, I'm weeping.
11. Shay Mitchell Celebrated #WorldTeachersDay
Mr Fitz is everyone's favorite teacher, right?
12. Mona & Lucas Tried To Stay Smiling
Happy on the outside, crying on the inside.
13. Ashley Benson Couldn't Hide Her Tears
Even aviators couldn't disguise her sadness. We feel you, Hanna.
With only 10 episodes left, it's hard to imagine how Pretty Little Liars will draw to a close. Still, the cast and crew are with us every step of the way, and it'll be exciting to find out the identity of A.D. once and for all.
Images: Freeform