9 Stephen King-inspired Costumes For Halloween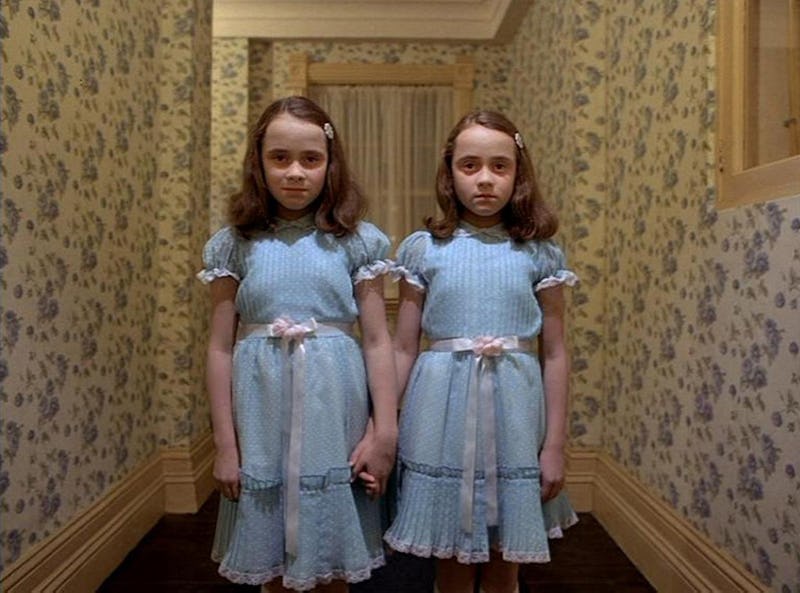 He's been called the King of Horror and the Master of Mystery, but this year, you're going to be calling him your Halloween muse. When it comes time to deciding what to dress up as, turn to your bookshelf and there you'll find the most petrifying, most horrifying, and most iconic Stephen King-inspired costumes perfect for helping you have your scariest holiday yet.
With over 50 books and 200 short stories to his name, it's safe to say that Stephen King knows a thing or two about creating good characters. From his hellish monsters to his terrifying villains to his heroic protagonists, King's characters are some of the most memorable, and most terrifying, the book world has ever seen. Which is why they make the perfect inspiration for your costume this year, because not only are they recognizable (I mean, who wouldn't get the whole girl-drenched-in-blood reference?), but they're just the right amount of sinister to fit right into the Halloween spirit.
If you want to be one of the coolest, one of the creepiest, and, okay, one of the nerdiest people dressed up at the Halloween party this year, go with one of these 9 Stephen King-inspired costumes. After all, who can dethrone the King?
1. Carrie
Fake Blood, $8, Amazon
Have you always wanted to wear your prom dress again? Here's your chance. Pull out your old gown, or thrift a new one, and complete the high school dance look with a tiara and a corsage. To take your costume from prom queen to scream queen, dose yourself in fake blood, and in no time you've transformed yourself into the titular character of one of Stephen King's most iconic horror novels, Carrie.
2. Pennywise
Pennywise Costume, $34, Amazon
As if Stephen King's demonic clown from It wasn't scary enough already, Pennywise is even more terrifying in light of the recent creepy clown sightings. If you're brave enough to dress like him and still look at yourself in the mirror, a Pennywise costume complete with mask and jumpsuit is the perfect costume for scaring just about everyone at the party. Because really, who isn't afraid of clowns?
3. Randall Flagg
Black Robe, $22, Amazon
One of King's most memorable characters, the dark sorcerer, necromancer, and basic world-destroyer Randall Flagg is not only the perfect spooky costume to dress up as this year, but it's also the most relevant. Take on the role of the Man in Black before Matthew McConaughey does in the 2017 The Dark Tower film adaptation by dressing yourself head-to-toe in all black. While you can pull this look off with basics from your closet — black pants, black jacket, black boots — it wouldn't hurt to add a black hooded cape or black robe to really sell it. With your dark attire and a sinister grin, any King fan will recognize your guise immediately.
4. The Grady Twins
Blue Dress with Bows, $15, Amazon; White Knee Socks, $7, Amazon; Mary Jane- Style Shoes, $11, Amazon
The only two King characters to still haunt my nightmares, the Grady Twins are the perfect costume for you and your BFF — that is, if your goal is to terrify everyone in your neighborhood. To get the iconic look right, you're going to need matching collared blue dresses with bows, the more ruffles the better, white knee socks, Mary Jane-style shoes, and a small hair bow. Oh, and don't forget to practice your creepy stare, it's key to the whole costume.
5. Jack Torrence
Classic Axe, $4, Party City; Fake Blood, $8 Amazon
Speaking of iconic characters from The Shining, we can't forget the antagonist of the novel, Jack Torrance. There are several different ways you can recreate Jack's deranged look — using makeup to recreate the frozen look from the end of the movie, covering yourself in fake blood and wielding a costume axe — but the most recognizable way to do it will include some creativity. Use a large piece of cardboard or poster board to create a fake door, and through the center, cut out a hole large enough for your head. Dress yourself in jeans, a plaid shirt, and boots, drop some fake blood over your clothes and your face, and secure the "door" around your face. Start using introducing yourself to people by saying, " Here's Johnny!," and with a little bit of planning and crafting skills, you've become one of King's most beloved villains.
6. Annie Wilkes
Kathy Bates has taken on some pretty terrifying roles in her day, but nothing tops her portrayal the villainess from King's Misery. If you want to dress up as the murderous, obsessive Annie Wilkes this Halloween, you're going to need a few basic clothing items: a turtleneck a plaid shirt, and a denim dress, preferably one straight out of the late 80s, early 90s. You can accessorize with rustic outdoor wear and simple jewelry, but do yourself a favor, and leave the sledge hammer at home. If you're worried about people not knowing who you are without it, carrying around a copy of King's novel will do the trick.
7. Kurt Barlow
Vampire Teeth, $7, Amazon; Black Robe, $23, Amazon
Long before there were the sexy vampires of Twilight and The Vampire Diaries, there was Stephen King's petrifying vampires of Salem's Lot. If you want to be truly terrifying this year, Kurt Barlow, the vampire leader of the novel and movie, is the costume for you. To get the look, you're going to need a black robe, vampire teeth, and plenty of costume makeup. With your teeth in, your face painted a bluish-white pallor, and your eyes darkened to look sunken in, no one will mistake you for one of the "nice" vampires.
8. Andy Dufresne and/or Ellis Boyd "Red" Redding
Not into guts and gore? Whether you're dressing up alone of with a friend, Stephen King's non-horror novella Rita Hayworth and Shawshank Redemption has just the characters for you: Andy Dufresne and Red. Prisoners of Shawshank State Penitentiary, looking the parts of these two fast friends is as simple as wearing work boots, dark denim jeans, and a light denim button-up shirt with prison numbers written or stitched on over the left breast pocket. If you want to really sell the look, adding a pair of broken handcuffs wouldn't hurt.
9. Church
Tired of the same old sexy kitten look? This Halloween, try a more sinister feline by dressing up as Church, the resurrected cat from one of King's darkest novels, Pet Semetery. Dress in all grey clothing, and add a pair of cat ears and a tail to your outfit. To go from regular house cat to deranged zombie, use costume makeup to give your kitten costume a walking dead look. Does that sound scary enough for you?
Images: Giphy (9); Amazon