You Forgot About These 'Bachelorette' Contestants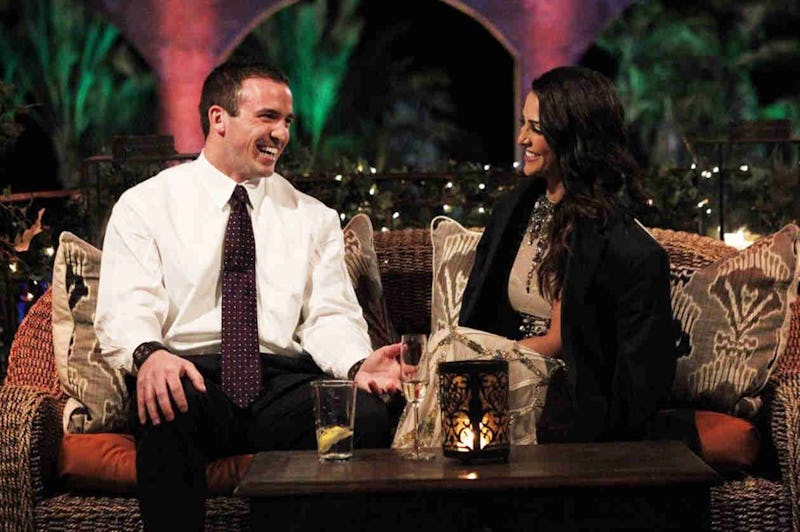 Though there are substantially less Bachelorette seasons than there are Bachelor ones, the franchise has been making romance happen for the ladies since 2003. In the past 13 years, there have been 12 different Bachelorette leads, meaning there have been roughly 300 contestants (and two Nick Viall appearances, never forget). If you're a fan of the show, you know that there are a lot of new faces to keep up with every season, and you're more than likely to have forgotten about some Bachelorette contestants over the years. Even ones that you used to adore watching as they made fools of themselves and said "Yes" or "No" to the question "Will you accept this rose?" (Though honestly, I can't remember how many of them ever said "No." Figures.)
Out of these nearly 300 contestants, it's understandable that a few men have since evaded your memory, especially in seasons like JoJo's, where the final four all wear matching green t-shirts and sport the same exact coif. And, like, general face. (I'm digressing, but you know it's true.) I guess what I'm saying is, no one's mad at you for not remembering every single Bachelorette contestant ever because that sounds impossible. However, it is possible to refresh your memory with the following list of past Bachelorette contestants.
1. Brian J.
Update: On May 21, 2019, Brian contacted Bustle to refute his portrayal on the show. He claims that the woman who appeared on set was his ex-girlfriend and that their relationship ended prior to filming.
Earlier: Everything was going fine for Brian on Desiree Harstock's season of The Bachelorette. That is, until it was revealed he had a girlfriend back home... and said girlfriend showed up on set and was all "Remember me?" Unfortunately, the rookie mistake didn't make this contestant any more memorable.
2. Frank Neuschaefer
You probably tried to forget about this bespectacled contestant after he broke Ali Fedotowsky's heart and left early during her season.
3. Drew Kenney
This contestant erred on the shier side, but made it to the top four in Desiree Hartsock's season.
4. Charlie Maher
Unfortunately, runner-up Charlie was immediately overshadowed by Trista Stutters's final pick, Ryan. He was never seen again. (Kidding. Though I really have no idea where he is now.)
5. Chris Bukowski
You probably forgot about Chris since he hasn't been around the Bach world in quite some time. You know, after he formally retired.
6. Alejandro Velez
Just wanted to remind you about the mushroom farmer from Emily Maynard's season.
7. Brian Osborne
Who could forget Basketball coach Brian? Oh wait, I did. Apparently he was from Andi Dorfman's season. Oops.
8. Zak Waddell
You might not remember Zak Waddell because his little sister — Carly — has taken his spot as the Waddell of the Bach franchise. But he was there, during Desiree's season.
9. Contstantine Tzortsis
This contestant eliminated himself after making it to the final three on Ashley Hebert's season.
10. Ryan Park
Even though he's a dead ringer for Jake Gyllenhaal, Ryan Park flew a bit under the radar.
11. Ryan Hoag
Bet you forgot that a former Oakland Raiders wide receiver was a contestant on Deanna Pappa's season huh?
12. Reid Rosenthal
Rosenthal appeared The Bachelorette's fifth season in 2009 and on Bachelor Pad's inaugural season in 2012, but he has not been around the franchise much since then.
13. Chase McNary
I know he just happened, but I bet you already forgot about him, huh? Don't be ashamed.
The contestants of Bachelorette yore. May we know them. May we love them. May we lose them entirely in our memory.
Images: ABC (14)