This 'GG' Photo Is Great News For Jess Fans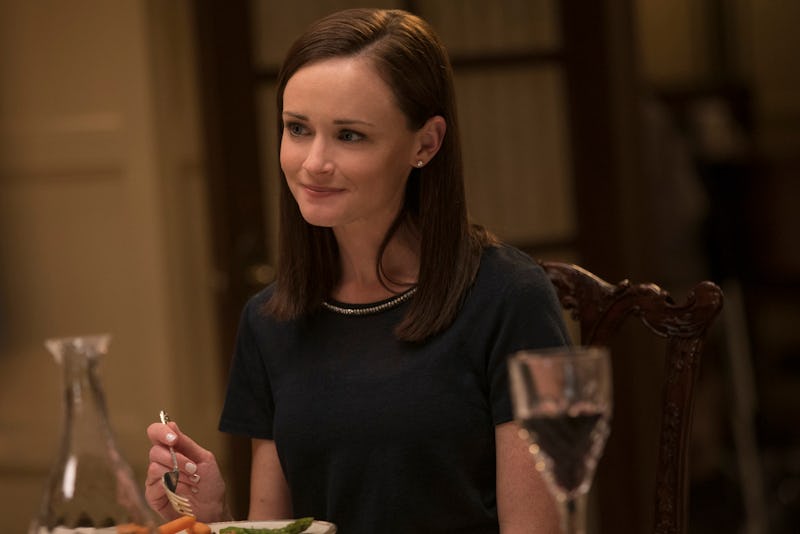 Brace yourselves, Rory and Jess 'shippers. Of all of the photos, teasers, and clues released about Netflix's Gilmore Girls revival so far, one new photo could have just answered the number one question on your mind: which one of Rory's exes will she end up with? A new photo reveals that Jess is in the final episode of the revival, which makes him one of the last exes that Rory will come into contact with. We know that all three of Rory's exes, and that the four new episodes of Gilmore Girls will be in chronological order from Winter to Fall, so this means that Jess is now confirmed to be in "Fall." It might be time to celebrate, Team Jess fans.
Over the course of the show's original seasons, Jess (played by actor Milo Ventimiglia) was a fleeting character. He abruptly left to head to California and rushed off after telling Rory he loves her, so it's pretty obvious that Jess is a pretty impulsive guy. This photo of Jess and Luke talking in the diner could mean that Jess might be running again — this time to his uncle, in order to seek advice on how to win back Rory.
The picture itself isn't anything too eventful, and, considering Rory's ex Logan is confirmed to be appearing in all four episodes and all of Rory's exes will be in the finale, Jess' appearance might not seem like such a big deal. However, Jess messing everything up at the last minute would be completely in character for him. This photo makes me believe in my heart that Jess running in to scream "I object!" during a Rory and Logan wedding is totally possible.
Jess earning Rory's heart is something that has been built up for a long time. In an interview with TVLine, Milo Ventimiglia revealed that his character, "kicks up dirt like he always does," in the revival. Hell, the fact that he's even back in town at all has to be for good reason for Jess/Rory 'shippers.
So excuse me while I go back and re-watch every vital moment between Rory and Jess. I'm thinking that they could be endgame.
Images: Saeed Adyani/Netflix (2); Giphy