11 Bloggers Who Slay The Plus Size Glamour Game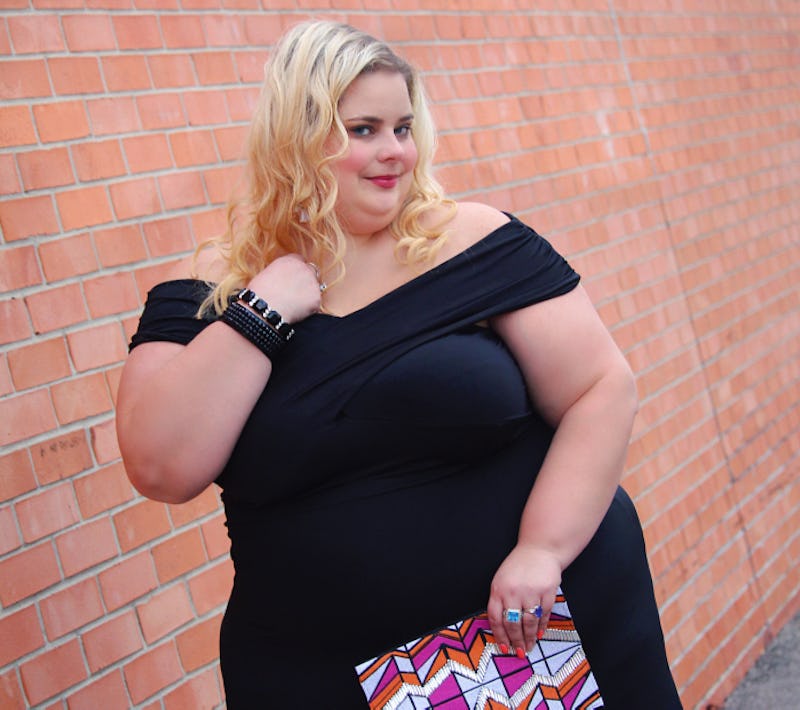 For a lot of folks, the expression of femininity — even in its most OTT, kitschy, girly of forms — can be hugely empowering. Too often, all things traditionally feminine are still equated to weakness and vapidity, if not total incompetence. So to rock the color pink proudly, throw on some pearls, smear on the red lippie, or step out into the world in the most retro of LBDs while slaying it professionally, personally, or otherwise can still send a very loud and fearless message. It's one that can undoubtedly be found in bloggers who do plus size glamour.
Of course, wearing your femininity boldly isn't always as simple as putting on a sparkly vintage swing dress and stepping out the door. When you add being a plus size woman to the equation, it can arguably feel all the more vulnerable. Plus size babes are still so regularly bombarded with "rules" of what they can and cannot wear. And at the heart of those guidelines is the suggestion that their bodies be concealed; their rolls sucked, their bellies flattened. Going OTT with glamorous femininity doesn't necessarily fit into the box of acceptability we've been designated, which is precisely why bloggers who do so anyway are such a sight to be seen.
"Glamour" can mean a lot of things to a lot of people. For some, it manifests through glitter overloads. For others, it might mean wearing a pink pantsuit. For others still, it could be all about classic vintage styles. The following bloggers all wear their glam-ness differently and magically.
1. Lisa Of Mustang Sally Two
Lisa of Mustang Sally Two describes her blog as a place of "fashionable inspiration for the everyday plus size woman" in her tagline. Although she does rock many glorious denim and plaid combos and leggings-as-pants ensembles, it's arguably her full-on glamour #OOTDs that make a lasting impression.
Unafraid of all things sparkle, shine, or retro, she can regularly be found in killer LBDs and princess-esque skirts alike. Whether channeling a look more akin to Marilyn Monroe's bodycons or Jackie Kennedy Onassis' evening-wear, her glamour always errs on the side of traditional femininity, and it always feels powerful.
2. Georgina Of Fuller Figure Fuller Bust
This vintage queen behind fashion and lingerie blog Fuller Figure Fuller Bust often evokes a timeless kind of glamour: The kind of glam that seems to survive through the decades. In her five years of blogging, Georgina has worn everything from silk and satin lingerie sets to plaid bikinis fit for a '50s picnic to the most extravagant of gowns; all the while expressing a fabulously comical no-BS attitude across social media.
With the exception of her boudoir shoots, some the glamiest ensembles Georgina puts together are those that call to mind imagery from A Midsummer Night's Dream. This is a fairytale-like kind of glam that'll make you want to run through the forests in a flower crown and a dress crafted from dried rose petals.
3. Chastity Of Garner Style
One of the OG plus size bloggers on the Web, Chastity of Garner Style has been slaying the glamour game since 2008. Her involvement with the plus size fashion community doesn't begin and end with blogging, though. She's also the co-creator of The Curvy Con, an annual expo that brings together glamorous fatshion-loving women from all over the country. She's also collaborated with size inclusive brand Rebdolls on some collections that scream lady-boss.
Chastity's most glamorous outfits often blend traditional femininity with a working-girl-in-2016 kind of feel. She doesn't shy away from a tutu, but she also manages to preserve a sense of glamour in ways that seem more practical (and comfy) for a regular day.
4. Georgina Of She Might Be Loved
Established in 2013, Georgina's site She Might Be Loved is a newbie, but a goodie. The award-winning UK-based blogger can usually be found in some of the most bedazzled plus size fashion out there; never avoiding an equally bold beauty look to complement an ensemble's extravagance.
Sometimes, her glamour manifests in retro incarnations. At other times, she looks like a total princess. But all of the time, her femininity is worn without a hint of apology. Equally skilled with a makeup brush as she is at finding some of the most traditionally ladylike garms for plus size babes in existence, Georgina is one blogger who'll definitely make you want to get dressed to the nines for your next trip to the grocery store or that really cool cocktail bar.
5. Nancy Of Sugar, Darling?
Nancy runs a blog with a name that feels like a perfect metaphor for her style aesthetic: All things sugary and darling. Her flair for vintage is apparent and can be seen best in outfits that evoke all things '20s flapper or '50s housewife. But all the while, she never looks out of place in the modern world. Her feminine glamour stands out, sure, but it's subtle enough that you'd probably feel comfortable recreating a lot of her looks for your next night out or that business event you've been dreading.
Even her more OTT outfits — like this flapper look put together in time for Halloween — could likely translate to your holiday office party or post-work drinks with friends. The best part about her glam is that it's undoubtedly feminine while feeling equally badass.
6. Stephanie Of Nerd About Town
Nerd About Town's Stephanie has a unique way with glamour. Browsing through her Instagram feed will likely inspire you to roll out of bed and put something fancy on. But her glamour is such that the fancy wears of your choosing will also probably help you feel ready to nail that boardroom meeting or make a lasting impression at any professional soirée on your calendar. She totally balances the allure of glam with the more practical requirements of city living.
Although there's definitely a feminine glamour to many of Stephanie's style statements, it's not so in-your-face that only bold dressers would be drawn to it. If you're itching to dip a toe or two into the world of feminine and eye-catching dressing, this nerd about town will have you covered.
7. Liz Of BBW Generation
Liz of BBW Generation wears the "big beautiful woman" tagline proudly and her outfits — be it the in-your-face cosplay creations or the more subtly glam looks — are a perfect embodiment of her boldness. Her blog is a must-stop-sight for lovers of all things fandom and fatshion alike, as Liz can usually be found in a fat-babe sartorial version of Wonder Woman or Xena. But for those who'd rather not dress up like a superhero morning and night, her day-to-day wears are still glamorous and a little easier to recreate.
Utilizing vintage details that never feel too cray for everyday wear, Liz's looks should be a great source of inspiration for any fan of the glamorous life who isn't quite sure how to nail that fancy, fresh aesthetic in a way that doesn't feel like too much work to put together.
8. Em Of Terrible Tumbles
Terrible Tumbles blogger Em is the reigning queen of minimalistic glamour. Her style is one that undoubtedly incorporates elements of glam through the decades, but her looks will never make you feel like you need to set aside a few hours of your time in order to craft them. For glamour aficionados who want to slip into something fancy, swipe on a bold pout, and literally walk out the door, let Em be your glam baby.
Another fabulous element of Em's style is her ability to experiment with trends while staying true to her base-line glam-y vibes. Whether cape silhouettes or Christina Hendricks á la Mad Men details are in, she's probably come up with an easy, breezy way to nail them all.
9. Ragini Of A Curious Fancy
Ragini of A Curious Fancy's style aesthetic is ethereal glam at its dreamiest. She has a penchant for vintage detailing, but it's the softness of her glamour that is arguably the most striking. Every element of her looks is subtle yet memorable; every new dress a statement-maker, but one that you can likely imagine wearing in the forest or in the office alike.
What's perhaps most special about her glamour is that it never feels stuffy. Rather, there's a lightheartedness to every sartorial masterpiece she puts together. Imagine the diva of your dreams being dressed by your quirky best friend: That's Ragini's glam.
10. Georgina Of Cupcake's Clothes
If your vision of glamour is all about the fancy Lolita feel, then Georgina of Cupcake's Clothes will be your style guru. Her glamour is a little funkier than that of many bloggers out there, but her focus on pastel hues, all things girly girl, and a child-like dreaminess of sorts are what make her looks so special. Plus, Georgina hand-designs a lot of her clothing and accessories, making these glamorous ensembles truly one of a kind.
The emphasis on the OTT girly is also worth shouting-out here. There is no shade of pink off limits for Georgina, nor is there any depiction of a furry woodland creature she'd shy away from rocking in pattern-form. The combination of her pink locks and pastel ensembles is one that makes this blogger beyond memorable; and one that proves that any level of femininity can be slayed by plus size queens.
11. Isha Of An Autumn's Grace
Chances are that Isha of An Autumn's Grace is like the glamorous bestie of your dreams. Her vintage-inspired dresses are always on point, as are her occasional book reviews and gifts of photography. Her glamour is artsy and classical; timeless yet equally contemporary. She knows how to make a statement without necessarily being the center of attention, thus enabling her interpretation of glamour to be perfect for your day-to-day.
The easy breeziness of Isha's style is what's so wonderful about it. Although you can probably imagine many of her looks being rocked at fancy French cafes in the '60s, they will not feel out of place in your metropolitan city circa 2016 or even in the small village you're currently residing in. Taking cues from this blogger's glamour will likely make you feel like a princess who's ready for an afternoon of tea or cocktails.
The most remarkable thing about these bloggers is that they are so unafraid of evoking traditional femininity despite living in a time when both femininity and fatness are still incredibly stigmatized. They all take glamour and make it their own, while proving that a love for tutus does not cancel out a love for literature or business savvy or internet-slaydom. In fact, their tutus only make them look all the more ready to take on the world.
Images: Courtesy Mustang Sally Two; Fuller Figure Fuller Bust